| | | | | | | | | | | | | | | | |
| --- | --- | --- | --- | --- | --- | --- | --- | --- | --- | --- | --- | --- | --- | --- | --- |
| B | r | y | n | i | o | c | h | & | F | i | n | n | l | e | e |

| | |
---
February 29, 2004 - Jill the Photographer
(Brynioch is 3 weeks)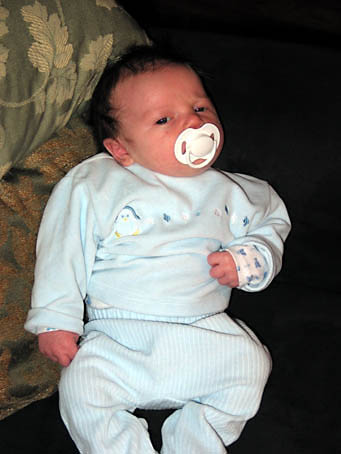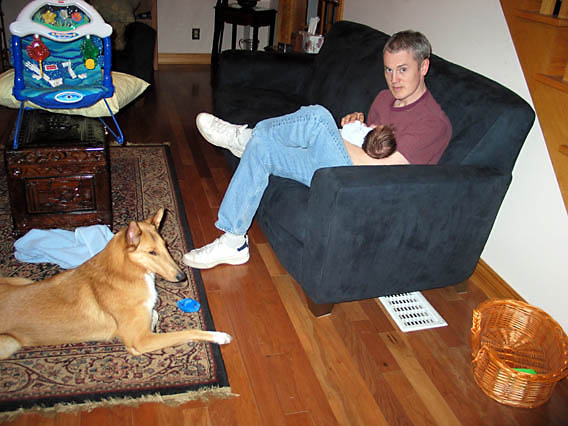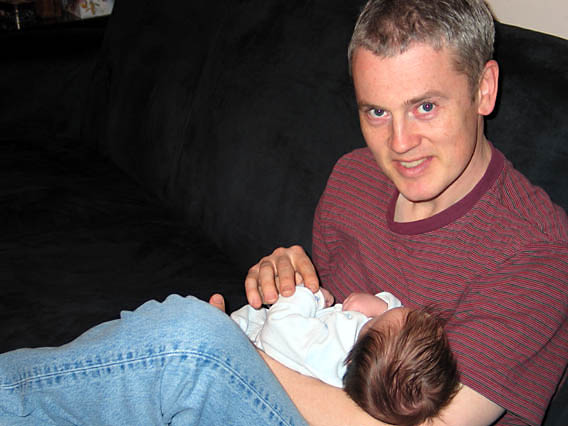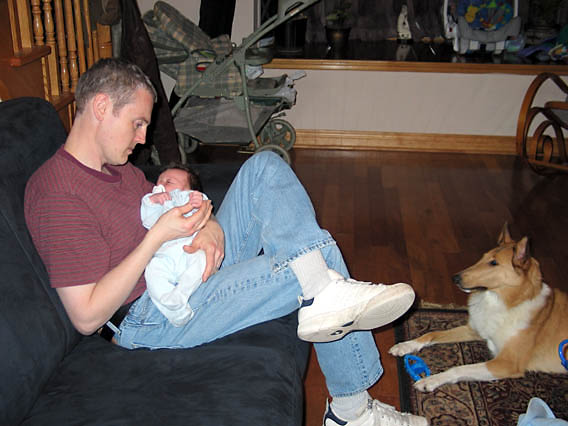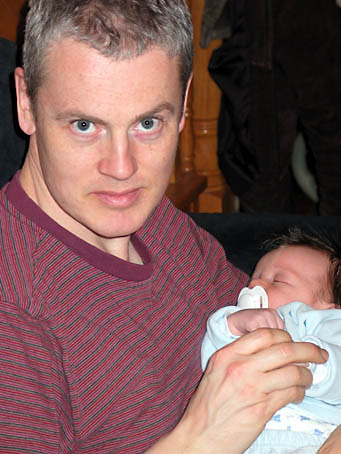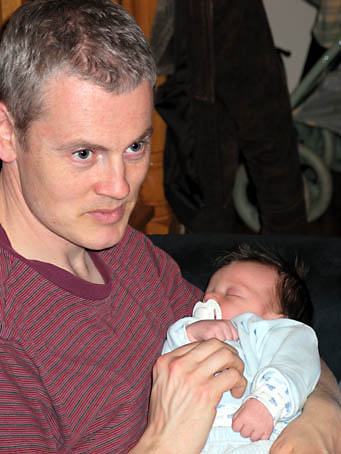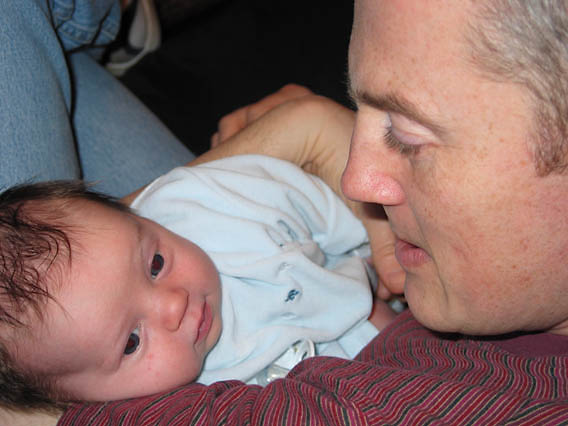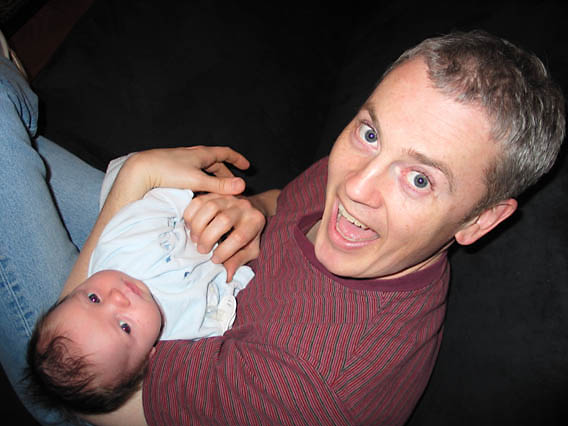 ---
February 28, 2004 - Baby Shower with Jill's Clan
(Brynioch is 3 weeks)
Jill's Aunt Susan and Uncle Syl held a surprise baby shower at their place in Kitchener!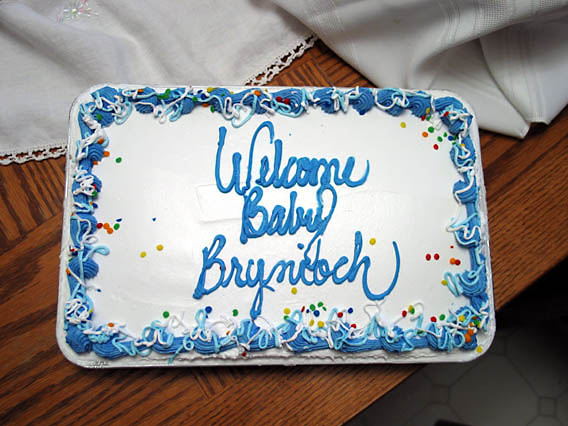 There were many wonderful presents, including two beautiful hand-made blankets, a metal piggy bank in the shape of a train, collector coins, some great clothes for Bryn, and numerous other much-appreciated items.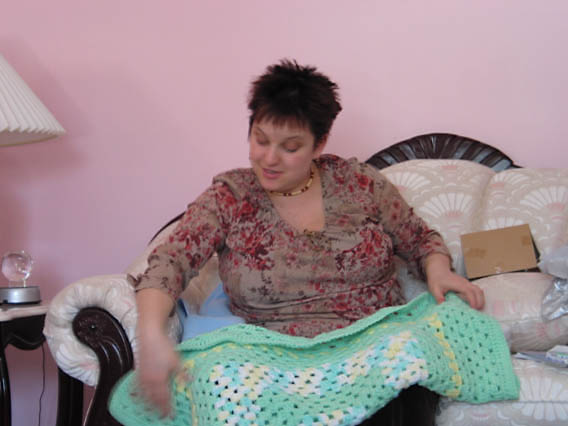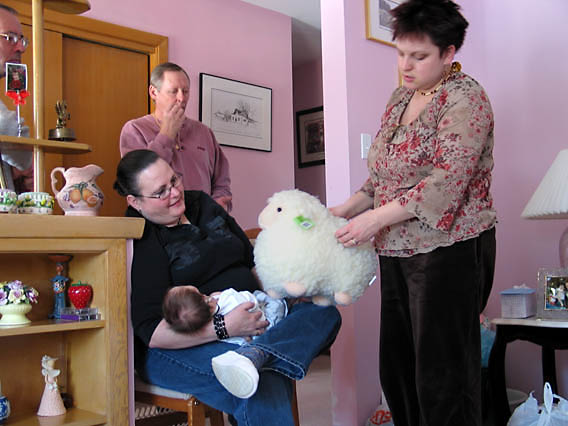 Everybody had fun doing their "Baaaaaa-d" imitations of the sheep.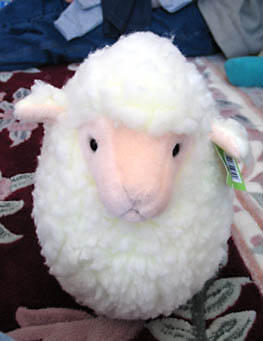 Here are Aunt Susan (on Jill's dad's side of the family) and her husband Syl.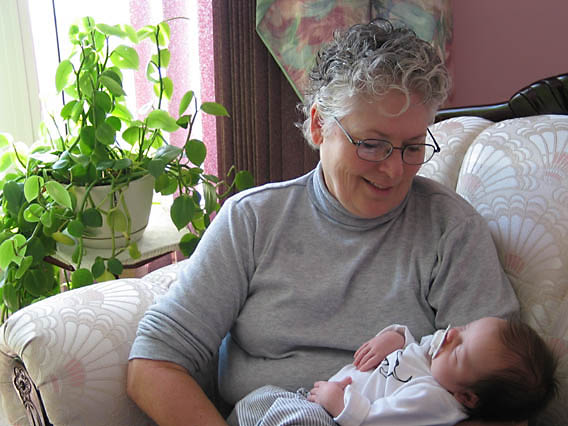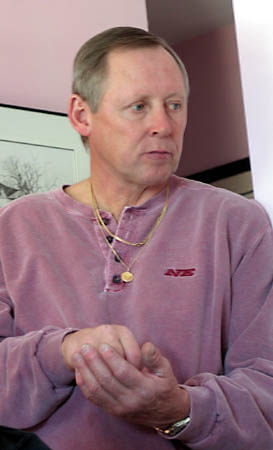 Jill's dad (Rob) and Glenna managed to make it. As you can tell, Rob doesn't much like having his picture taken.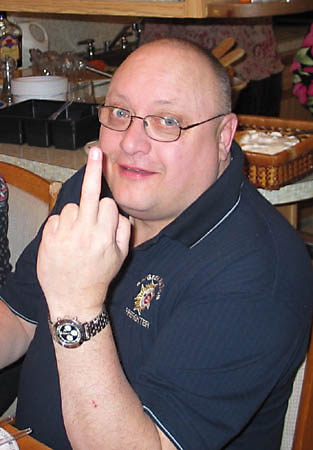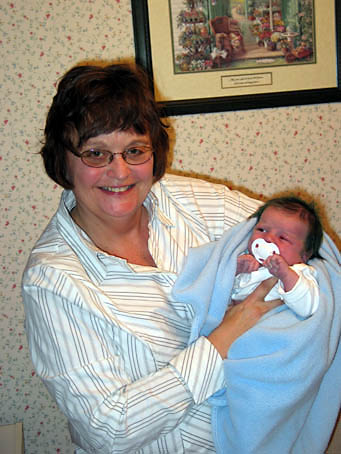 Bryn's Great Grandma Ruth Mabey was there.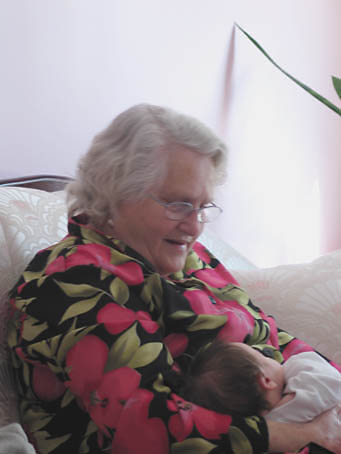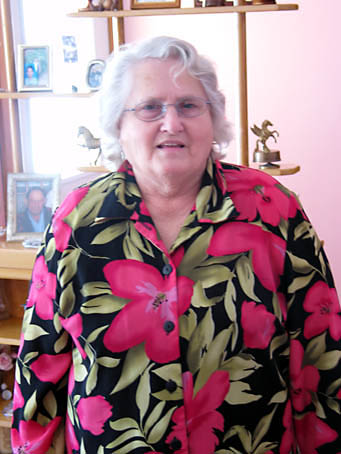 This is Jill's Aunt Sylvia. She's recently a grandmother herself; Austin, her daughter Sarah's son, just turned 4.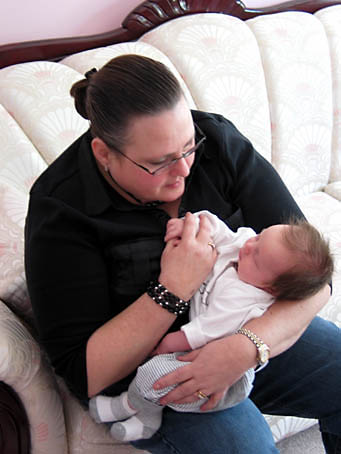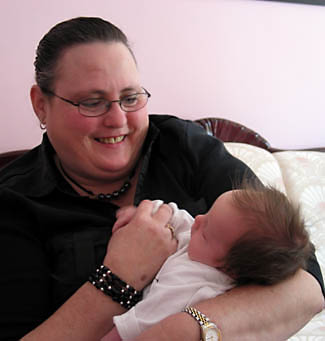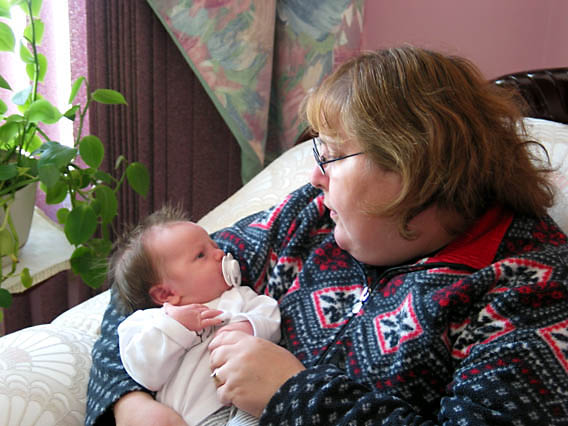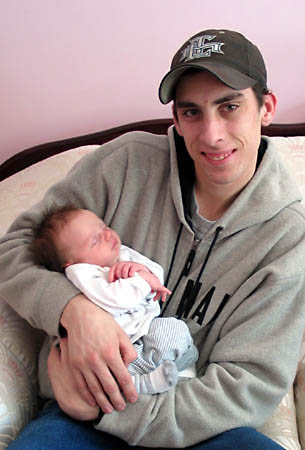 This is Jill's cousin Katy-Ann, the daughter of Jill's Aunt Ruth.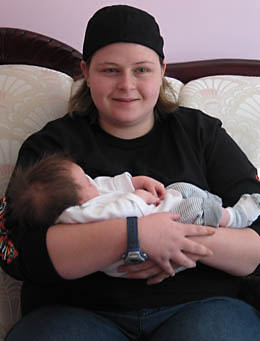 Here is Jill's cousin Sabrina, the daughter of Jill's Uncle Frank.
It was really nice to see everyone.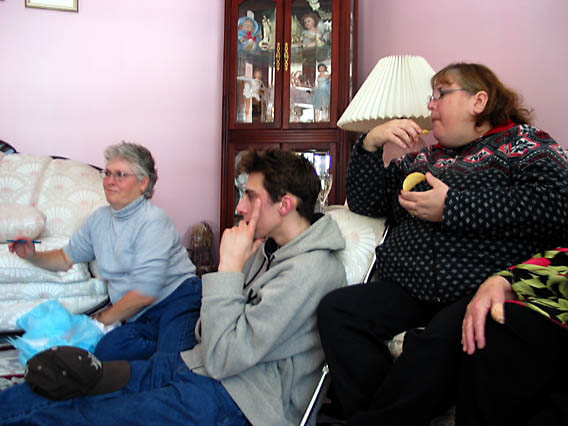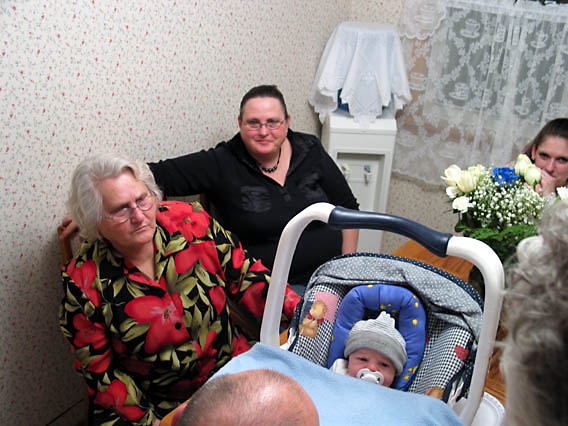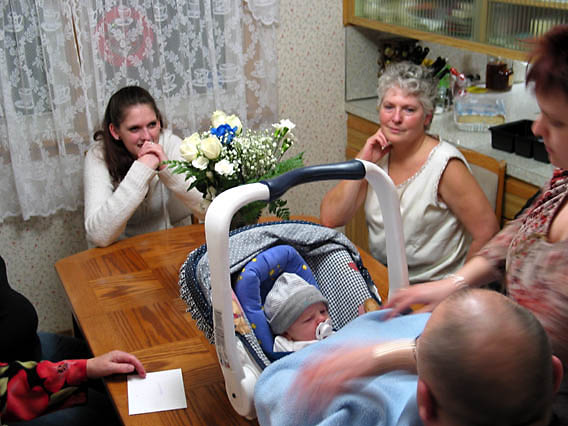 After the long day, Jill's rather tired.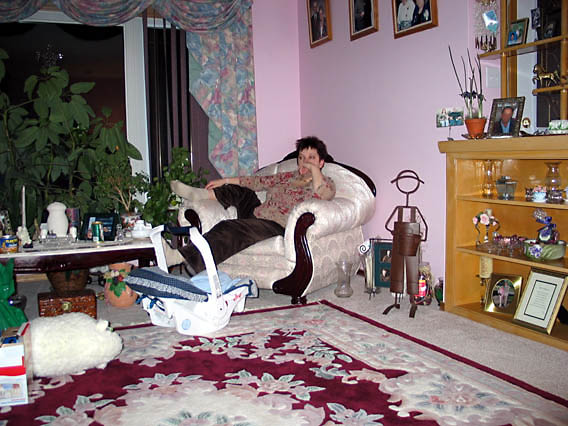 Bryn is strapped in for his ride home to Toronto.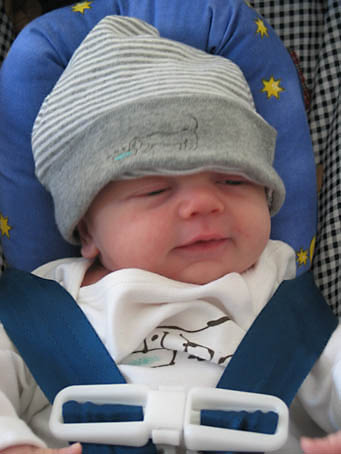 ---
February 27, 2004 - Meet Cosmo
(Brynioch is 3 weeks)
People have been anticipating a picture of our other cat, Cosmo. Well here he is!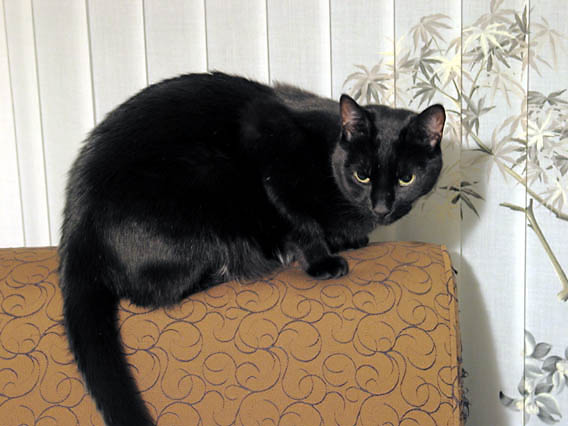 By the way, Cosmo and Ferris are brothers. Can you see the family resemblance?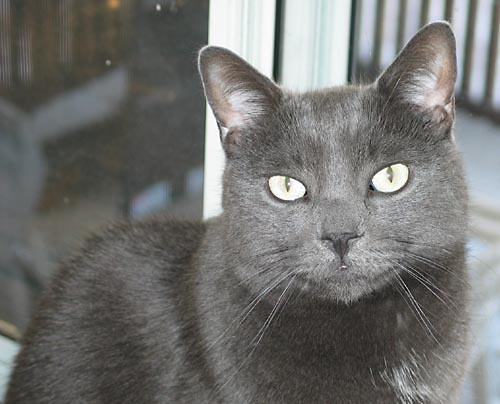 ---
February 25, 2004 - Hair Party
(Brynioch is 3 weeks)
It's time for another "Hair Party". Every month or so, a bunch of us get together to have our hair done. Our longtime friend (and master colourist and stylist) Dyllon always manages to give you a new perspective on matters.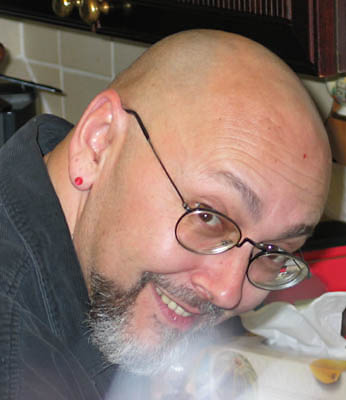 Bryn was quite content sitting on the counter, watching everyone get their new do's.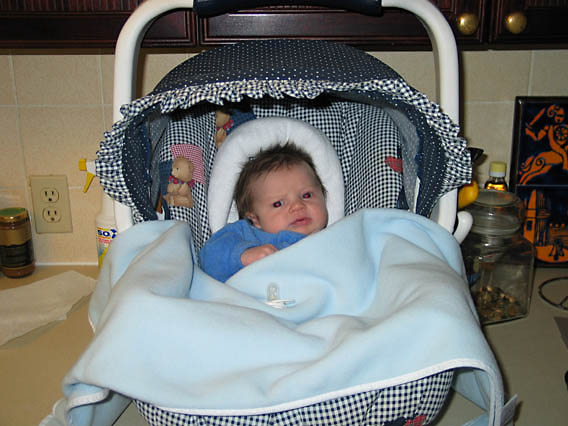 One of the regulars at the party is Sue Scrimgeour (Michelle and Amanda's mother). This was her first chance to see Brynioch "in the flesh".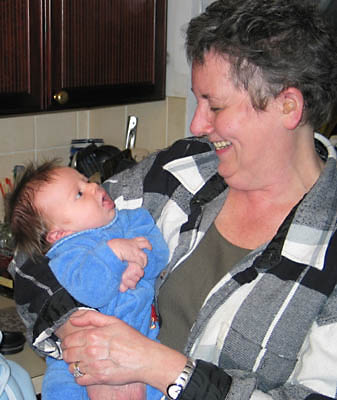 I managed to catch Sue, Jill and Bryn in a candid movie moment. (They thought I was just taking another still pic.)
---
February 24, 2004
(Brynioch is 3 weeks)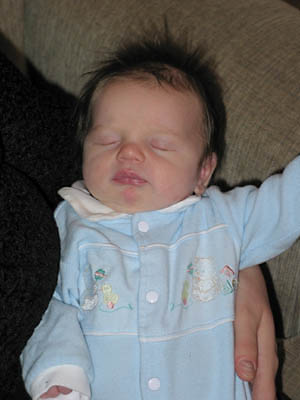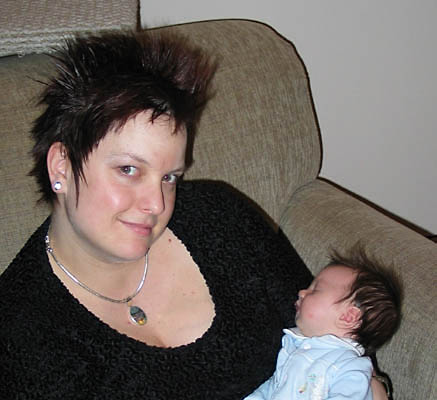 It's the "Pirate Eye". Arrrrrgh!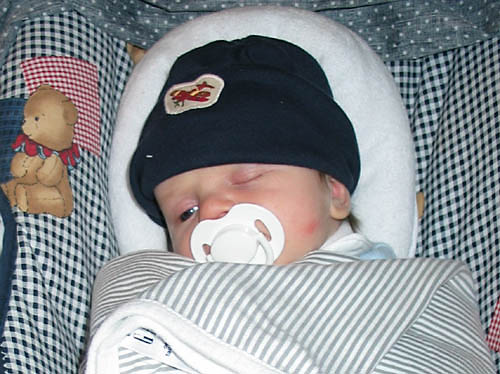 ---
February 23, 2004 - 3-weeks Old Today!
(Brynioch is 3 weeks)
For his birthday "celebration", Bryn decided to make some faces in the mirror that's sitting in his cradle. (The last one kind of looks like his Grandpa Mabey.)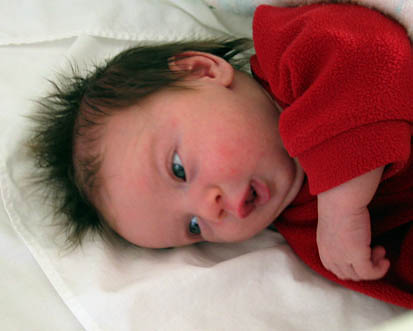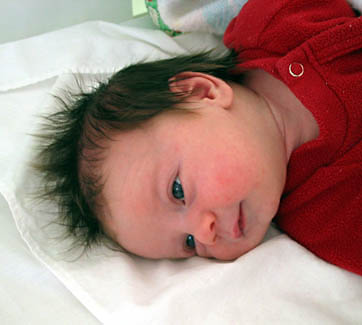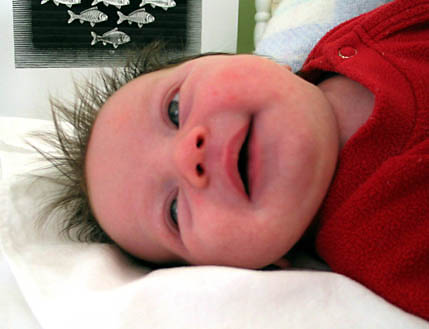 Our friends Doug and Terry came by for supper and a "viewing".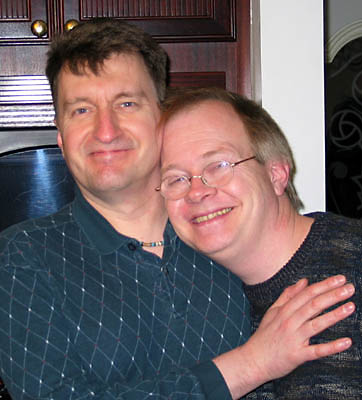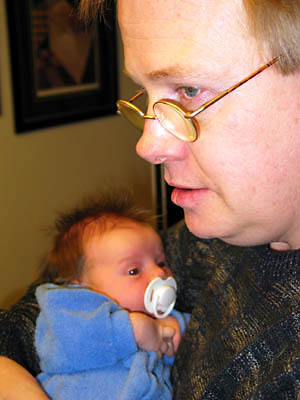 Jamfi imposed herself on Terry to provide some entertainment.
Mike felt like getting his picture taken, leading to a "Jekyll & Hyde" introspective. "Evil Bryn" was kind enough to make an appearance for the "Hyde" shot.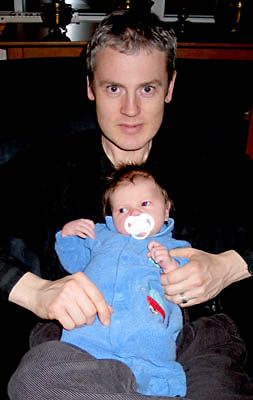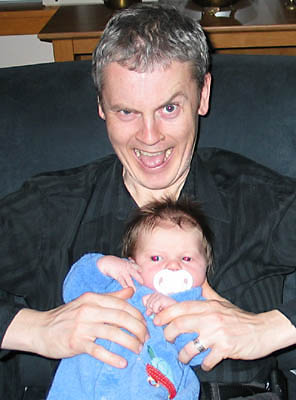 Finally, Bryn decided to exhibit his alacrity for the circus, accompanied by a soundtrack from his dad.
---
February 22, 2004 - Playing with the Camera, and Another Visitor
(Brynioch is 2 weeks)
I'm trying to get some portraits done. I'm experimenting with this lovely new digital camera first, hoping to find places in the house that have good natural light. (I hate the harshness of a flash.) It's also a bit of a challenge to prop Bryn in a nice "pose". Here are a few of the first attempts.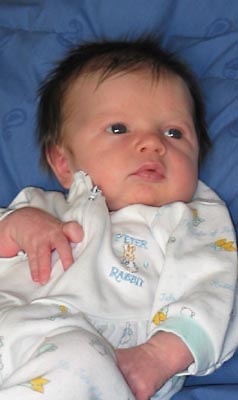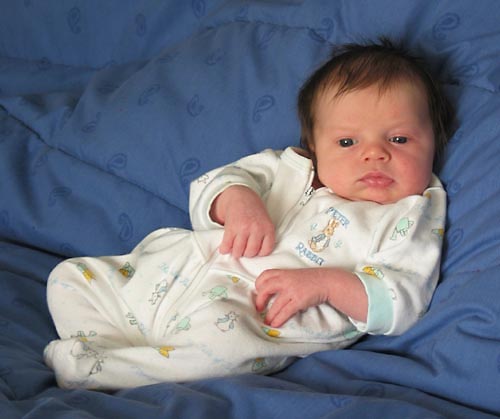 Yolanda Brown (Mitchell's sister) graced our presence in the morning. It's always nice to see her, since she can't come around much anymore, while she's staying up in the hinterland, north of Toronto.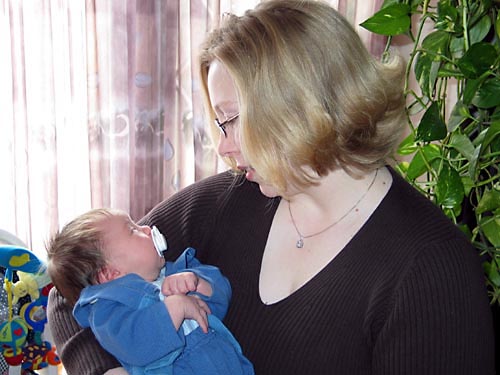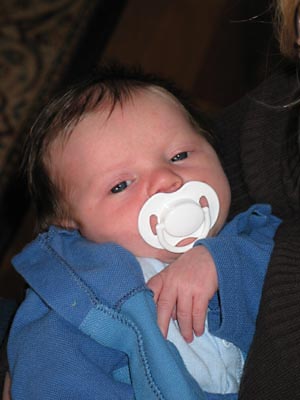 Oh, and here's Ferris again. Eventually we'll show you a picture of Cosmo too.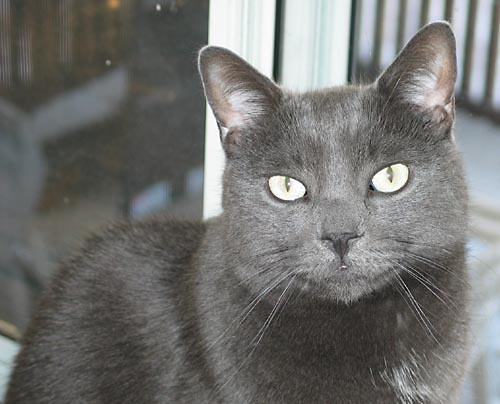 We also gave Bryn a bath today. He really likes baths! (He also likes showers, but not as much as baths.)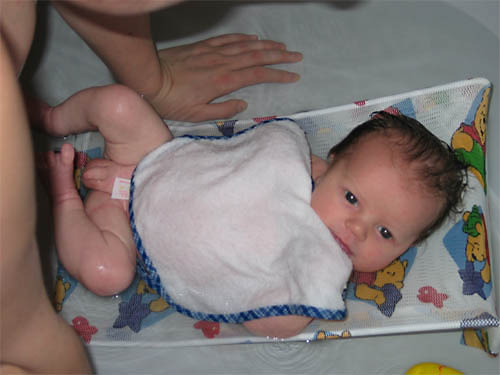 ---
February 21, 2004 - More Welcome Visitors
(Brynioch is 2 weeks)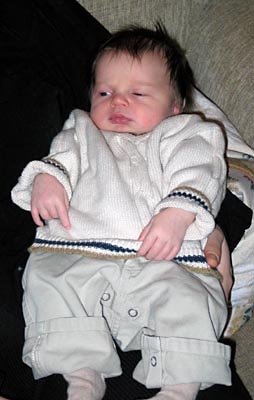 Our friend Treela Smith came by to see the bah-bee and to hang out for a while.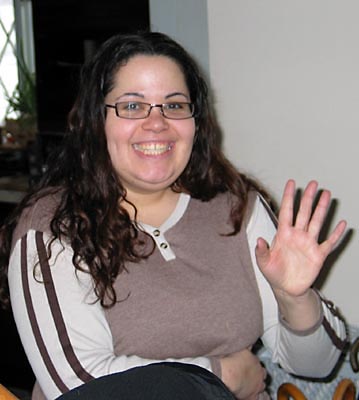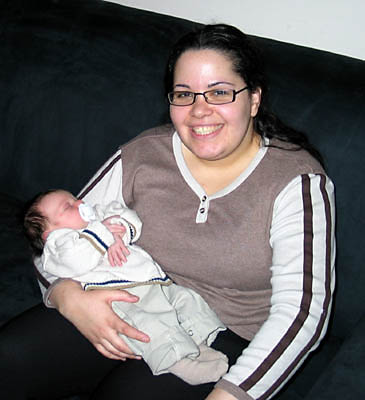 Later, Mitchell & Michelle Scrimgeour-Brown, along with Michelle's sister Amanda Scrimgeour, came buy to say hello. Mitchell and Michelle had seen Jill and Bryn at the Hospital, but this was Amanda's first "viewing".
M&M are expecting their first child on March 17th. (Coincidentally, that happens to be my "second birthday", the day I was brought home from the adoption center.) Amanda is also expecting her first (in June, I think).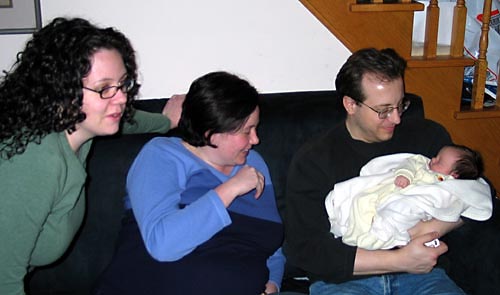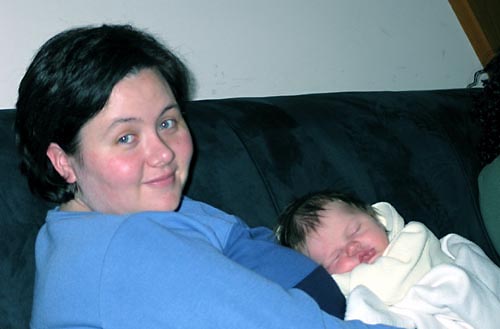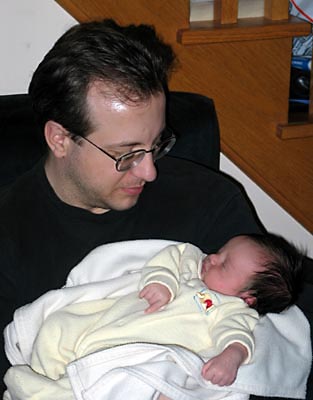 People have been complaining that there aren't enough pictures of me, so here ya go!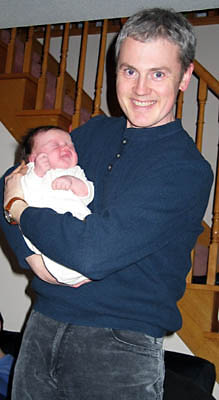 By the way, I've got a great new camera! The Canon Powershot G3 was considered by many to be the best in its class. It's been discontinued, replaced by the G5, and I got great deal on the last one at Henrys. I'm still learning to make proper use of it, but already the difference in the pictures is astounding!
---
February 20, 2004 - Two Dodgy Pics
(Brynioch is 2 weeks)
I'm getting quite frustrated with my digital cameras' quality (or lack thereof). I've decided to find an "acceptable" camera, without having to spend too much money. For now, here's the best I can do: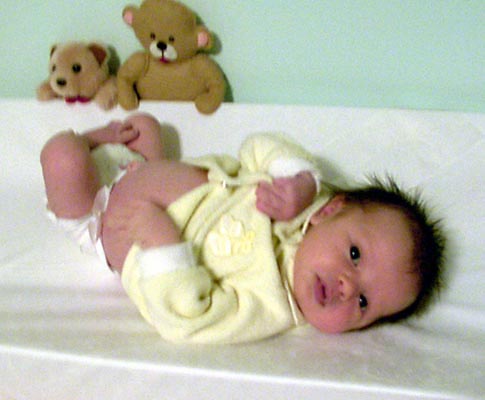 ---
February 15, 2004 - Visit from "Da Tuchscherers"
(Brynioch is 13 days)
Sorry for the delay getting these pictures up; it's been a bit busy around here lately. This is Mike's good friend Mike Tuchsherer (they grew up together in Lumsden), and his wife Vicki Pasternak.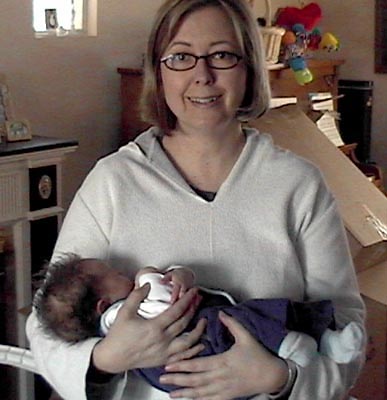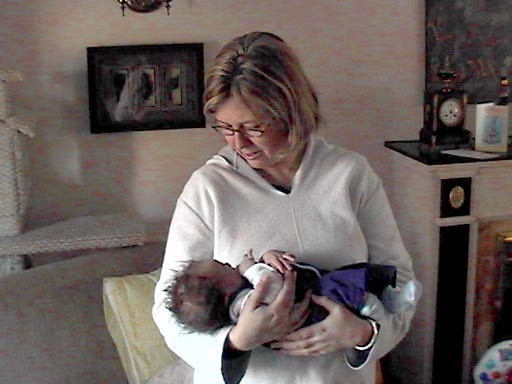 ---
February 11, 2004 - Bryn's First Wintergarb
(Brynioch is 9 days)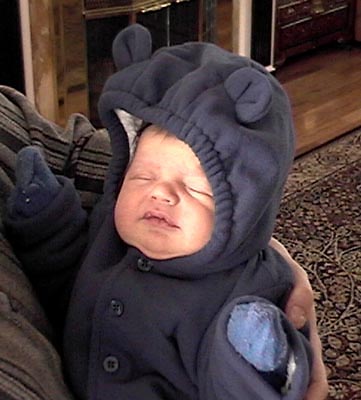 ---
February 10, 2004 - Umbilical Action
(Brynioch is 8 days)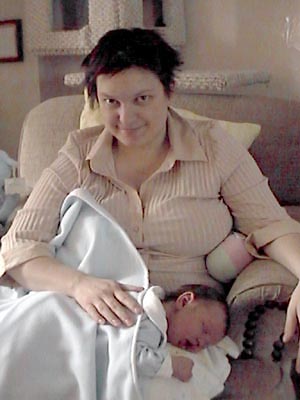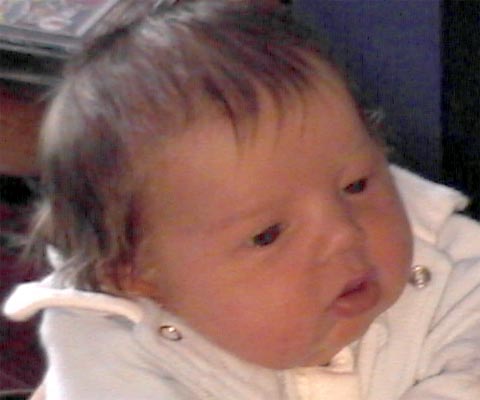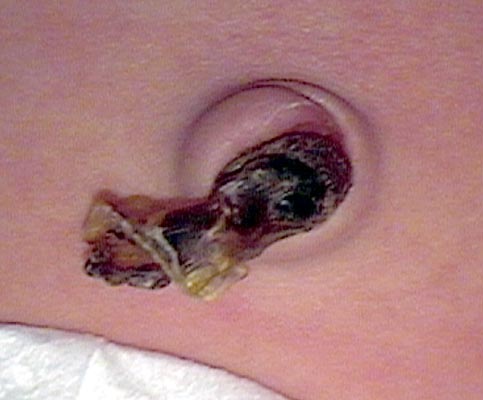 ---
February 8, 2004
(Brynioch is 6 days)
Jill's headache is gone (finally). Bryn slept really well, although we forgot to keep him active for the last couple of hours before bedtime, so he was a bit more active than we might like, and "good sleep" didn't commence until around 1am. We've also discovered that he's strong enough to push himself "upwards" on the bed, which succeeded in getting his diaper around his knees. Hooray!!!
Today was also Bryn's first visit to a restaurant, for which he was very well behaved. (He slept through the whole thing.)
Anne Geddes, eat your heart out!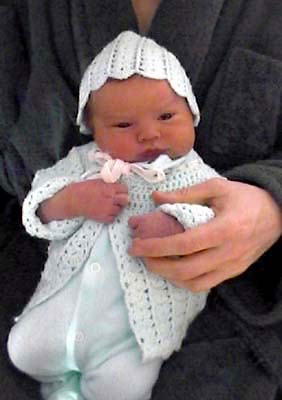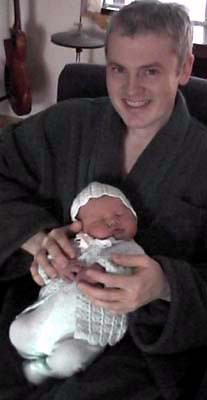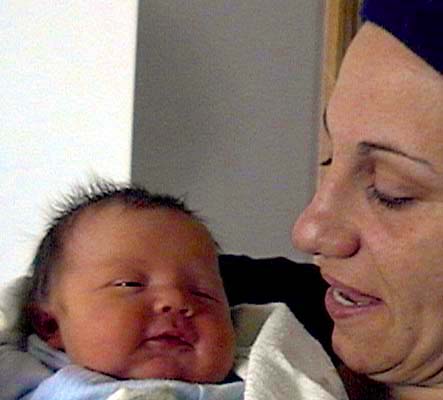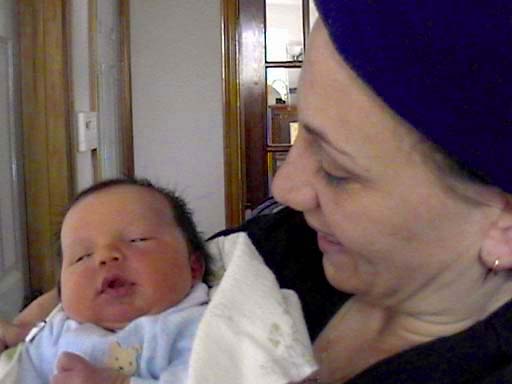 ---
February 7, 2004 - First Visit from Grandpa Mabey
(Brynioch is 5 days)
Now that we're "experts", the second night's sleep was very good, although Jill's had a headache plaguing her.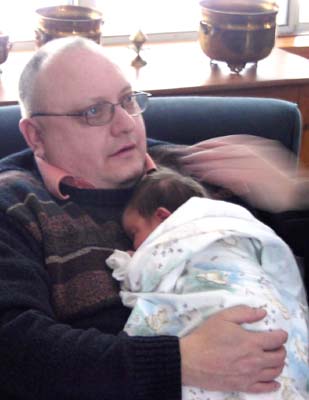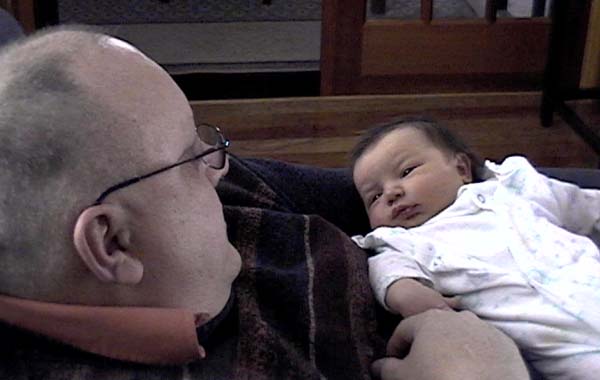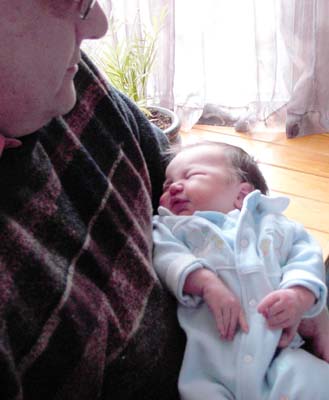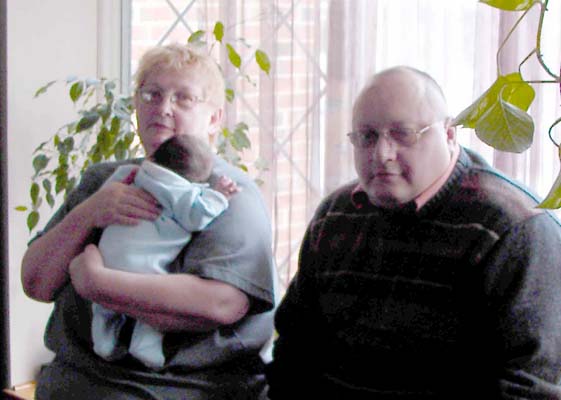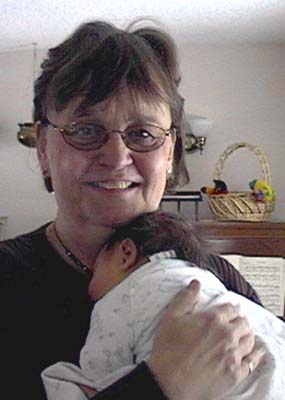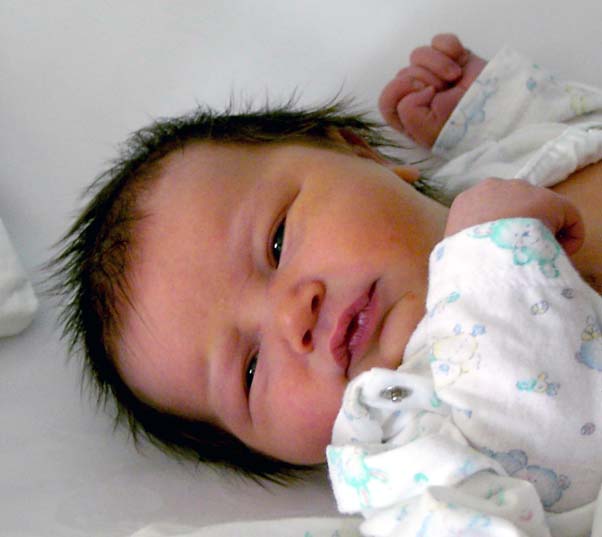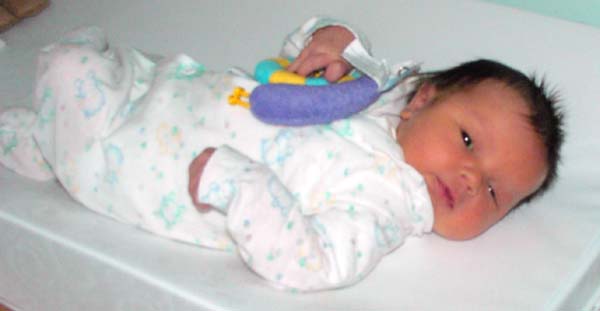 ---
February 6, 2004 - First Day Out, Visiting Leslies
(Brynioch is 4 days)
Our first night home was bit challenging, up every fifteen minutes from 11pm to 3am. We finally got the "cycle" started problem, though, and got two good blocks of 2-3 hours sleep before rising.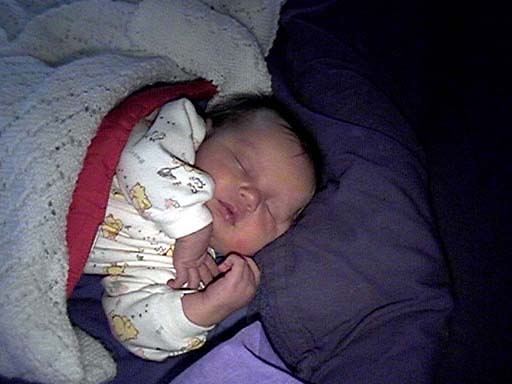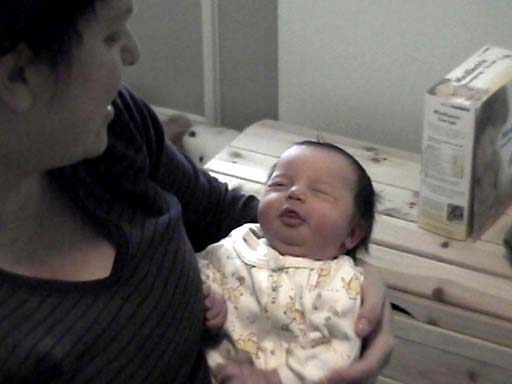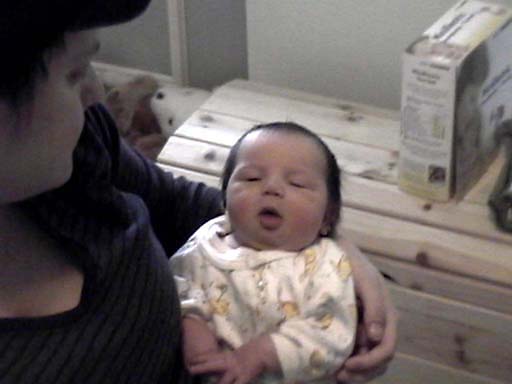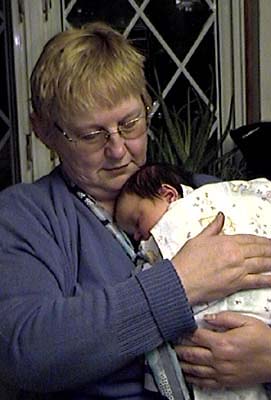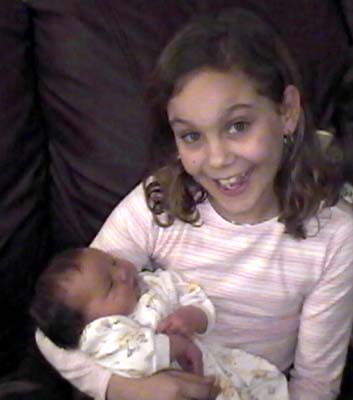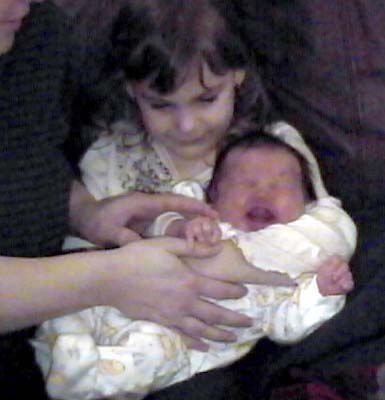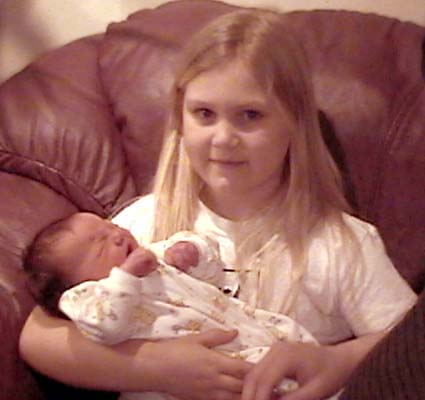 ---
February 5, 2004 - First Day Home
(Brynioch is 3 days)
Bryn is surprisingly strong! In addition to pushing his head backwards to arch his back, he also no trouble rolling from his side onto his back, and is almost able to roll back onto his side again.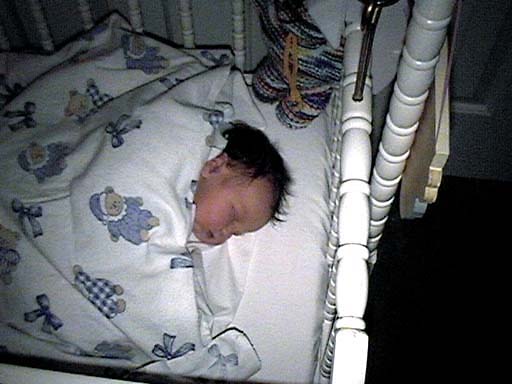 ---
February 4, 2004 - Still at the Hospital
(Brynioch is 2 days)
"So where is this 'Bryn' I keep hearing about?" asks Jamfi.
"Yeah, enquiring minds want to know!" pipes Ferris.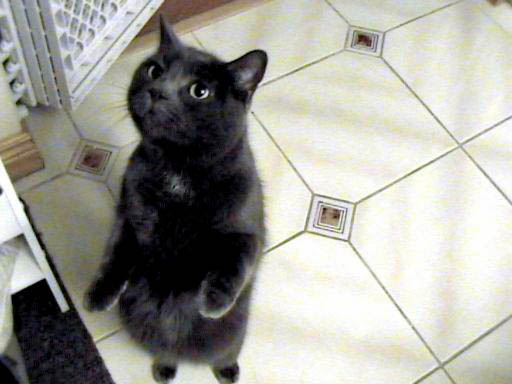 Bryn's still at the hospital, and he's got visitors! Here's Yvette.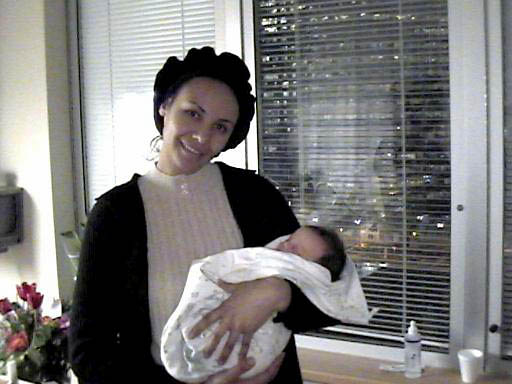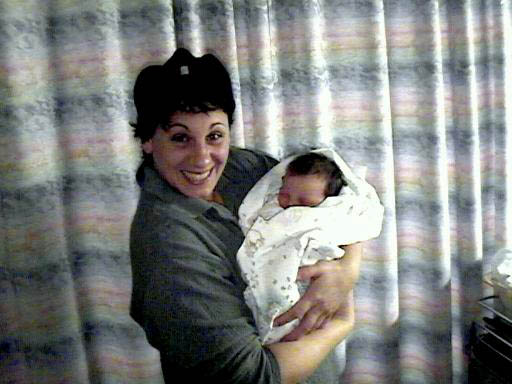 ---
February 3, 2004 - Recuperating from his trip
(Brynioch is 1 day)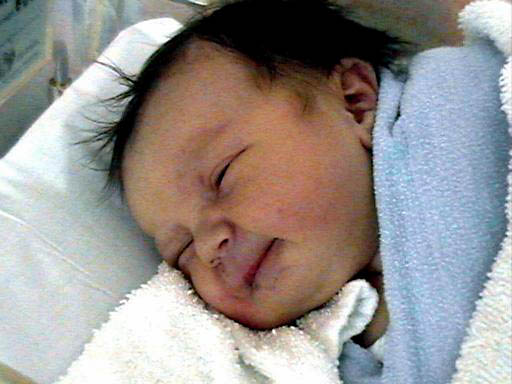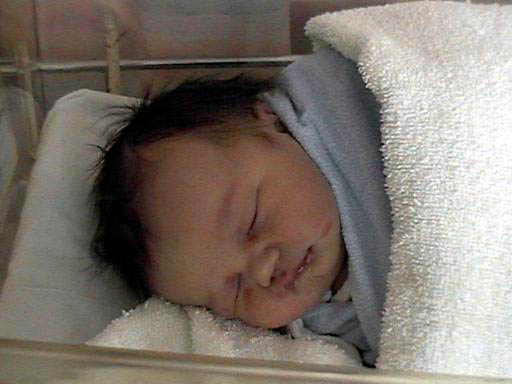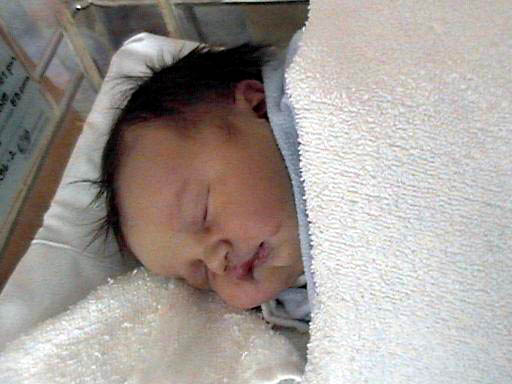 ---
February 2, 2004 - Ta-da!!!
(Brynioch is born)
After a long and seemingly endless wait, Brynioch William Robert Hanson has finally made his grand entrance!
He arrived via a planned caesarean section at 1:07pm on February 2nd, weighing in at 9-lbs 4-oz, at St. Michael's hospital (Queen St E, Toronto).
Mommy and baby are fine, though understandably tired.
We thank you again for all of your support, love and heartfelt wishes over the past few months. You have really made our house a home. We look forward to sharing this new chapter in our lives with you and we're certain Bryn is looking forward to meeting all of his new friends!
Warmest regards,
Mike Hanson, Jill Mabey and Bryn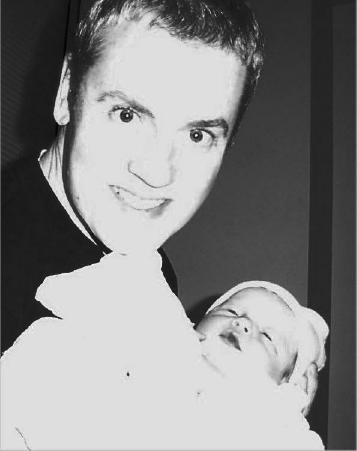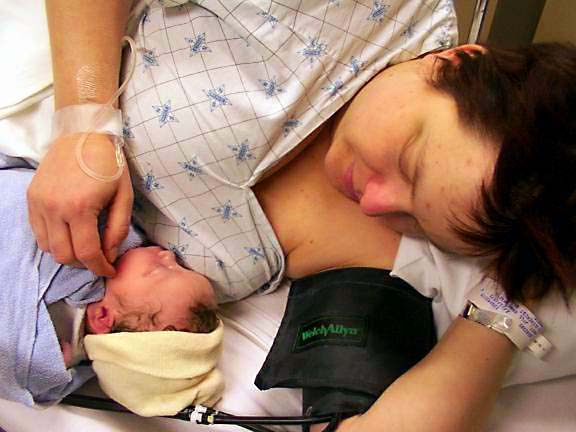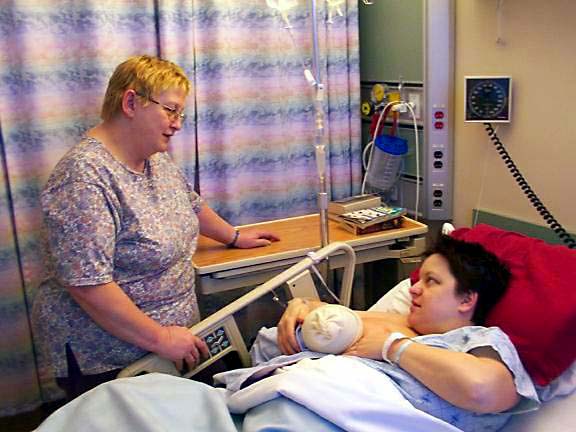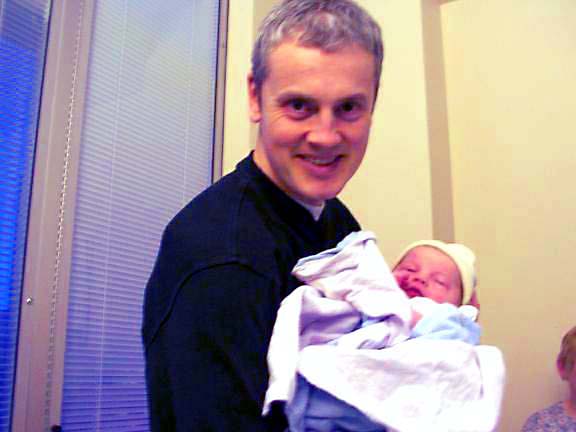 ---
Index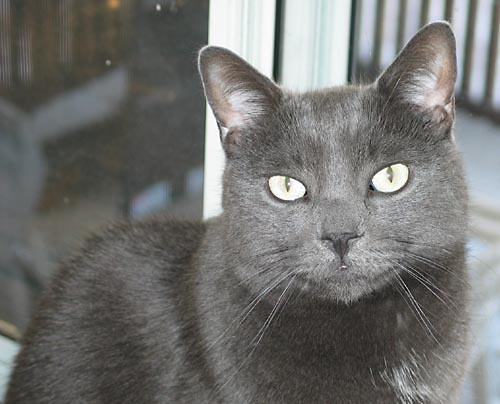 ---