| | | | | | | | | | | | | | | | |
| --- | --- | --- | --- | --- | --- | --- | --- | --- | --- | --- | --- | --- | --- | --- | --- |
| B | r | y | n | i | o | c | h | & | F | i | n | n | l | e | e |

| | |
---
March 28, 2004 - It's nice to meet you, Connor!
(Brynioch is 7 weeks)
Jamfi enjoys snuggling under the curtain.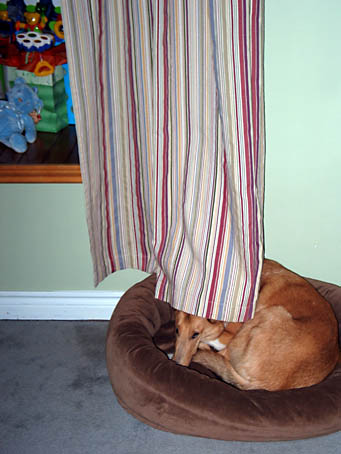 Bryn's getting better at tummy-time.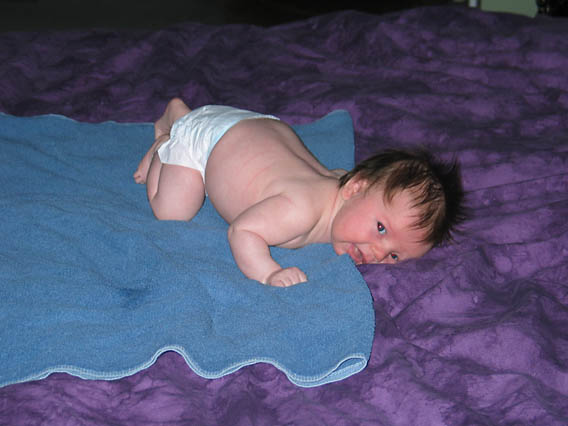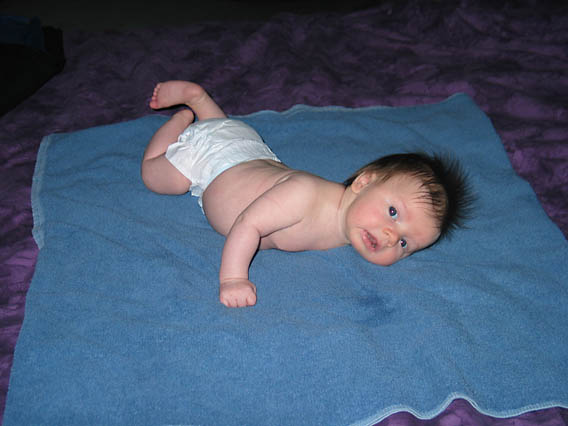 Our very good friends Mitchell & Michelle Scrimgeour-Brown gave birth to their first son, Connor Glenn, on Friday, March 26, at 5:30, weighing in at 7 pounds even. I'm sure that he and Bryn will be spending much time together.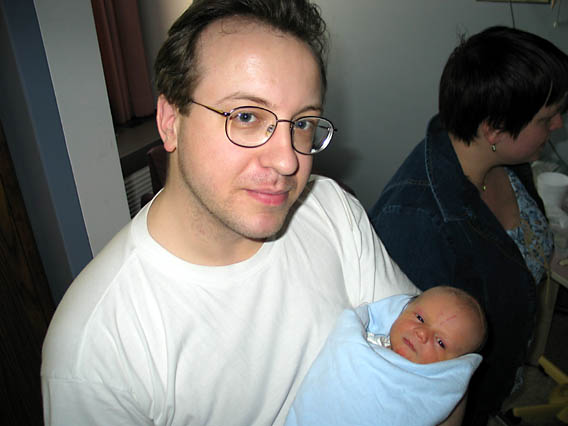 It's hard to believe that Bryn was once almost this small.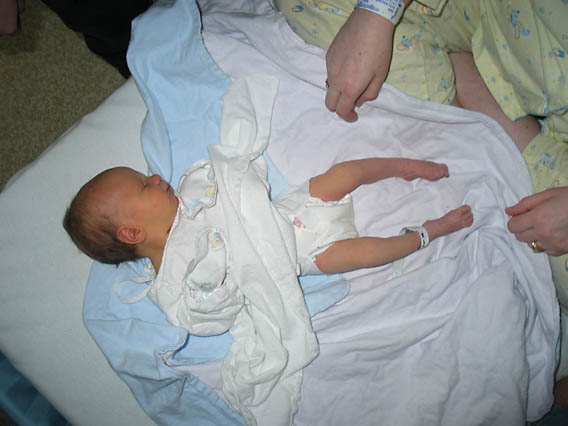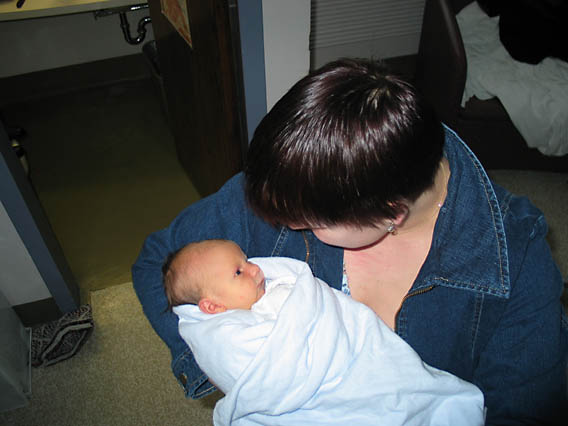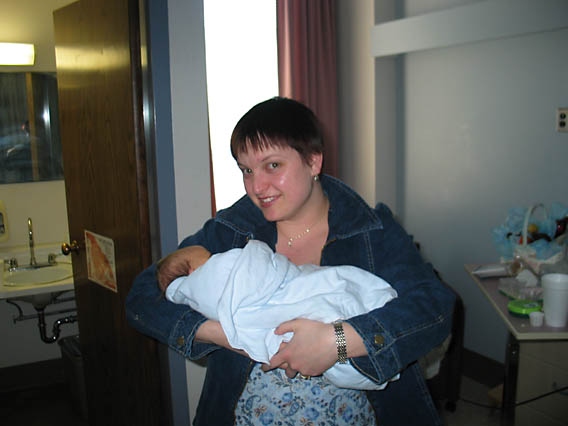 Michelle looks great (only 2 days after giving birth by C-section, following 8-hours of induced labour).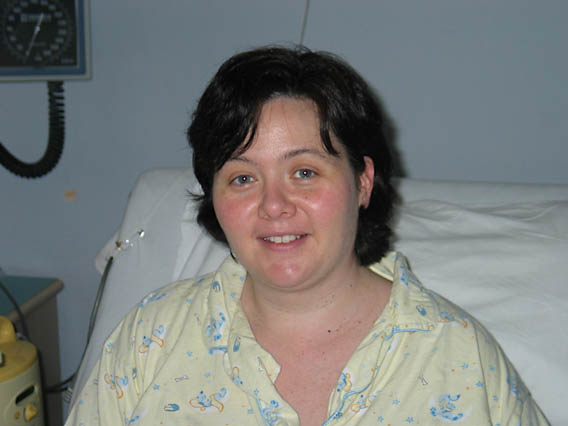 This is Michelle's sister, Amanda. (You've seen her on this site before.) She's also expecting, sometime in June if I recall correctly.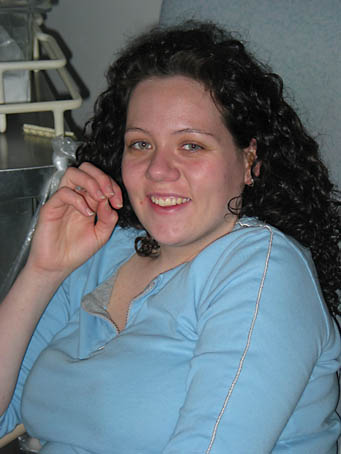 Mike gets his turn with the little bundle.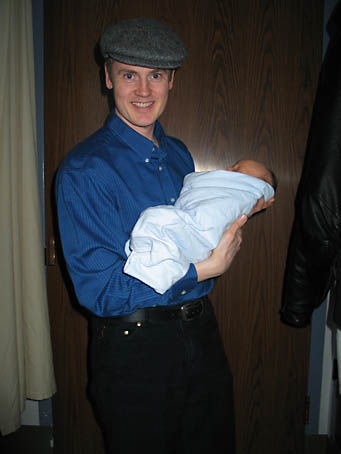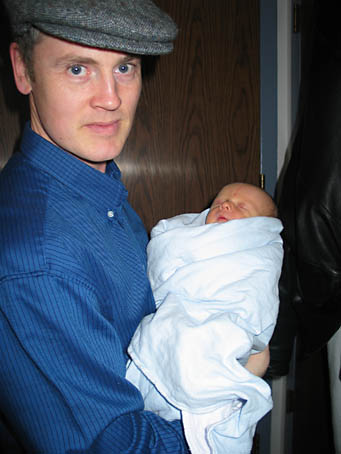 Back at home that evening, we invited our next-door neighbors, Rob & Michelle, over for a round of Schmidt's Rummy.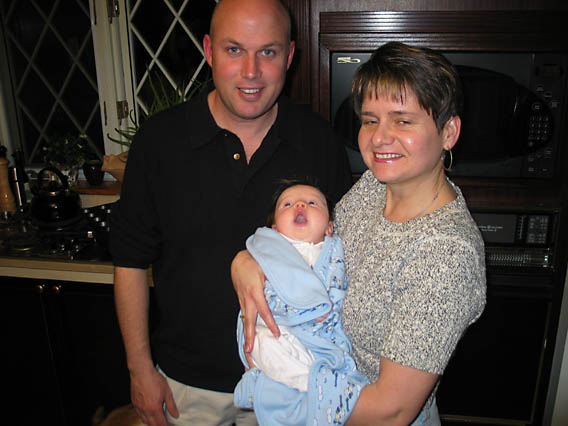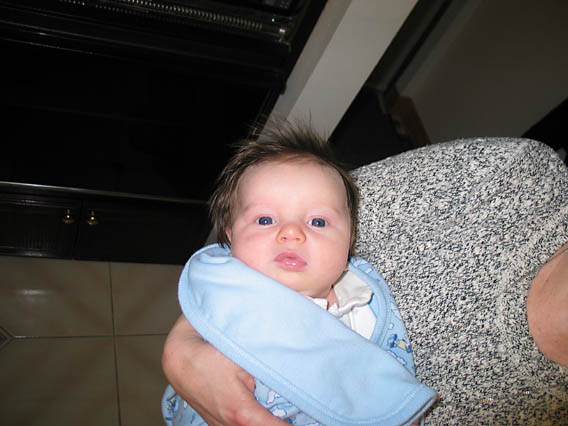 ---
March 27, 2004 - Kew Beach Park
(Brynioch is 7 weeks)
Bryn's cozy for a walk in "The Beach" area of Toronto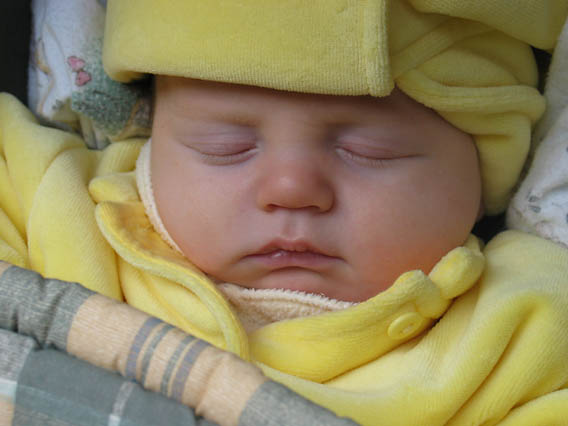 Mike & Jamfi in Kew Beach Park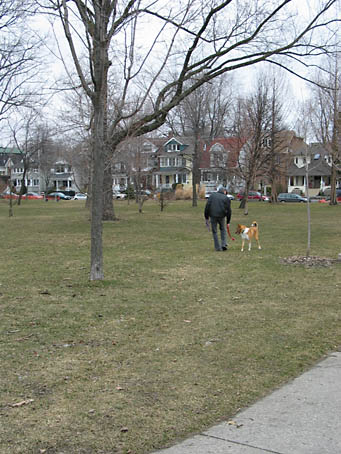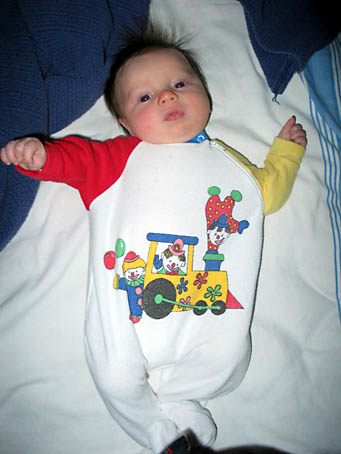 ---
March 26, 2004 - Good Pictures of Mom
(Brynioch is 7 weeks)
Jill took these pictures while Mike was out walking Jamfi. Mike's mom is very hard to photograph looking "normal", so it's satisfying when pictures turn out this nicely.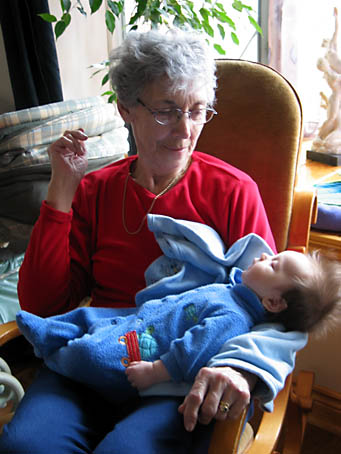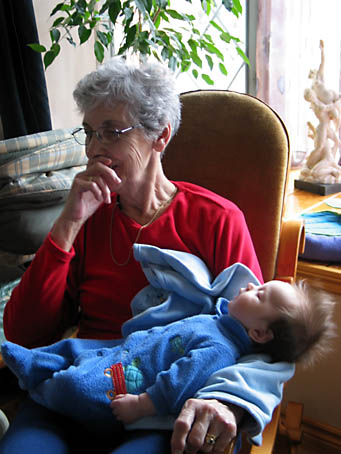 ---
March 25, 2004 - Mike's Mom Visits
(Brynioch is 7 weeks)
Finally, Grandma Hanson (Mike's mom Ellen) has met Bryn. She's here for a week-long visit, and she refuses to let go of the baby.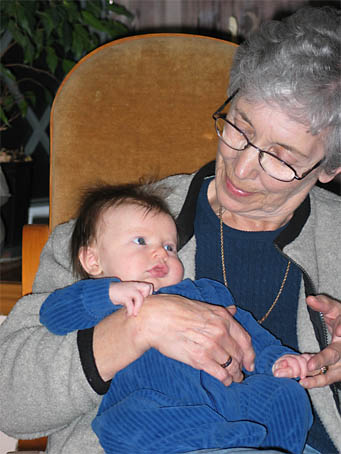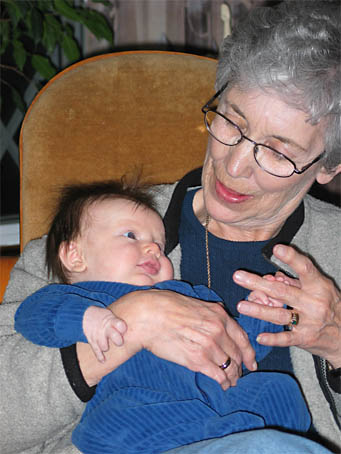 Bryn's wondering where Grandma went.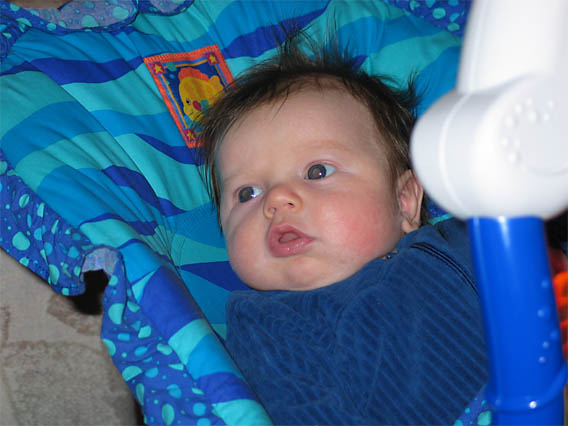 Jamfi with rawhide at Bryn's side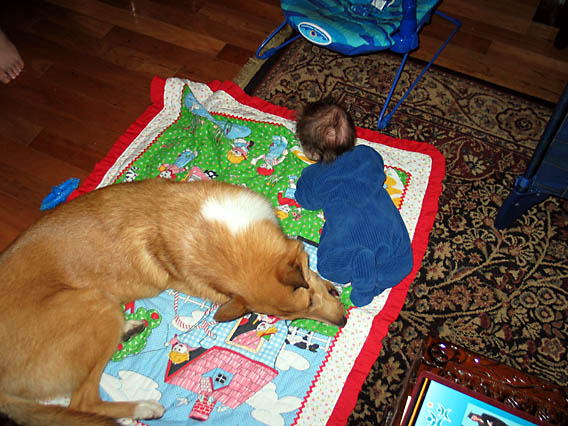 ---
March 24, 2004 - Even More tummy time
(Brynioch is 7 weeks)
Tummy time is slowly become more enjoyable to Bryn, although he still doesn't like it for long. Every couple of days he manages to flip himself over. In fact, right after Jill took these pictures, he flipped over and kept on rolling, right off the bed! He wasn't hurt, though, and cried for only a few seconds. Poor little guy!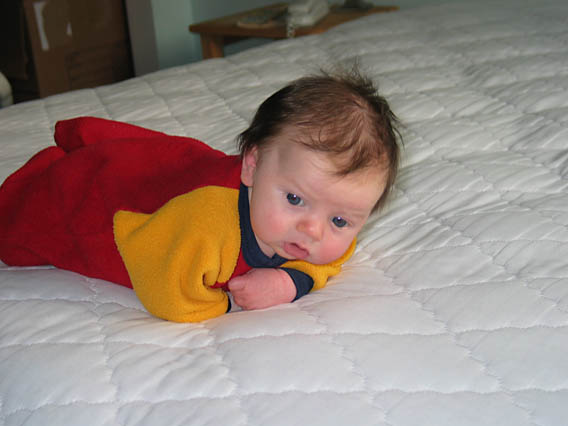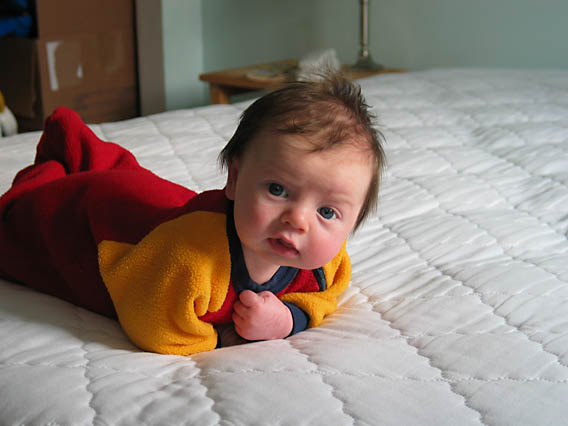 Cosmo and Ferris enjoy the fresh spring air.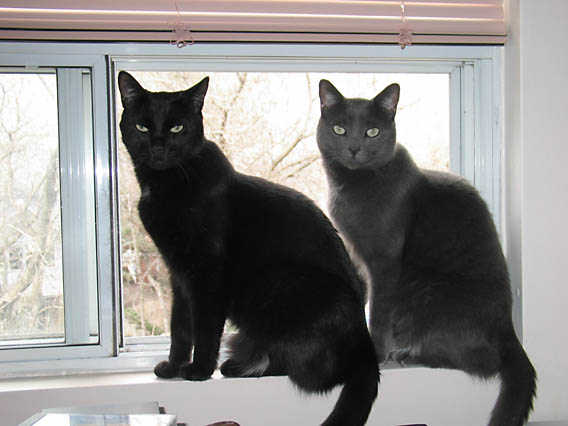 ---
March 23, 2004 - Looking more like a little boy!
(Brynioch is 7 weeks)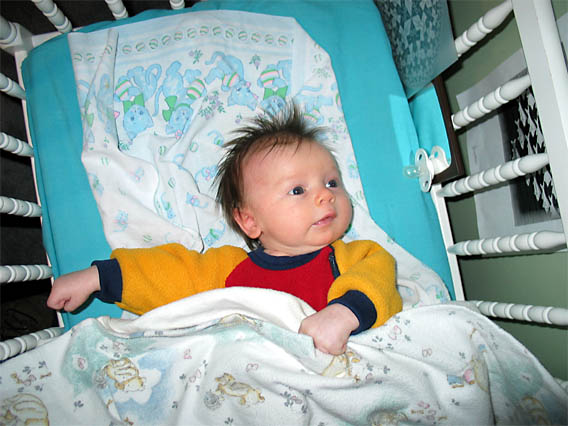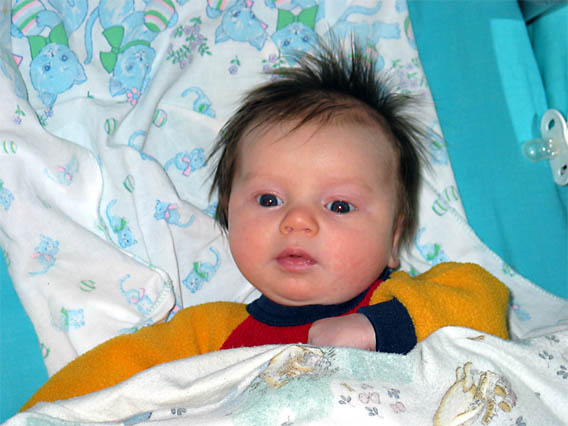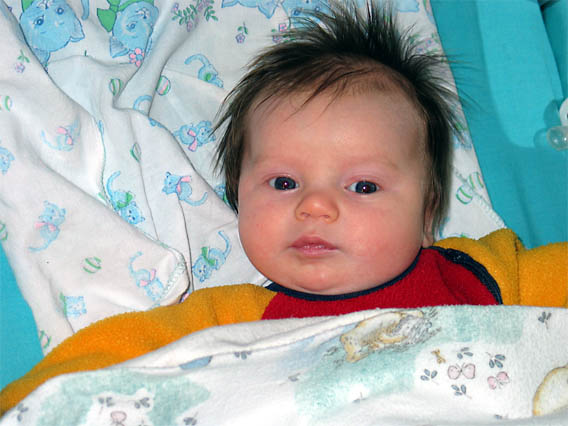 ---
March 20, 2004 - Bryn's got a cold
(Brynioch is 6 weeks)
Bryn just caught his first cold (probably from his dad). Oh well, like father, like son...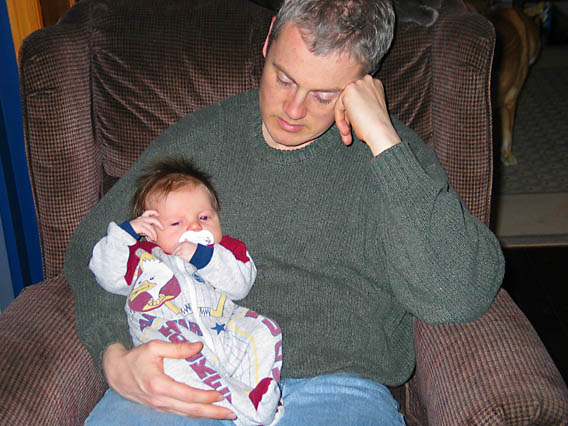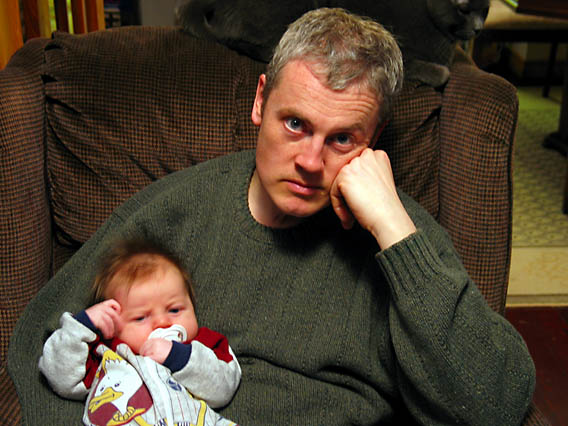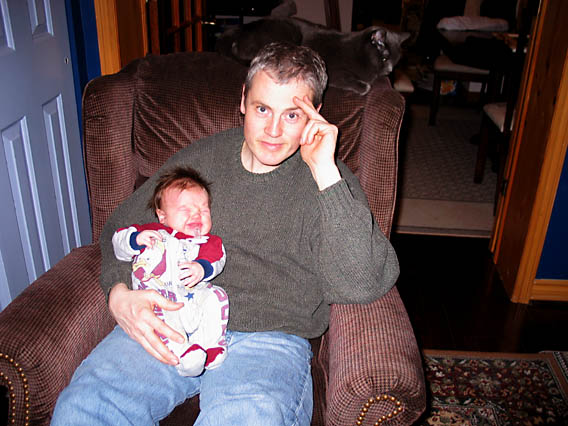 ---
March 19, 2004 - Visiting the Neighbors, Rob & Dianne
(Brynioch is 6 weeks)
Bryn's starting to interact more with his environment, responding to both people and things.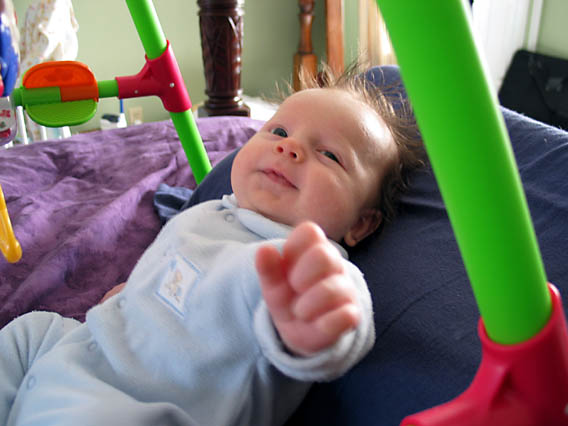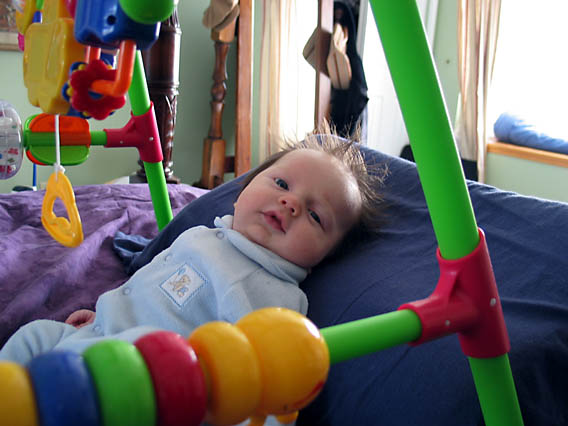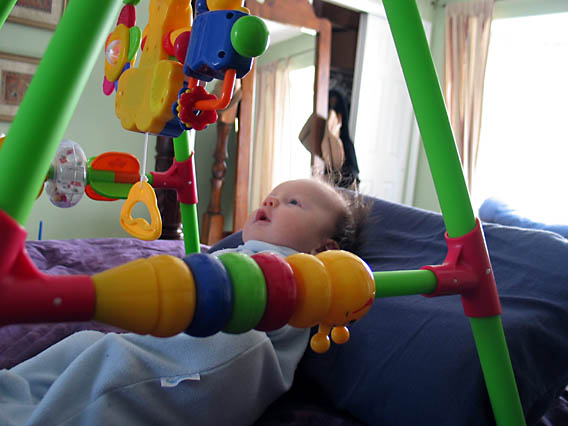 We finally got over to visit our friends and neighbors, Rob and Diane. I didn't manage to get a picture of their son, Alex.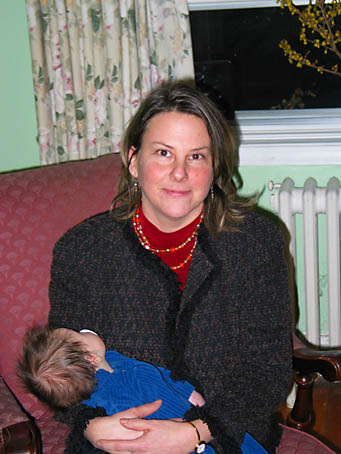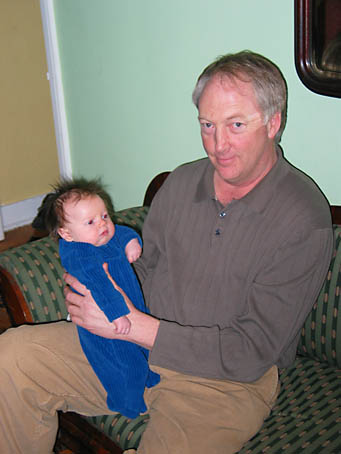 ---
March 18, 2004 - Mugging for the camera
(Brynioch is 6 weeks)
Bryn was having fun making faces.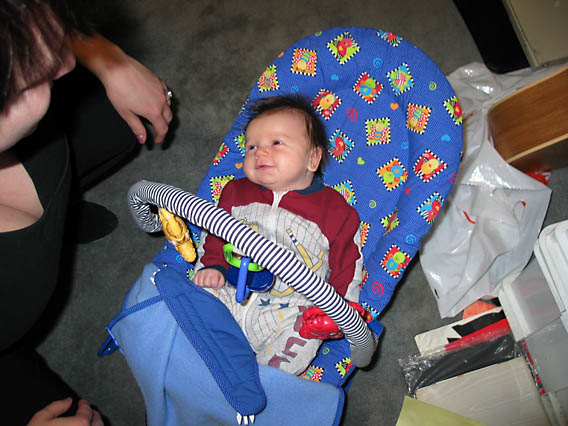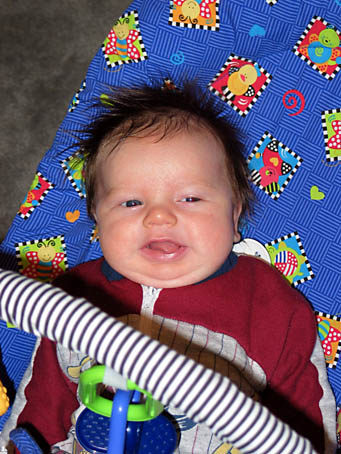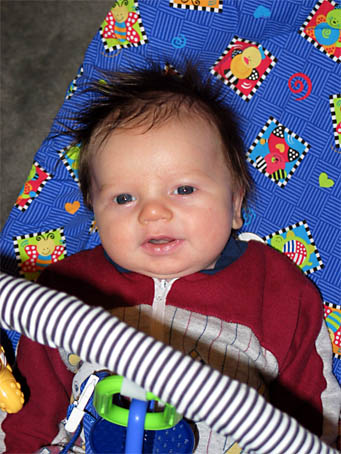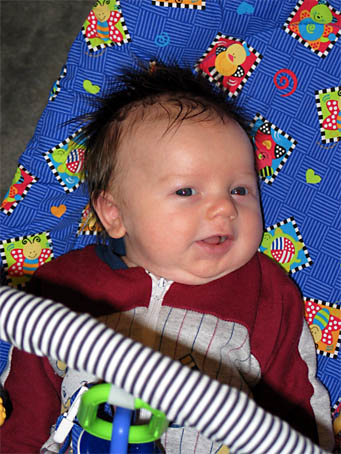 You might call this a "poopy face".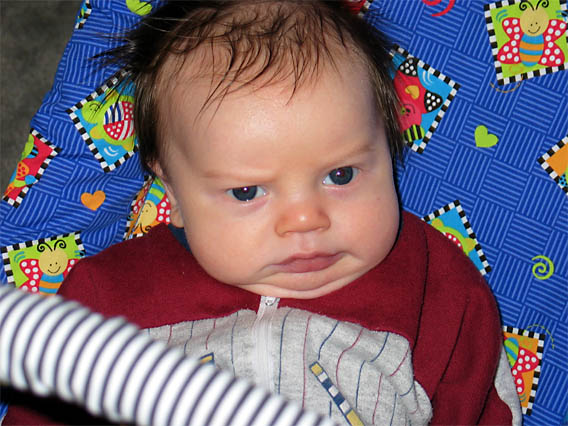 Jamfi like's to watch over Bryn (and to share his blanket).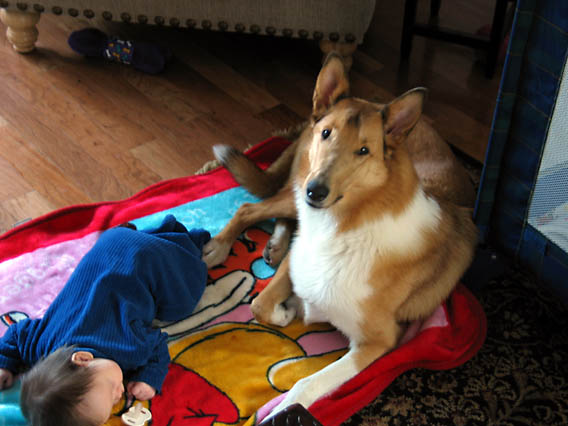 ---
March 17, 2004 - Happy St. Patrick's Day!
(Brynioch is 6 weeks)
This is Mike's "Second Birthday", the day he was brought home from the adoption center (at 6-1/2 months old).
Well isn't that silly! The only person in our house wearing green was our friend, Neil Rich. (Forgive the strange pictures. I had the camera setup incorrectly, and this was the best I could salvage from the shots.)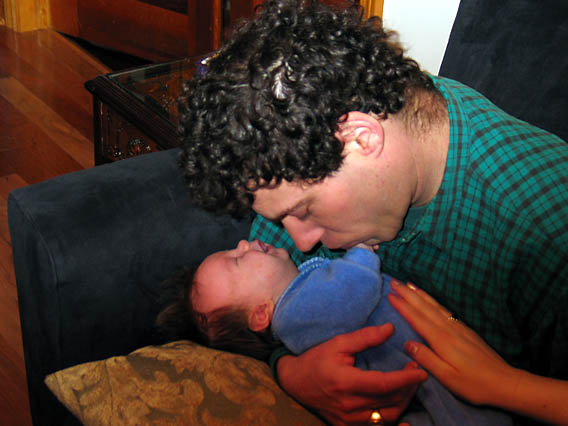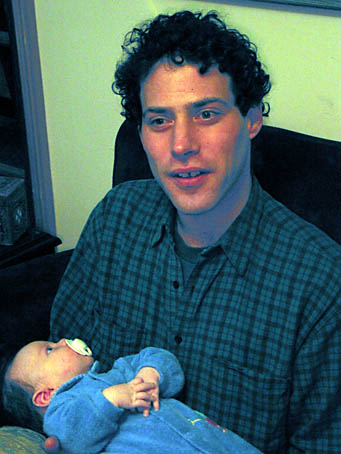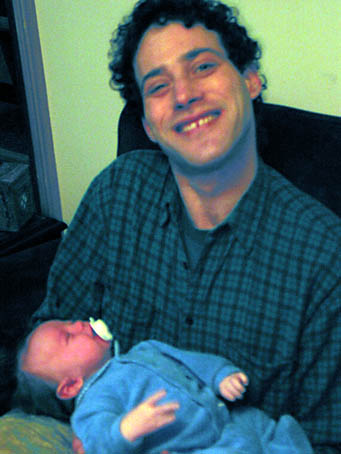 ---
March 15, 2004 - Bryn's Six-weeks Old Today!
(Brynioch is 6 weeks)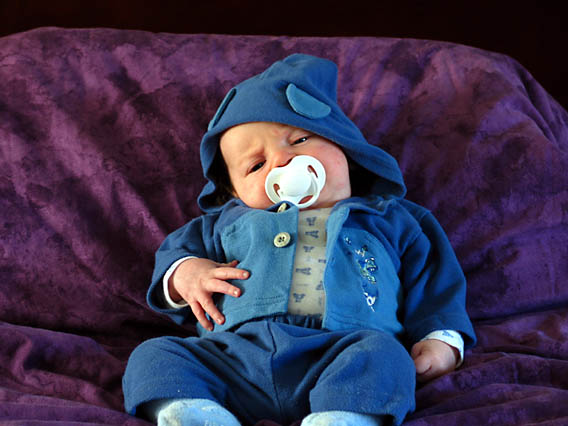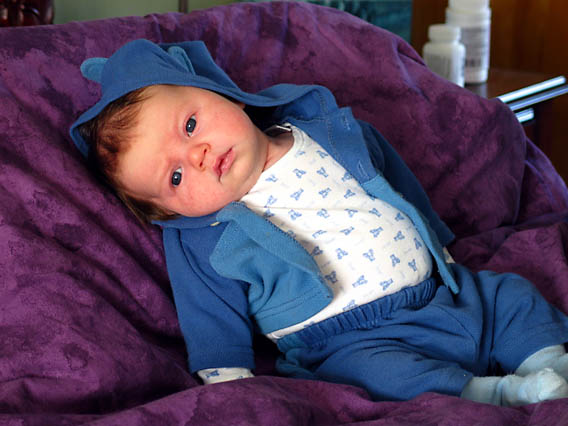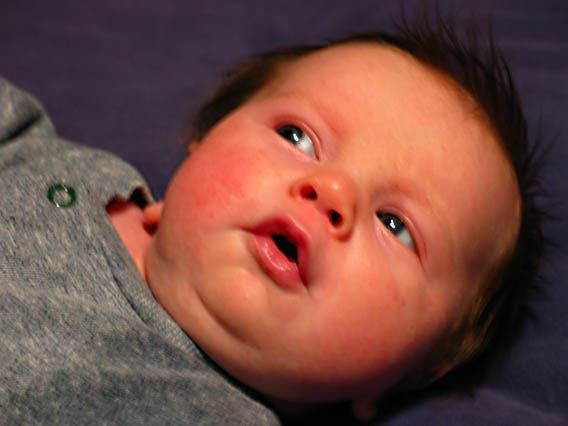 ---
March 14, 2004 - Birthday Party at Mike & Vicki's
(Brynioch is 5 weeks)
We visited Mike & Vicki, for a joint birthday party for Mike and his brother Paul.
Here's Paul Tuchscherer and his wife Cristina.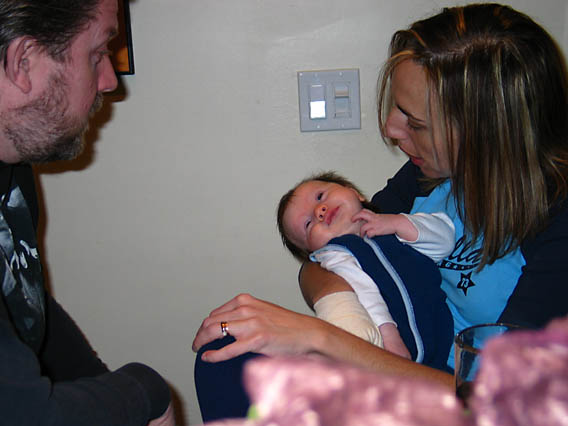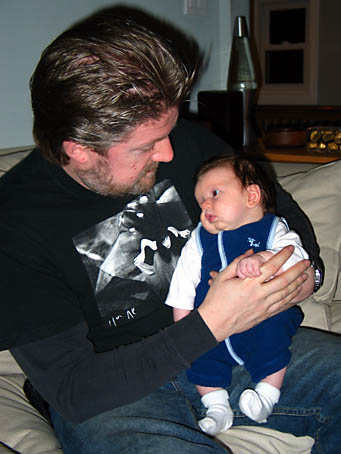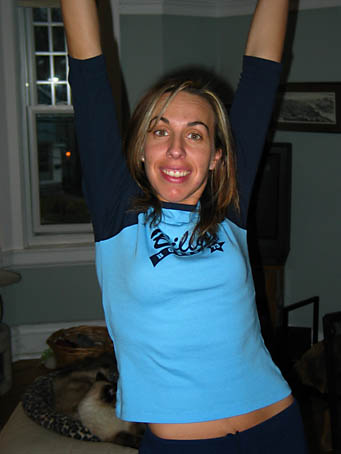 Here's Vicki, playing with Bryn. (That's M&V's beloved cat, Marvin, in the background.)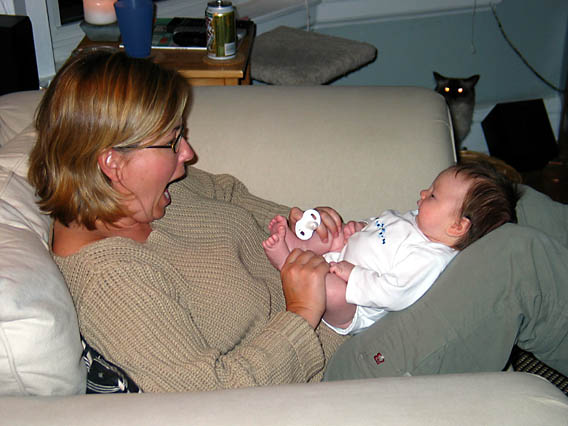 Mike looks like he's pretty comfortable with Bryn. We'll definitely be giving them a call for baby-sitting duties.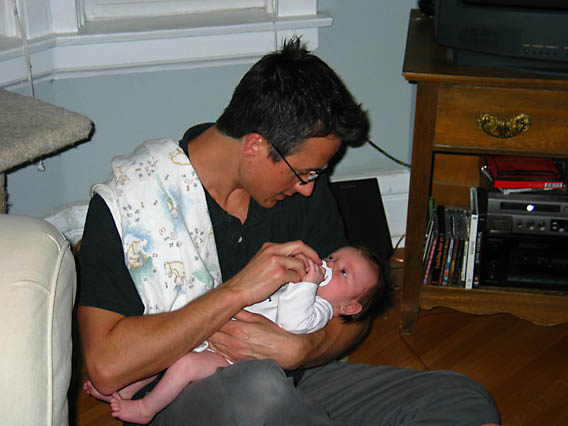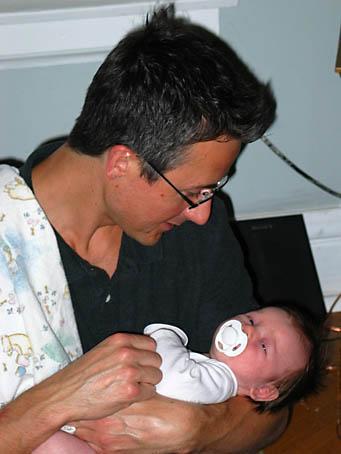 Did I mention that they liked their cat. By the way, Marvin is a "ragdoll".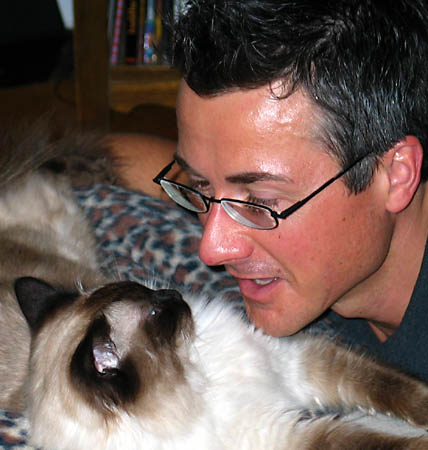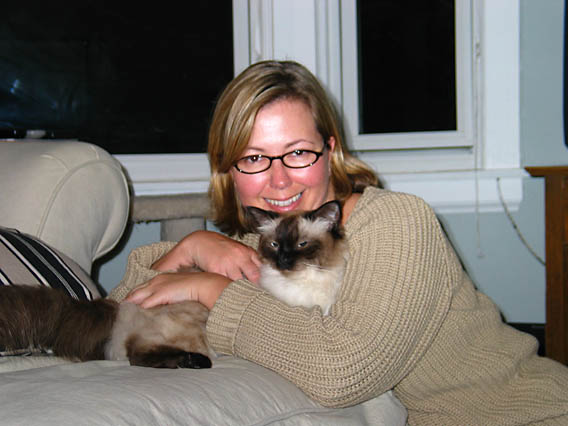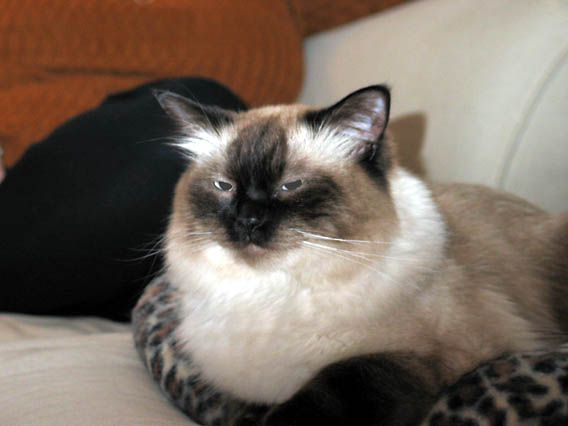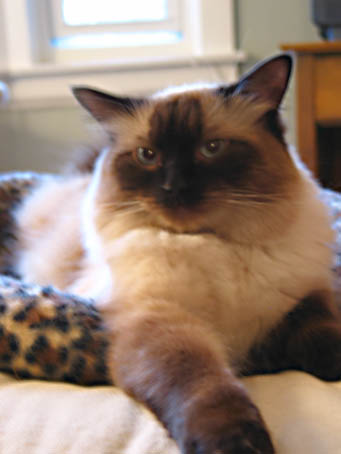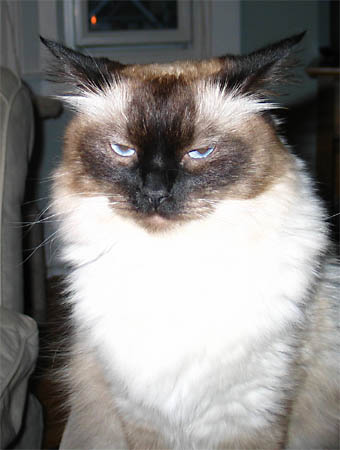 ---
March 13, 2004 - Time for another bath
(Brynioch is 5 weeks)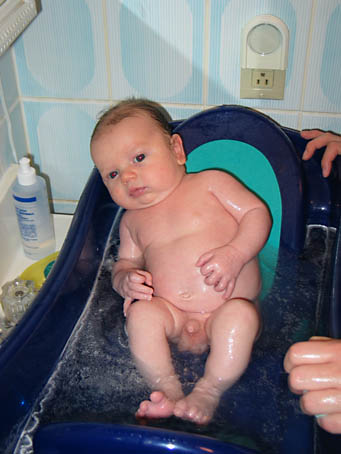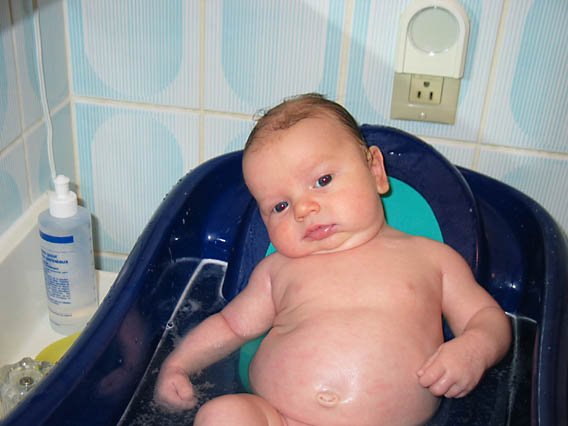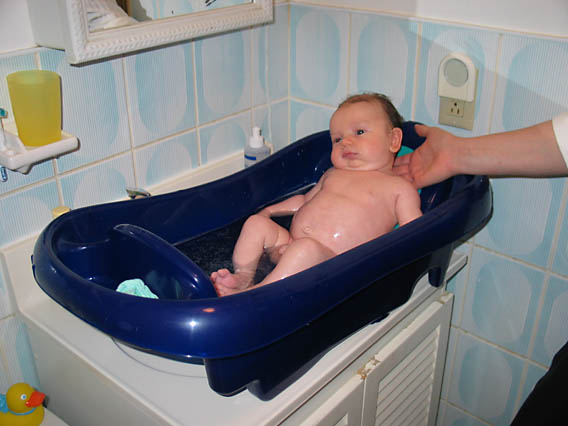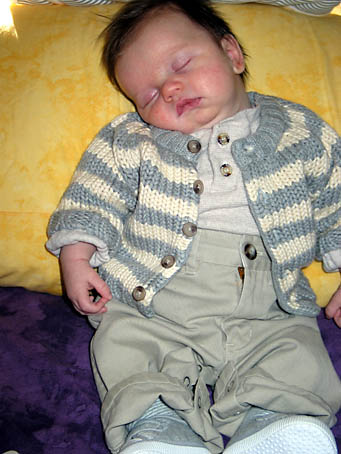 This is Mike's cousin, Lori Strain. She's the first family member on Mike's side to meet Bryn "in the flesh".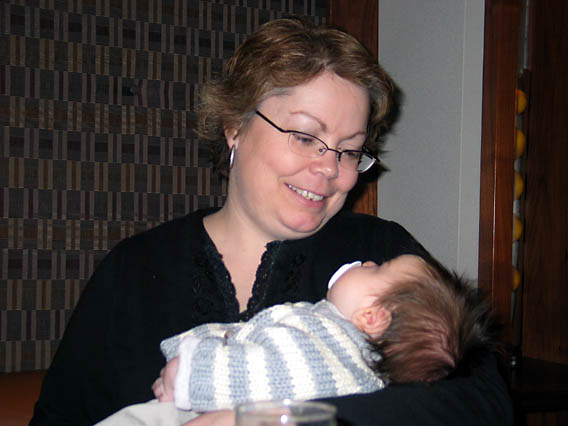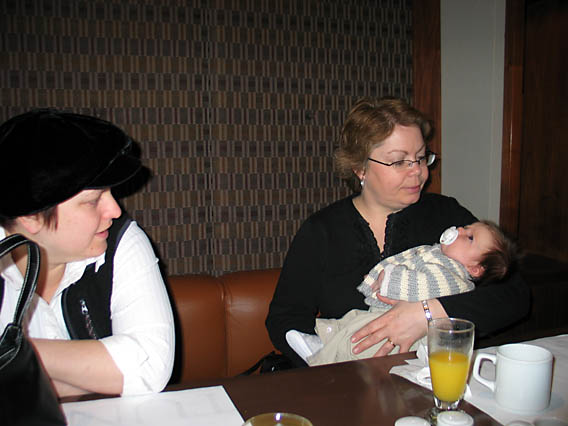 Lori was attending a conference in Toronto, and staying at the Hilton. We went up to visit her room, so I snapped a couple of pictures from her window.
This is the new opera house, being built at Queen & University. You can see the stage and the orchestra pit.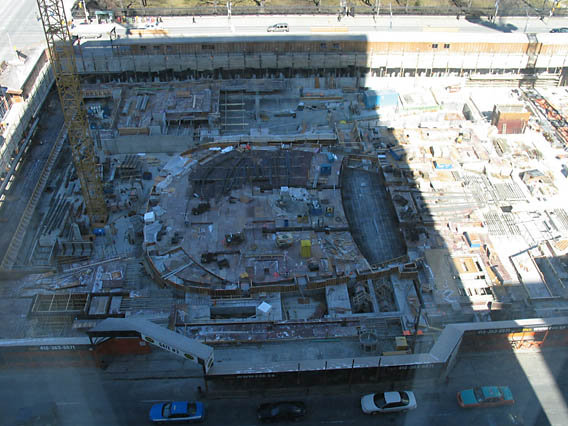 Looking north up University Avenue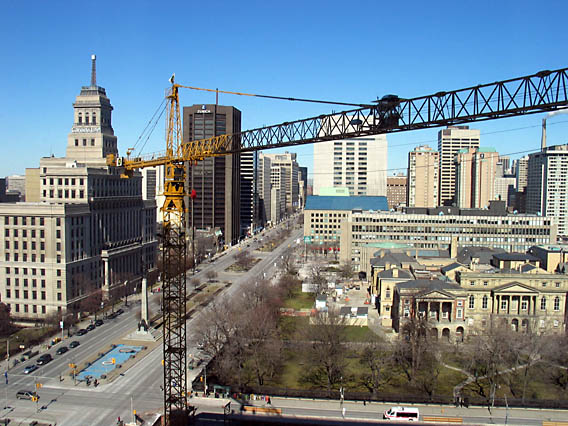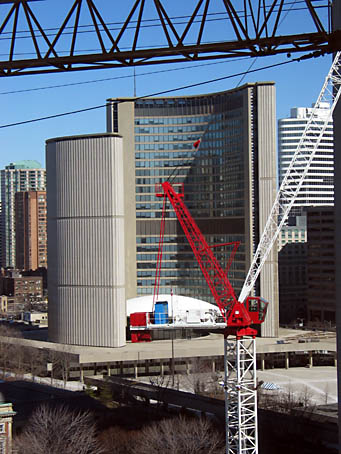 Old City Hall (it's a courthouse now)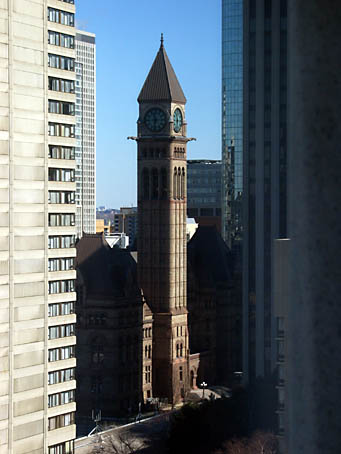 ---
March 12, 2004 - Another Night at the Rennaisance Cafe
(Brynioch is 5 weeks)
Linda Saslove met Bryn. She's a singer-songwriter, who will be playing at Mike's 40th birthday party, on the Saturday of Labour Day weekend. The last time we saw her perform was during Winter Folk on January 31st, two days before Bryn was born!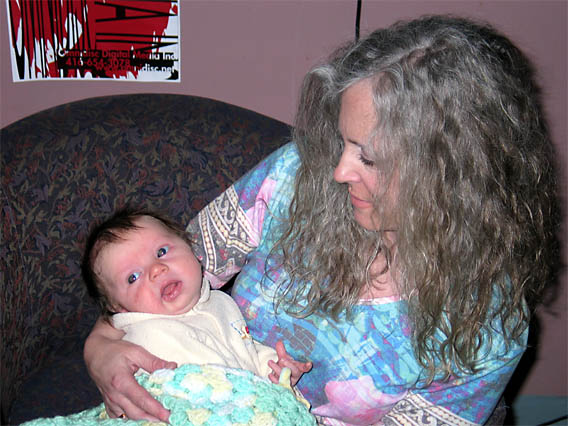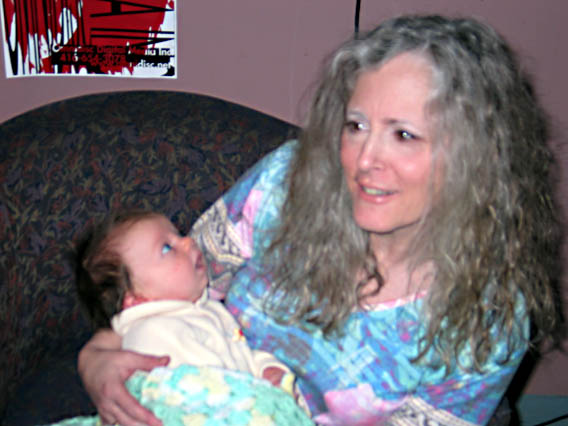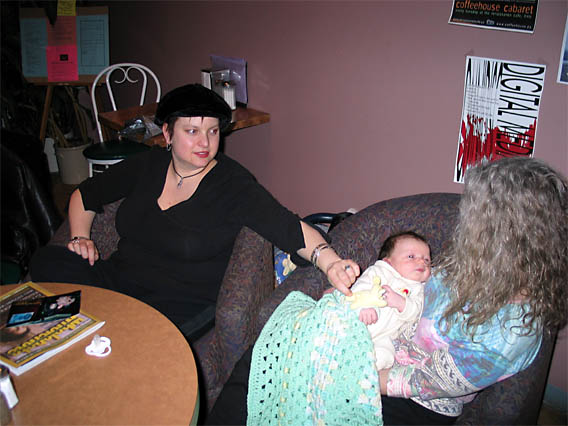 Nik Beat performed some of the songs that we was rehearsing on March 3rd.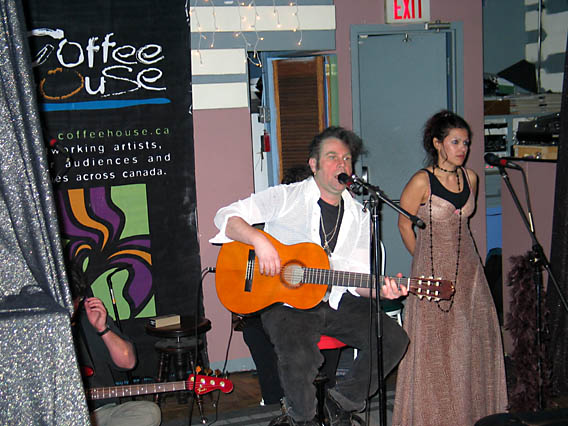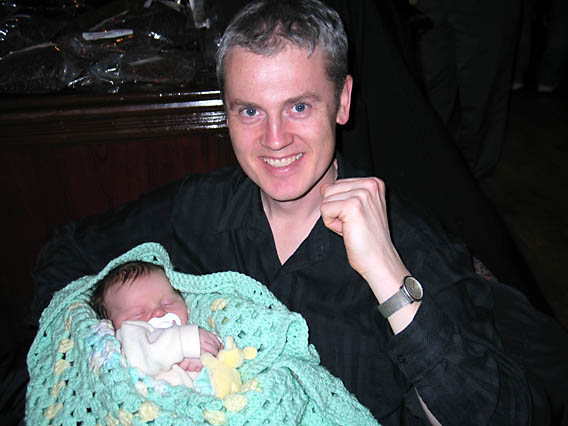 ---
March 11, 2004 - Images of Toronto
(Brynioch is 5 weeks)
The sunrise was beautiful this morning! I missed capturing the colors, but here's the sun peaking through the trees. By the way, these were taken from our front bedroom window, on the 2nd floor.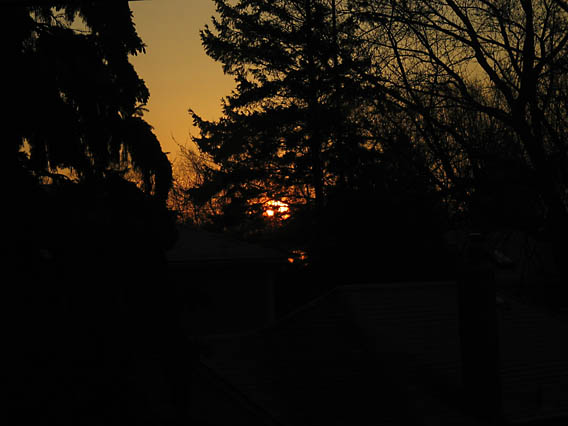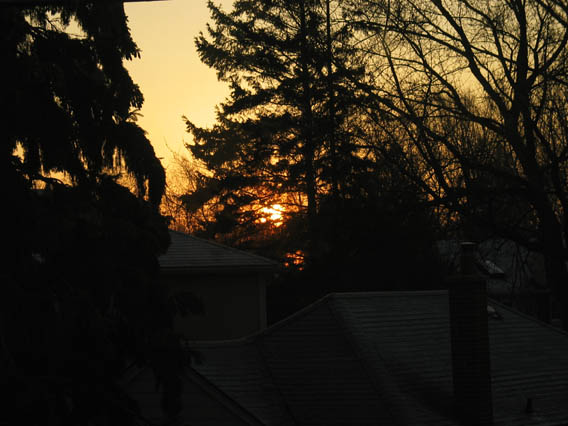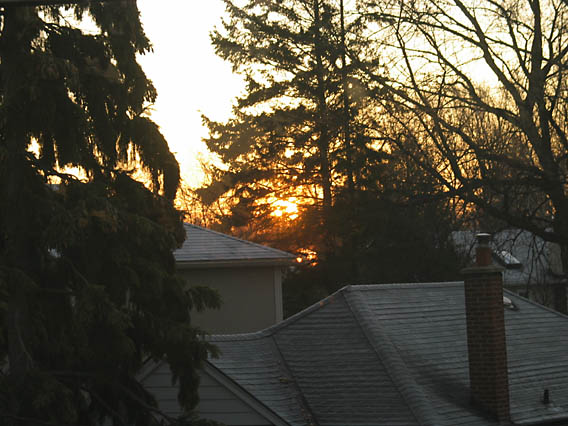 While Jill returned to her fitness club for first time today (leaving me to watch Bryn), I figured I would try to get a few nice pictures.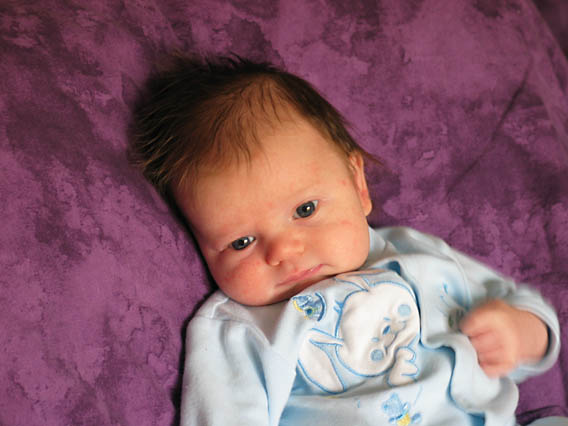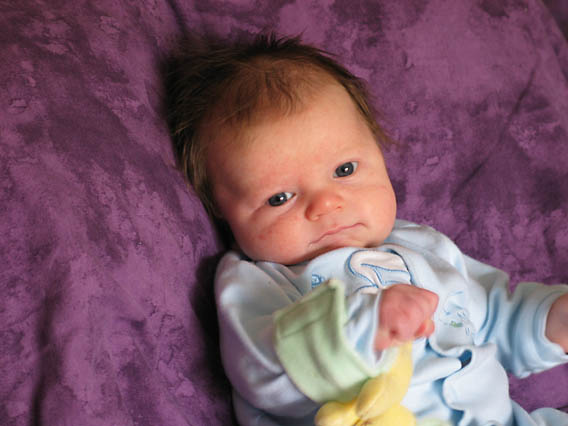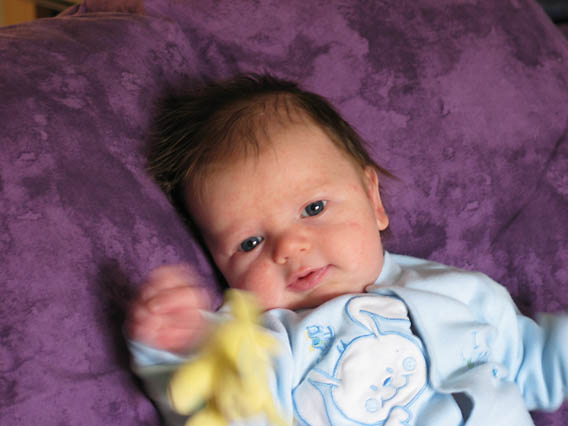 I took Jamfi for a walk in "The Beaches" (a.k.a. "The Beach" by the locals).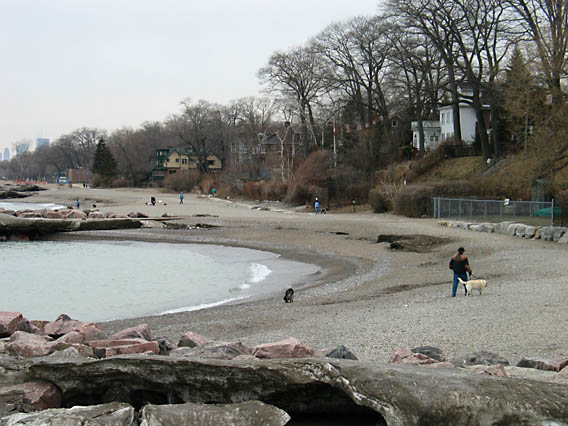 Here she is waiting patiently for me to throw the ball, down by the main water treatment plant. For those who are wondering what type of dog Jamfi is, she's a "Smooth Collie". 5-10% of Collies have a recessive gene that causes short hair, so basically she's "Lassie with a brushcut".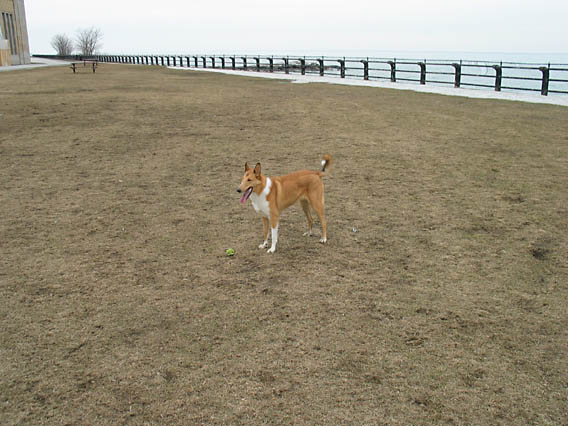 The waves from Lake Ontario splashing up on the piers can create some amazing, natural sculptures.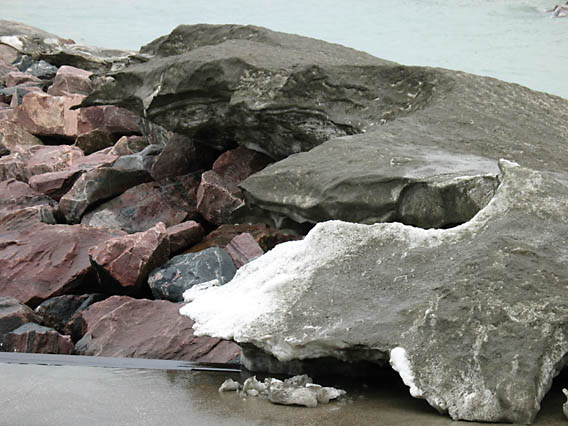 Here's an "art photo", as an homage to my photographer friend, Vuk Vuksanovic.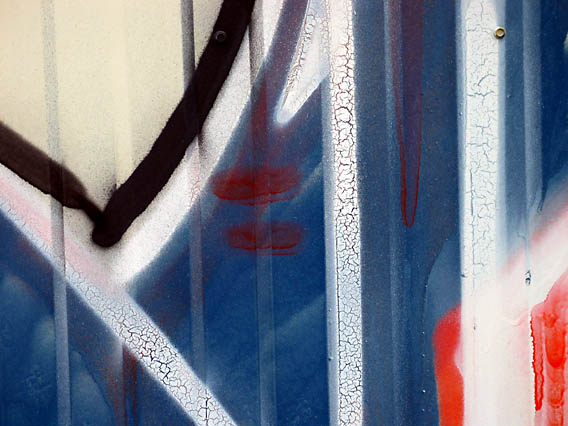 ---
March 9, 2004 - Jill Carrying Bryn
(Brynioch is 5 weeks)
Jill decided she wanted to carry Bryn today.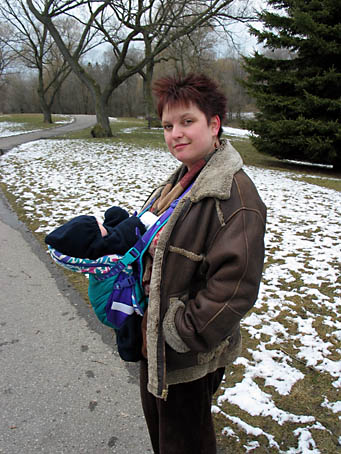 ---
March 8, 2004 - More Tummy Time
(Brynioch is 5 weeks)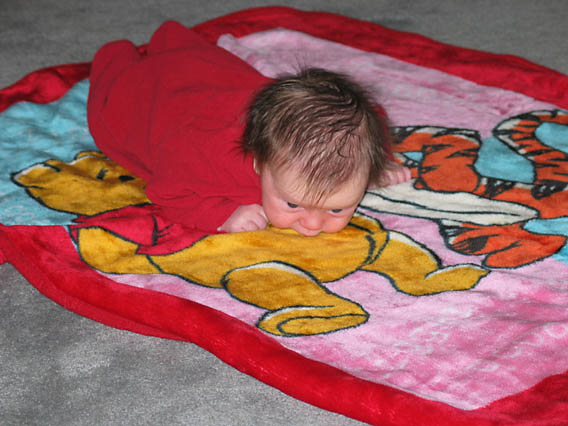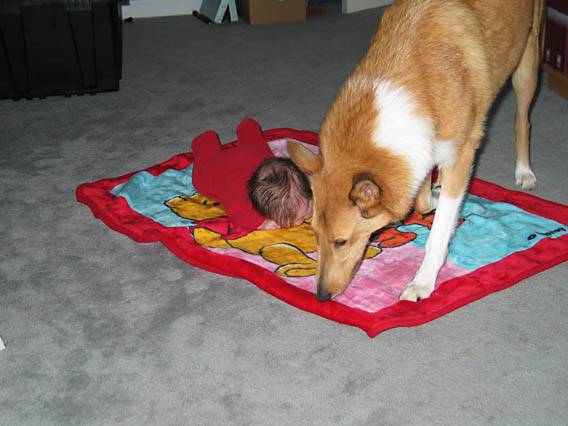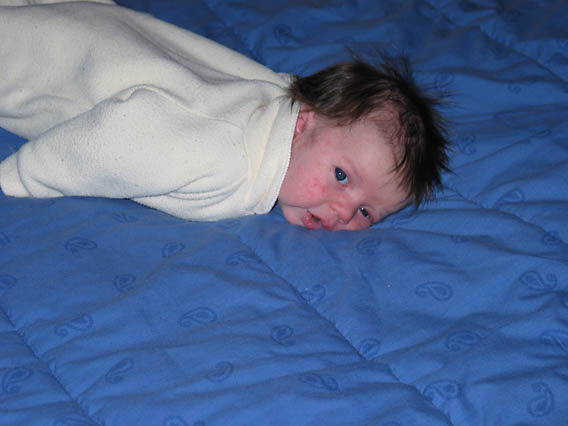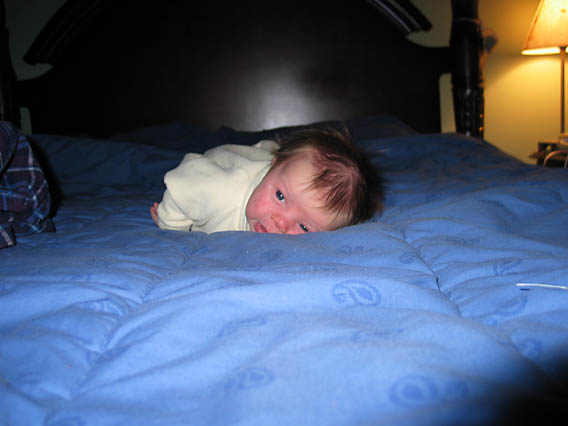 "I already hate my parents (and I'm not even a teenager yet)!"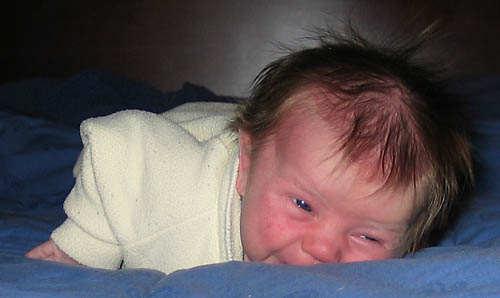 ---
March 7, 2004 - Fancy Pants!
(Brynioch is 4 weeks)
"My, you look dapper today, Bryn!"

"Yes, I know."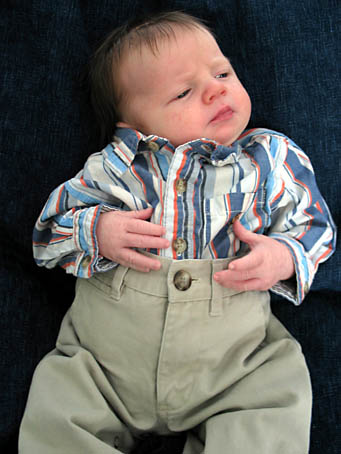 Up this close, Jamfi still smells like a skunk.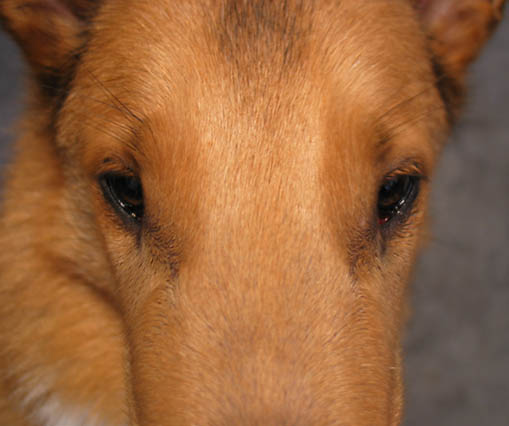 ---
March 6, 2004 - Skunks and Smiles
(Brynioch is 4 weeks)
Last night Jill and I went out without the baby for the first time. After picking up Bryn from the sitter's, we got home about 11:30pm. As usual, we let Jamfi out for her last pee of the evening, and she was promptly sprayed by skunk!
So off I go to Shopper's for a quart of hydrogen peroxide, which I mixed with 2 ounces of baking soda and a teaspoon of dish soap, and proceeded to wash the dog outside at midnight. We left her out there until 4am, and then let her into the basement for the last part of the night. She didn't smell quite so awful by then, but I still did the cleaning ritual again in the morning.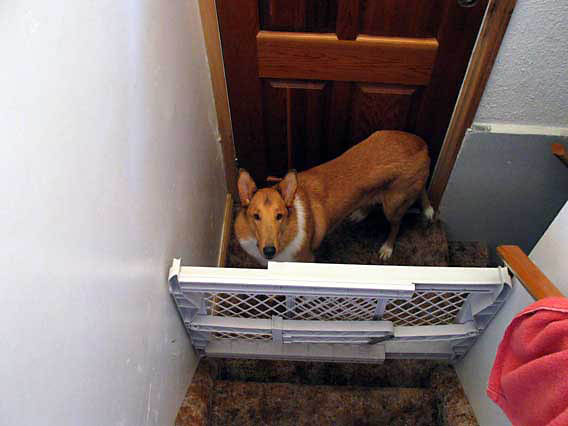 Bryn's finally starting to smile for real. There's even a little movie to watch.
Here's Bryn in his "golfing" outfit.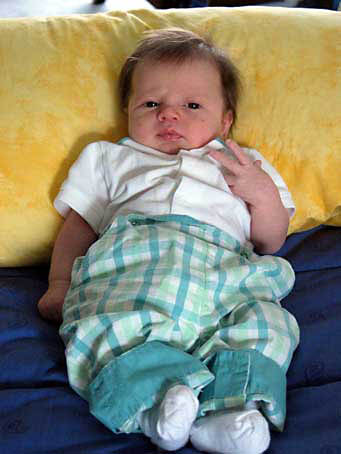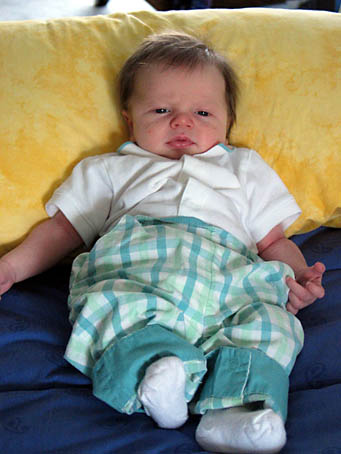 Usually people comment that Bryn looks most like his mom, but here he seems to look at bit more like his dad.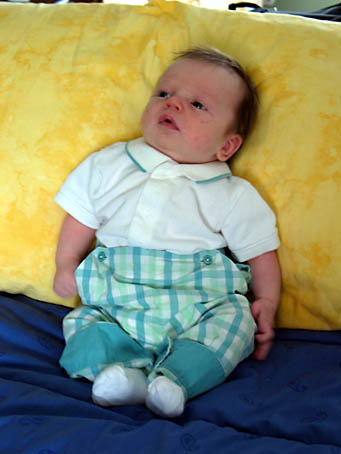 ---
March 5, 2004 - "Tummy Time"
(Brynioch is 4 weeks)
Bryn isn't a big fan of "tummy time"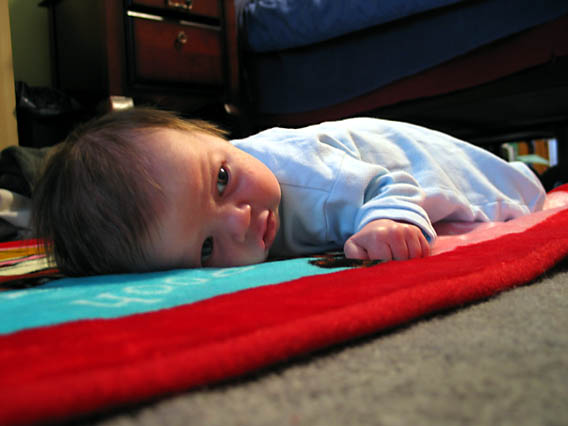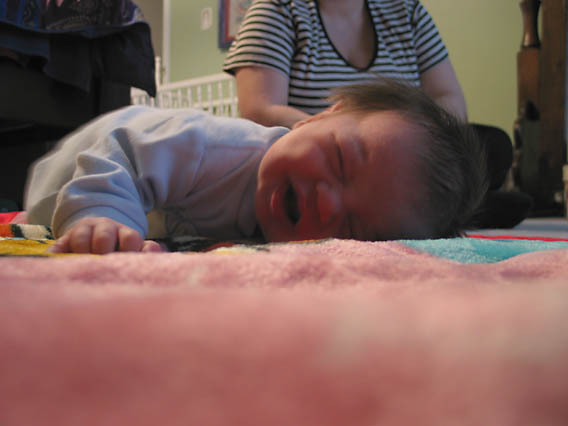 Cosmo watches on with detached bemusement.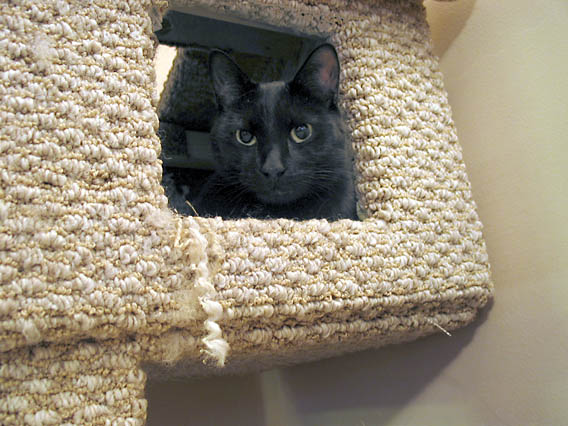 ---
March 4, 2004 - Another walk in the park
(Brynioch is 4 weeks)
We have a "Chuck-it" to throw balls for Jamfi. Being so close to the creek, we invariably lose balls. (Sometimes it feels worse than a bad golf game.) Occasionally we're lucky enough to retrieve one.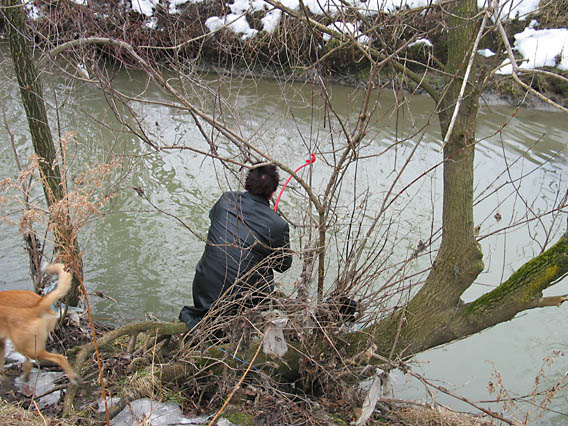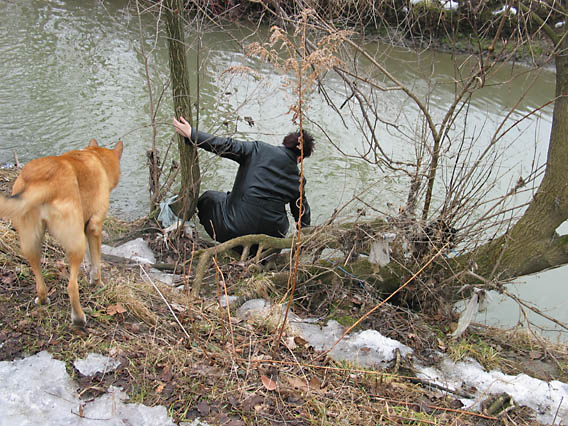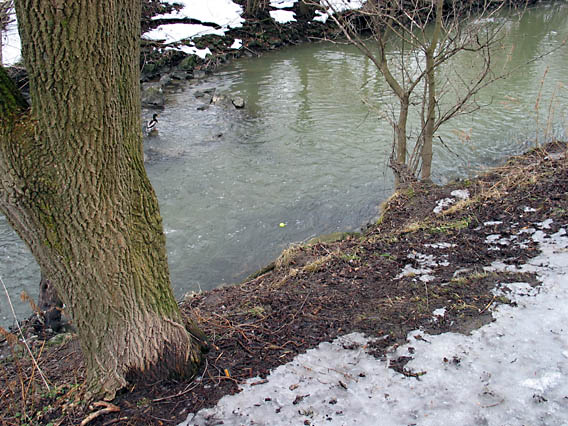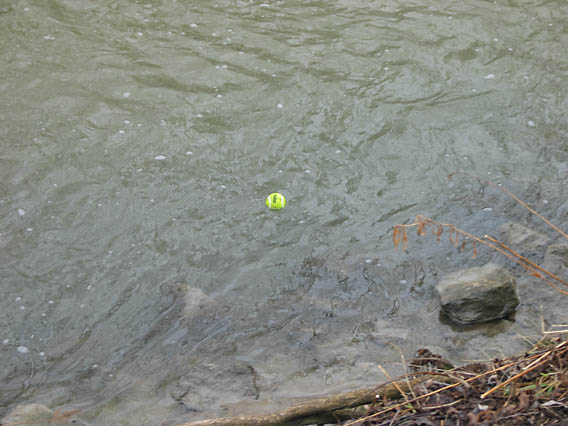 Look out, here come some Dog People!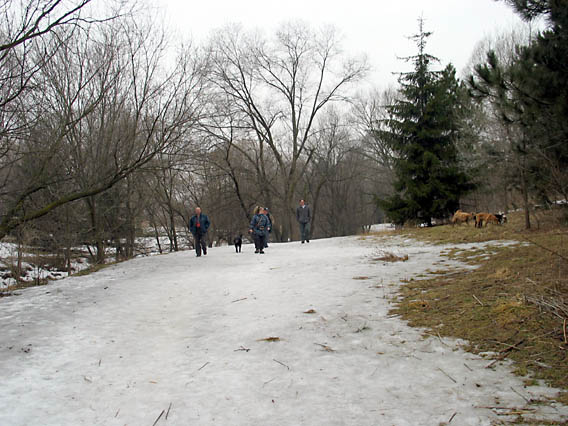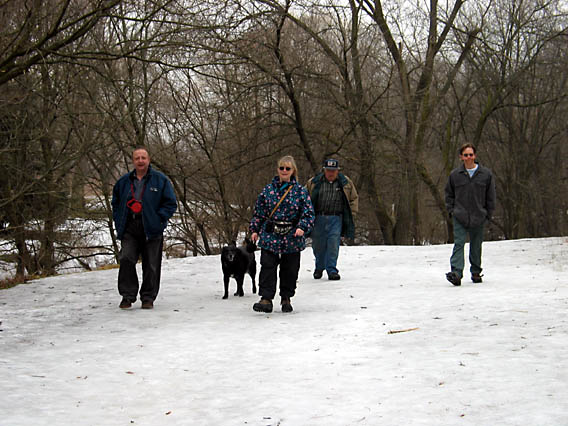 ---
March 3, 2004 - Bath day for Bryn!
(Brynioch is 4 weeks)
Here's Bryn, drying off after his bath.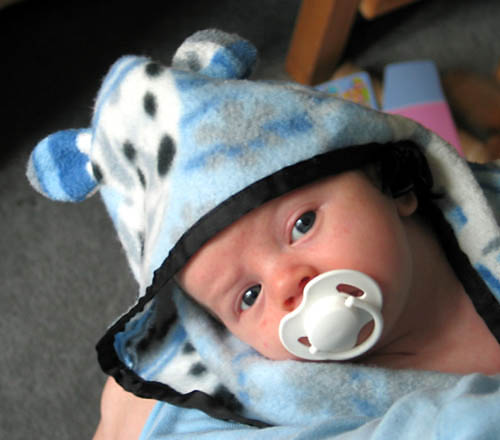 We decided to "out", so we popped over to the Renaissance Cafe. This is a local bar/coffee shop that hosts many "indie" events, like poetry nights and music open-stages.

Bryn seemed to enjoy it.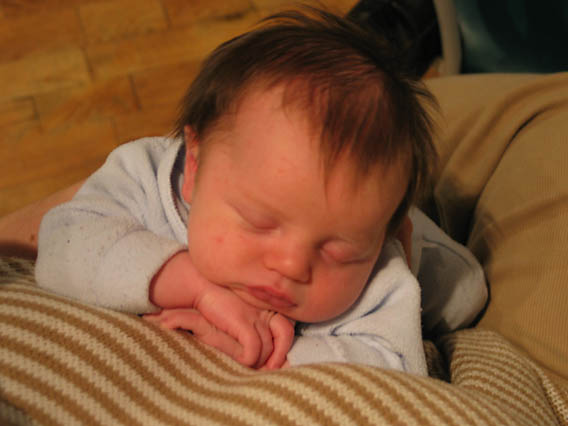 This is our friend Cheri Michael, who works at the Cafe. She's also involved in the arts community, organizing the "Sirens" performance series. (Jill was a featured performer at the first Sirens event.)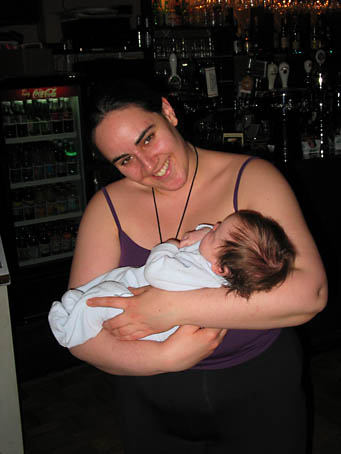 After that, we decided to pop over to visit our friend Nik Beat, while he was rehearsing. Nik is a fixture on the Toronto poetry scene, hosts a local radio show called "Howl" on CIUT, and is also a singer-songwriter. Click on the picture to watch one of the songs being rehearsed.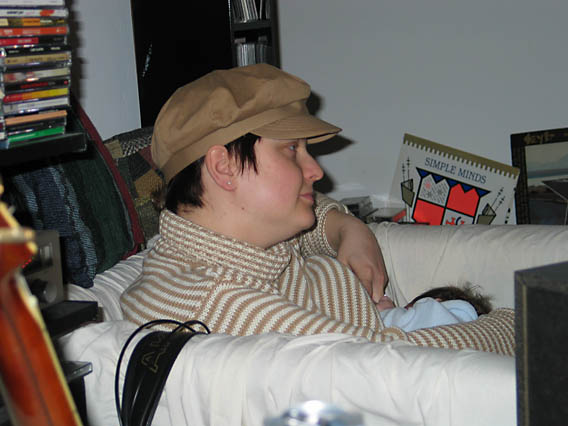 ---
March 2, 2004 - Bryn's 1-month Old Today!
(Brynioch is 4 weeks)
Mike has fun being "artistic" with the tripod.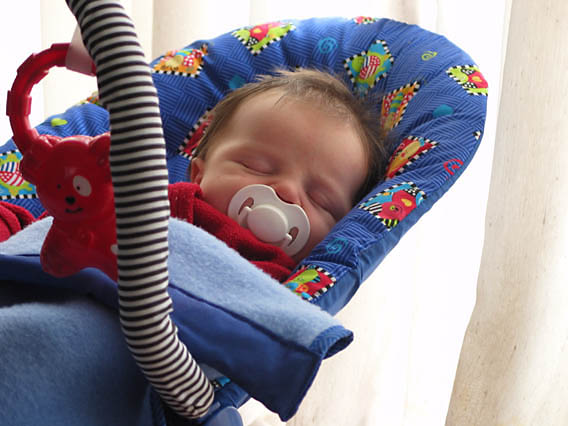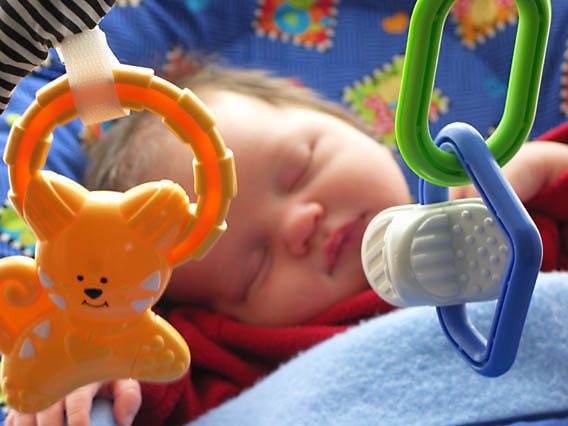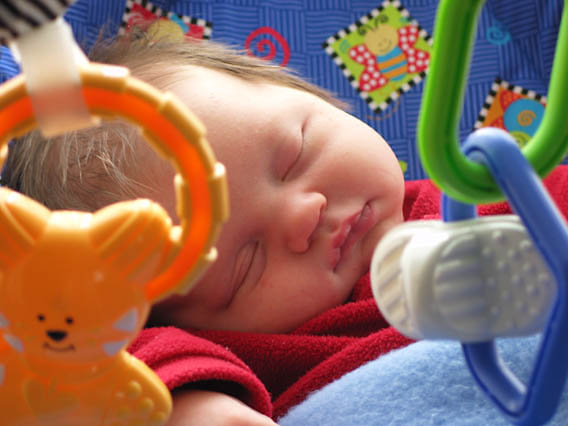 Jamfi slept beneath the tripod, through it all.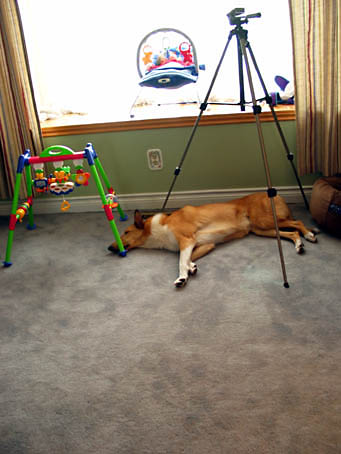 Mike, Jill, Bryn and Jamfi go for a walk in Taylor Creek Park.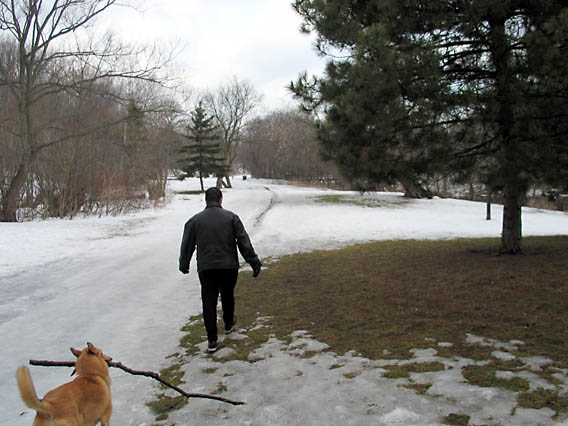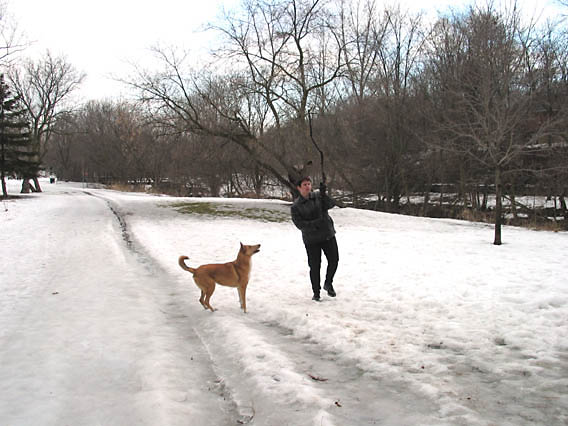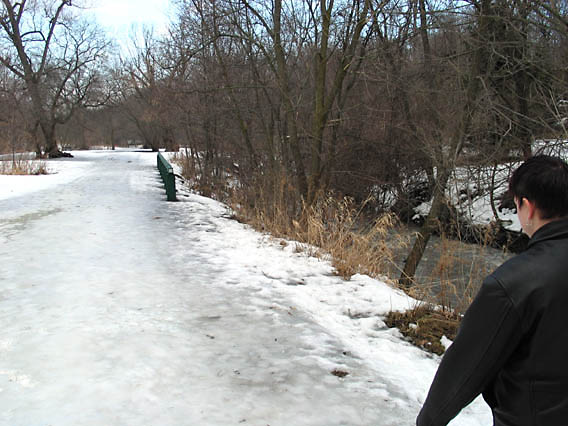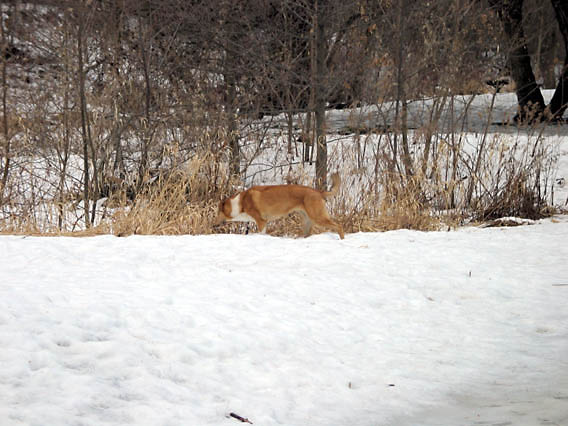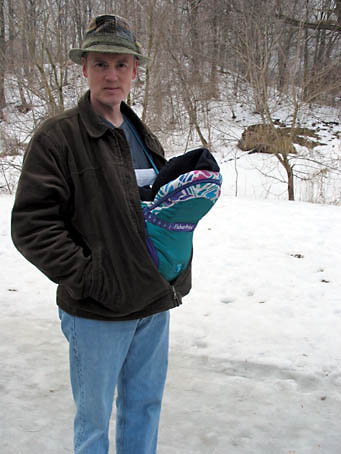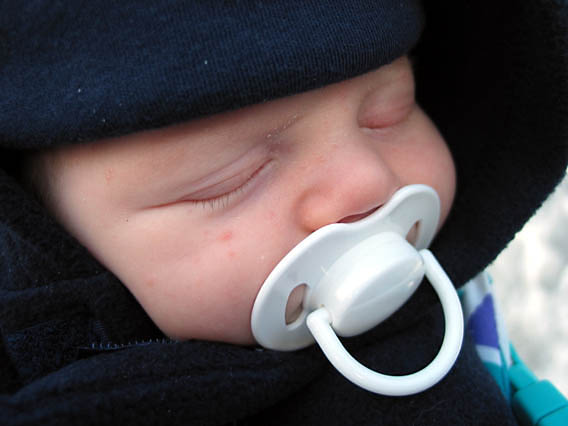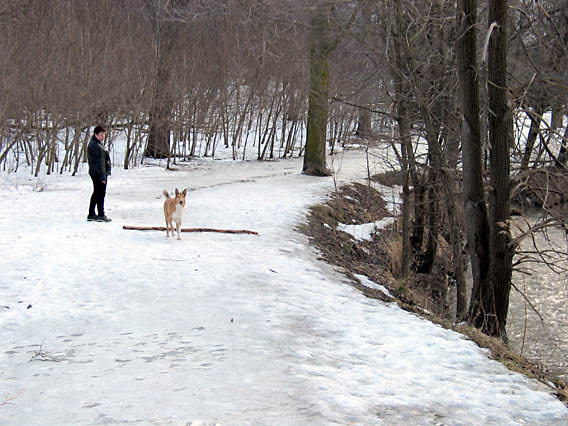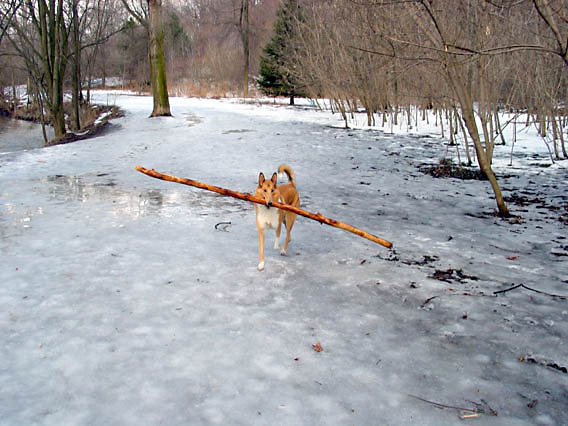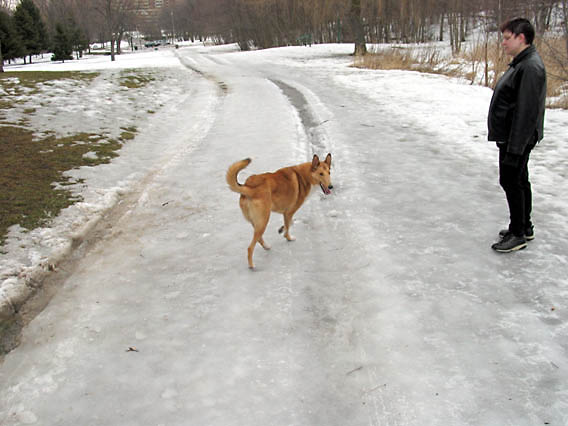 When Jamfi runs with other dogs, she often gets a "hedgehog" on her bum.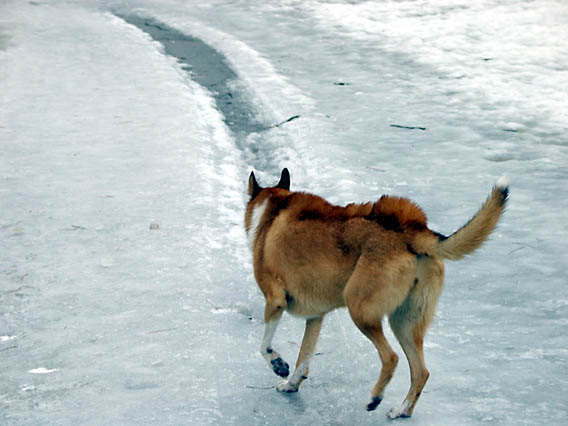 There wasn't enough light for a perfect picture, but this one is still nice.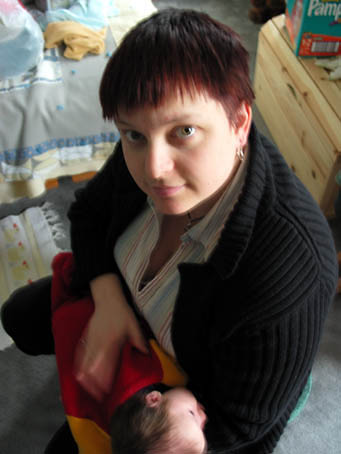 ---
March 1, 2004 - Bryn's 4-weeks Old Today!
(Brynioch is 4 weeks)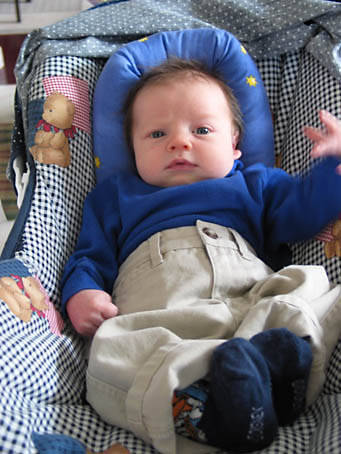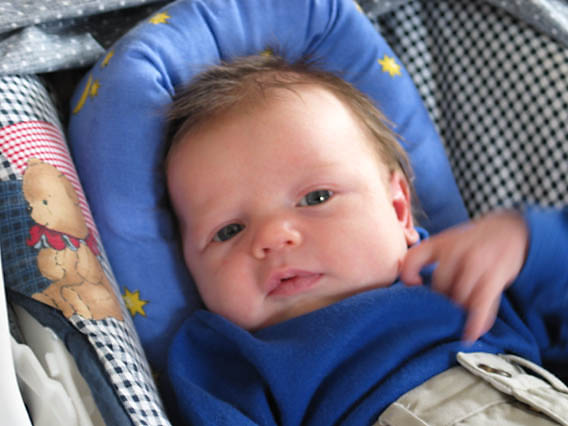 Here's Jamfi in Taylor Creek Park, which is a 10 minute walk from our house.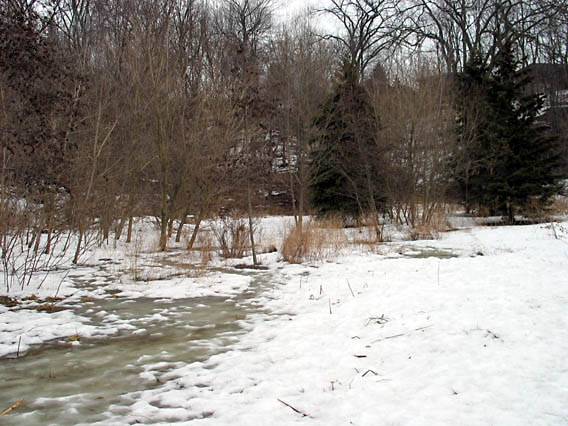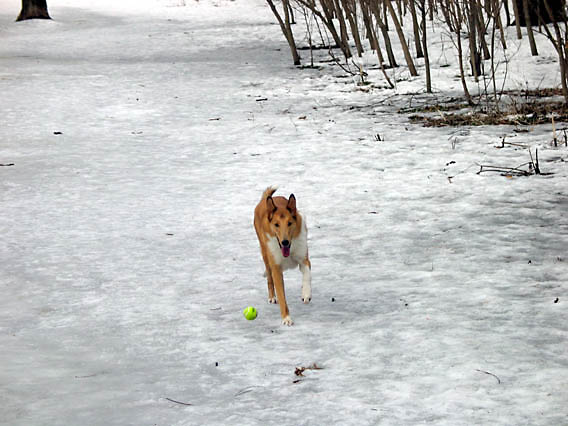 ---
Index






































































































































---