| | | | | | | | | | | | | | | | |
| --- | --- | --- | --- | --- | --- | --- | --- | --- | --- | --- | --- | --- | --- | --- | --- |
| B | r | y | n | i | o | c | h | & | F | i | n | n | l | e | e |

| | |
---
April 30, 2004 - Party at Yvette's
(Brynioch is 2 months)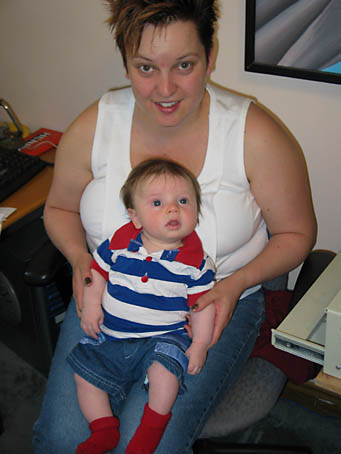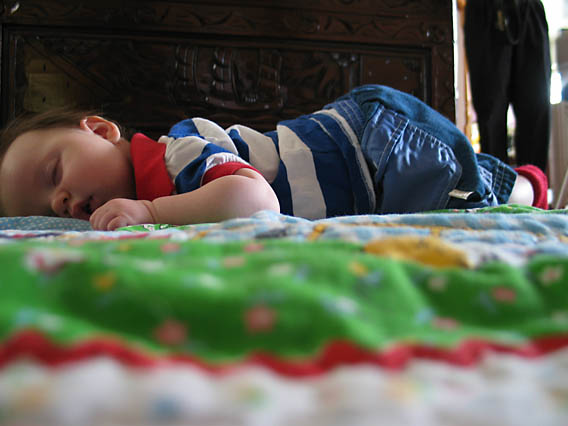 We went to a party at Yvette's, and enjoyed meeting many of her family and friends. Yvette is originally from Zimbabwe, as were most of the people at the party.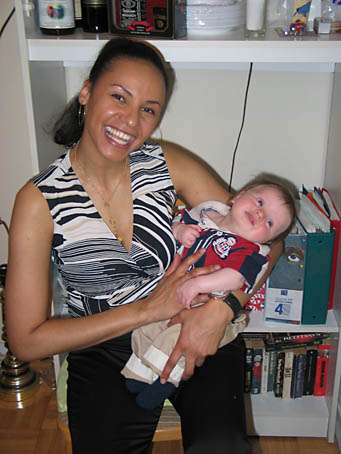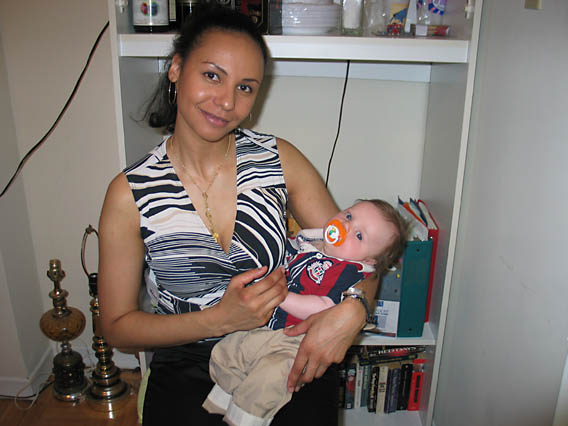 This is Yvette's son, Caesar, with his friend Aaron.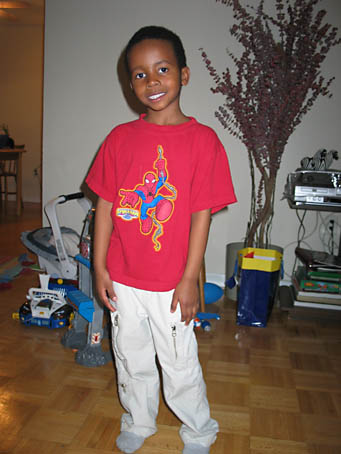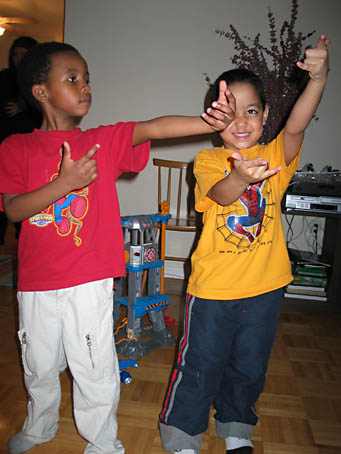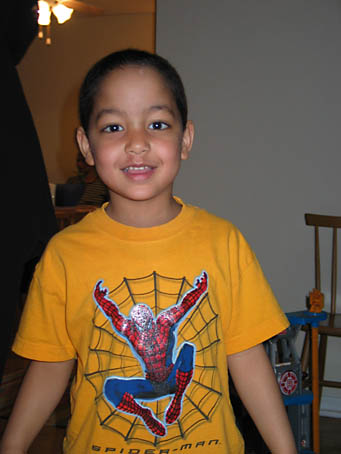 Here's Yvette's sister, Mercedes. Their mom, Priscilla, has her back toward the camera in the first shot, and is hamming it up in the second.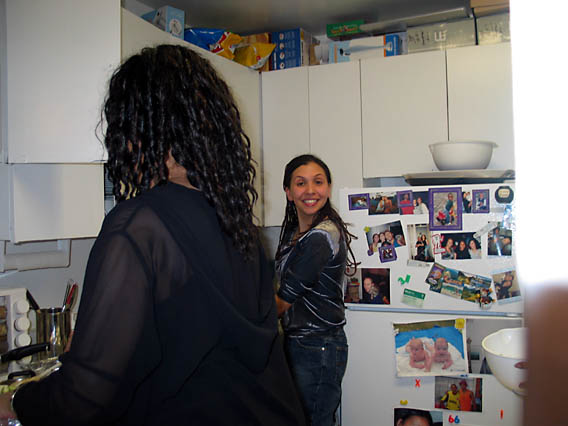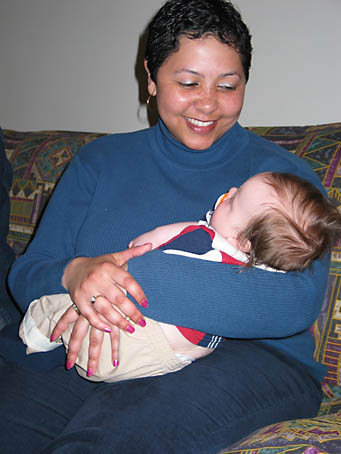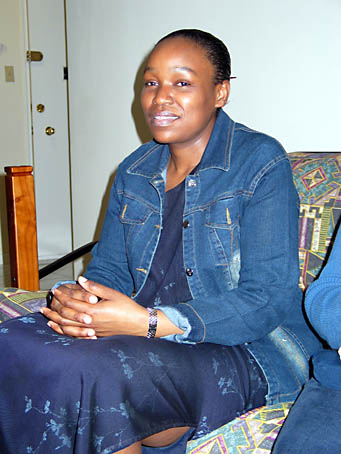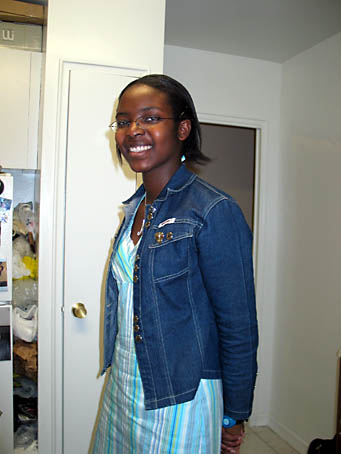 I don't know who this was, but she sure was ugly!!!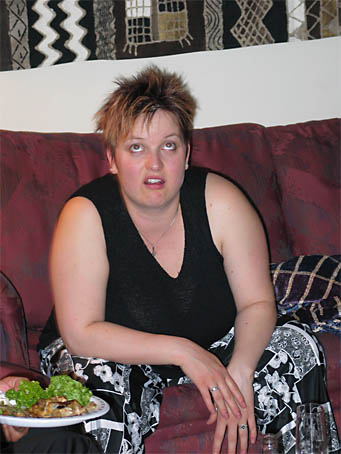 ---
April 29, 2004 - Hanging with Michelle
(Brynioch is 2 months)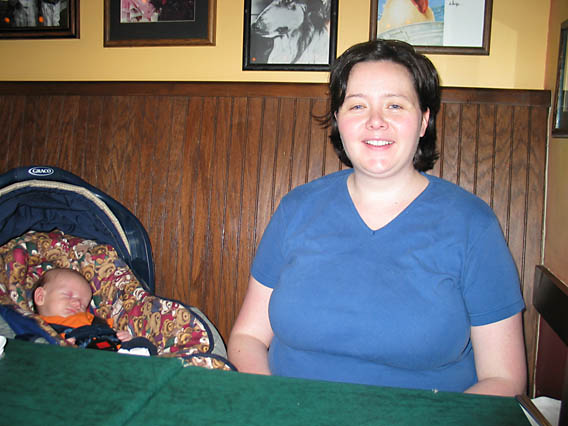 Connor sure is getting bigger!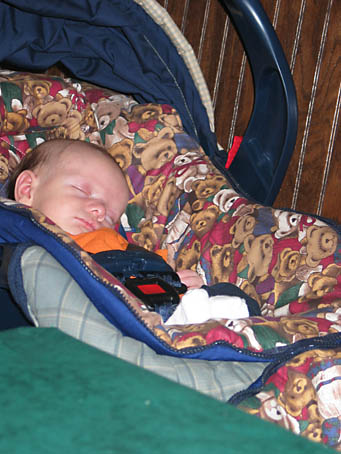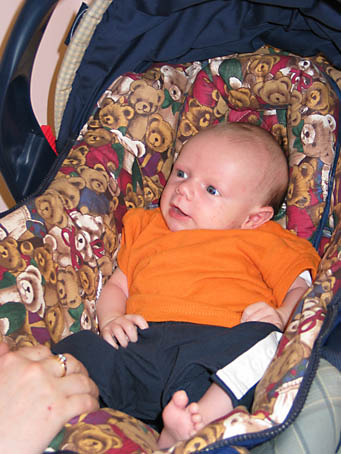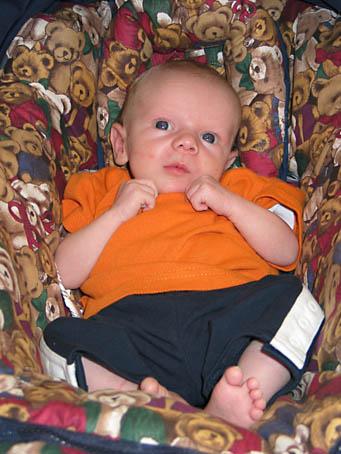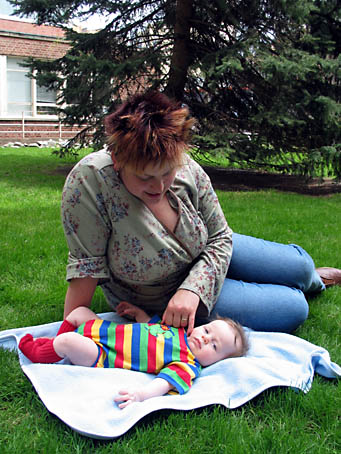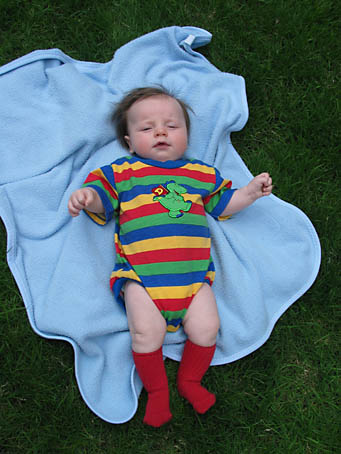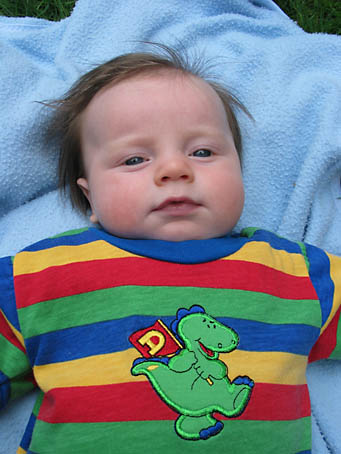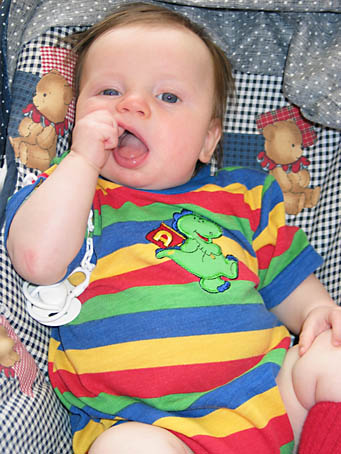 ---
April 28, 2004 - Smiles and Such
(Brynioch is 2 months)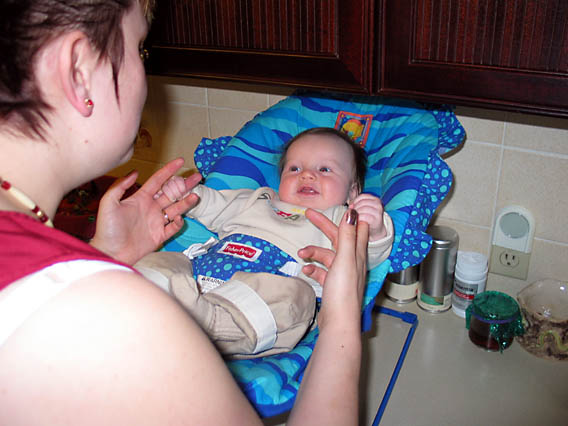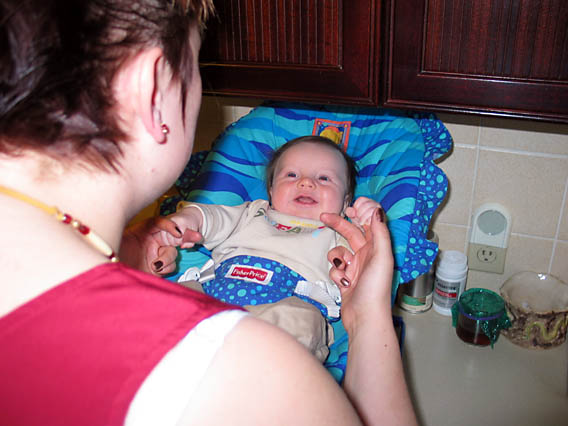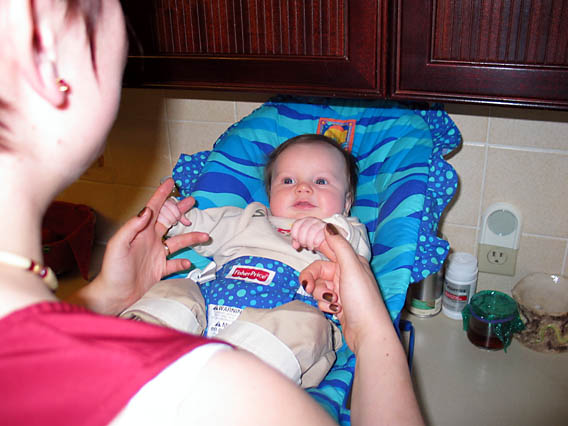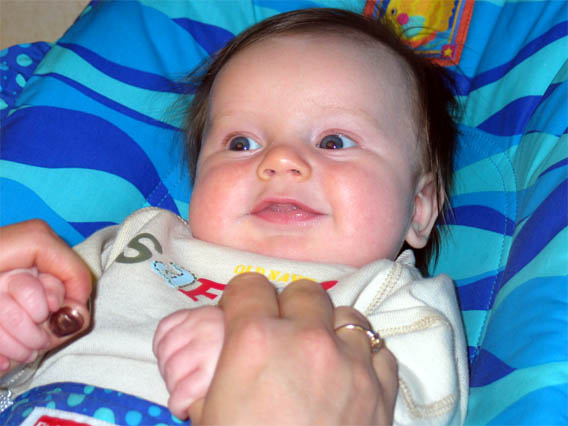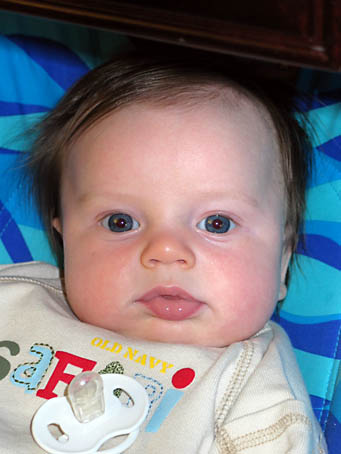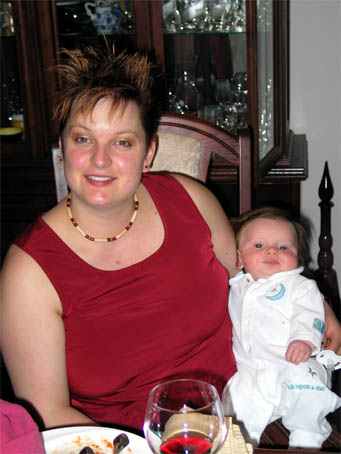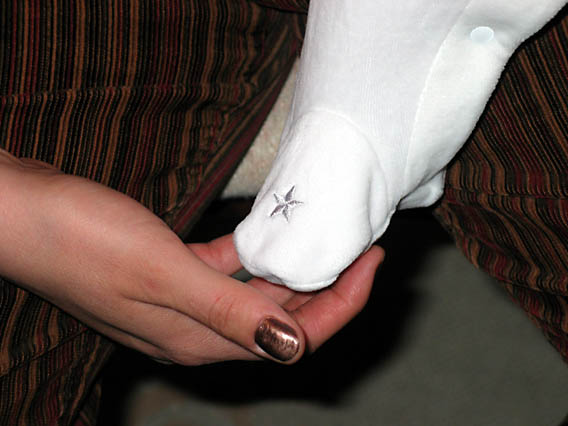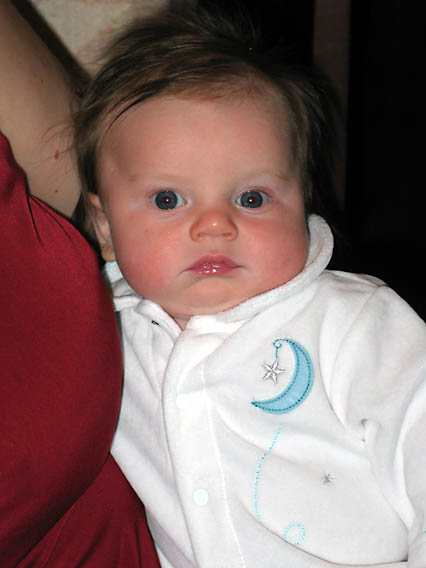 ---
April 26, 2004 - Peter Rintoul
(Brynioch is 2 months)
It's been too long since we got to visit with our friend Peter Rintoul. (To give you an idea of how long, this is the first time that Peter's met Bryn.) By the way, this is Bryn's favorite position; we call it "Super Bryn!"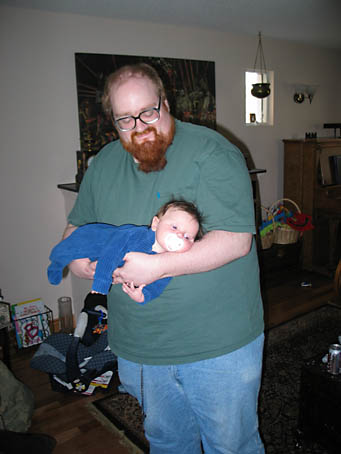 No Peter, you can't eat the baby.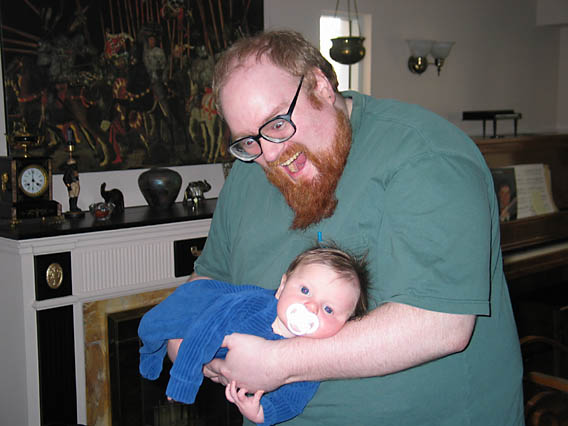 ---
April 25, 2004 - Happy Birthday Matty!
(Brynioch is 2 months)
It's Matt's 35th birthday today. (For those of you who don't know, Matthew is Mike's Brother.) Here's a birthday wish from Mike & Bryn.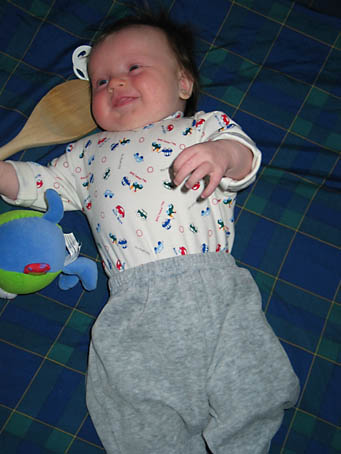 ---
April 22, 2004 - Bryn & Connor
(Brynioch is 2 months)
Jill went over to M&M's place, so Bryn and Connor are hanging out. At this point they don't seem all that interested in each other.
The really amazing thing is that Connor is not quite one-month old, while Bryn is almost three-months old. However, they are the same length, but Bryn weighs 14-pounds while Connor weighs only 7-pounds!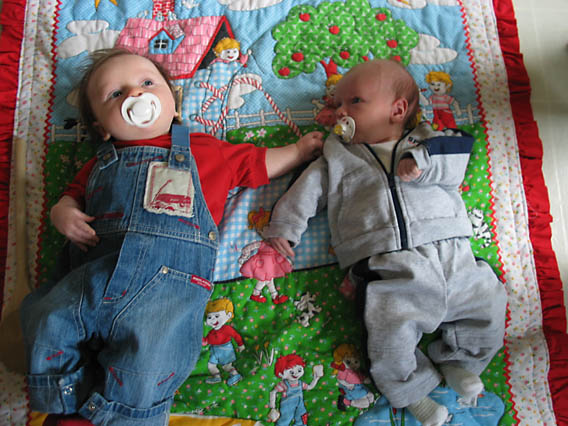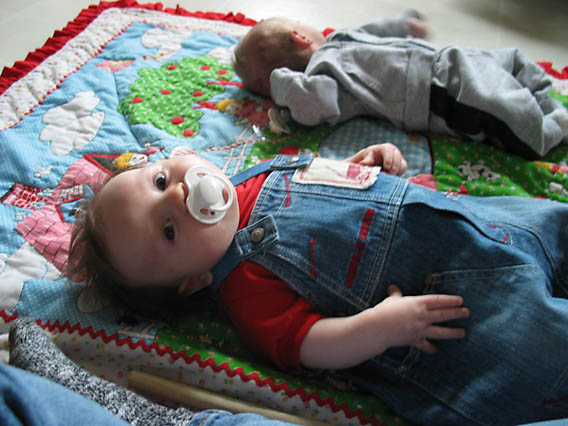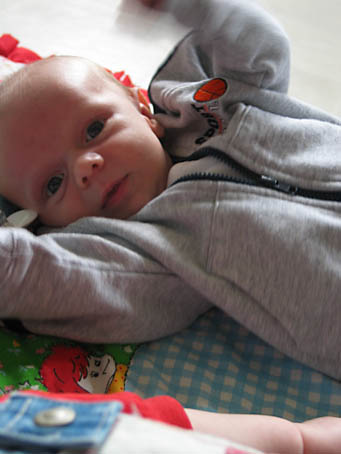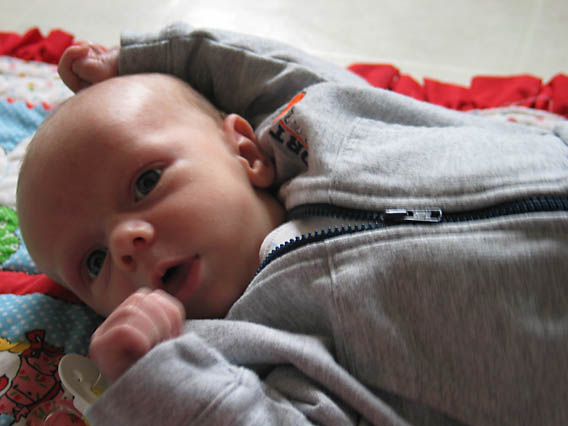 Connor says, "I know Kung Fu."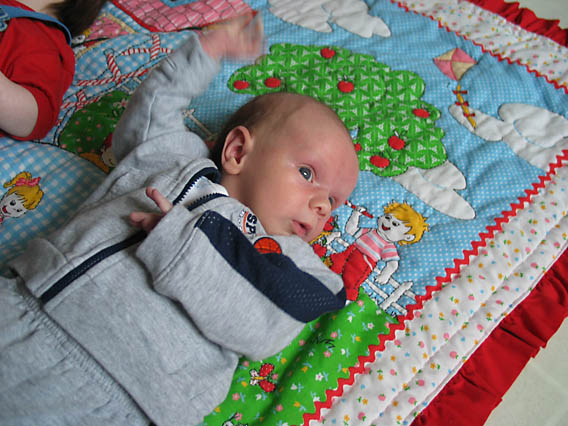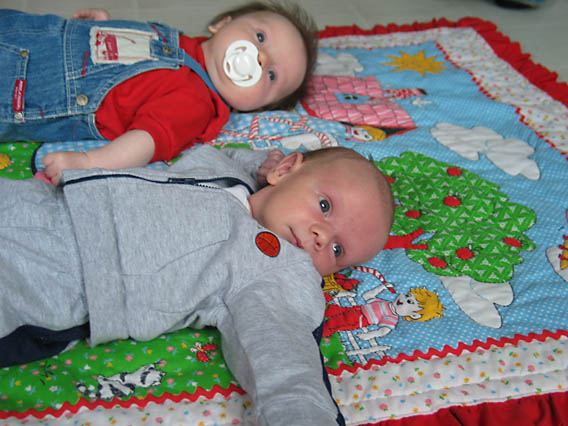 ---
April 21, 2004 - Kicking with Jamfi
(Brynioch is 2 months)
Bryn plays the kicking game passed down from his cousin Anders, while Jamfi hangs out nearby.
---
April 20, 2004 - "Talking"
(Brynioch is 2 months)
Here's a little movie of Bryn "talking".
---
April 19, 2004 - Will Bryn Make that Sound?
(Brynioch is 2 months)
---
April 18, 2004 - Glenna's Pictures
(Brynioch is 2 months)
Grandma Glenna had a bunch of pictures stored on her camera. When she came to visit today, she let me download them, and here are some of the best shots.
The first bunch were from Easter Sunday, when we went over there for dinner. Here's Grandpa Rob having fun (especially considering there's a camera pointing his way).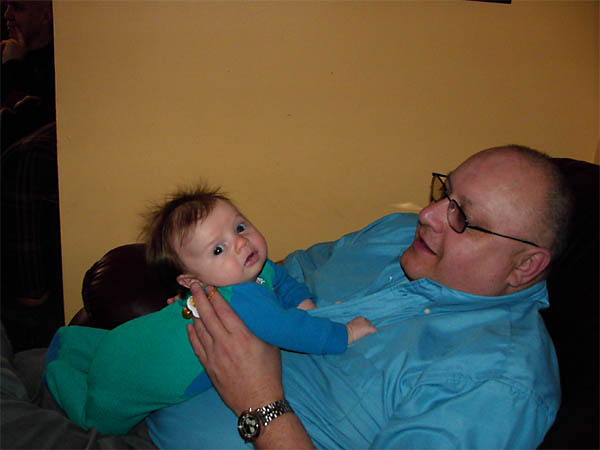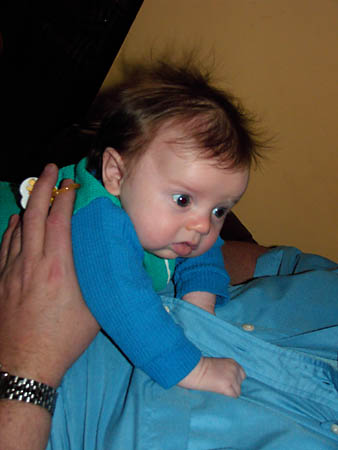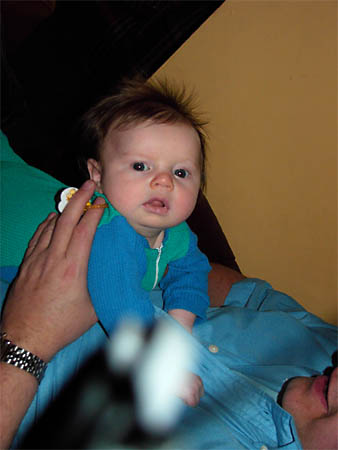 We took a walk along the river near their place. Jamfi and Angus (the black Scotty) have a great time together!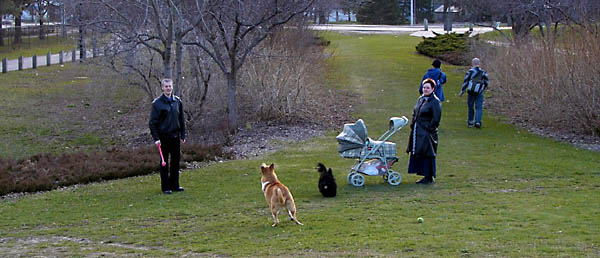 Jill with Kristen, Glenna's daughter.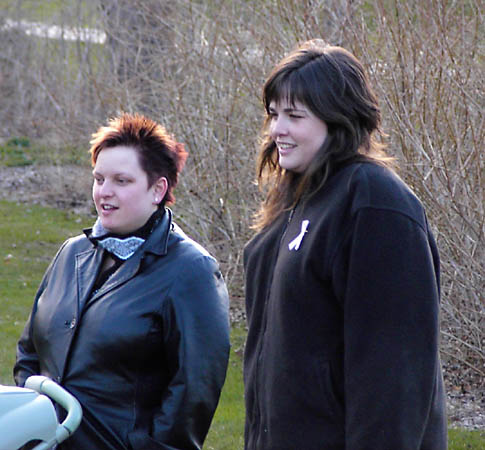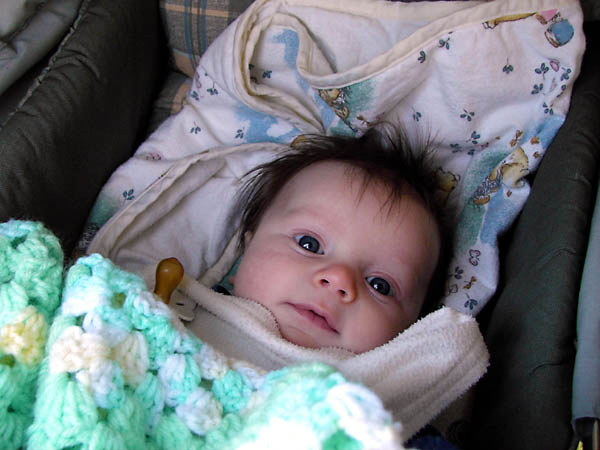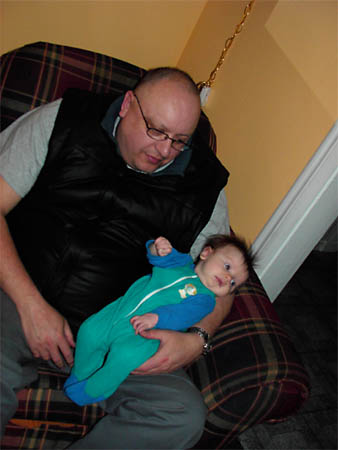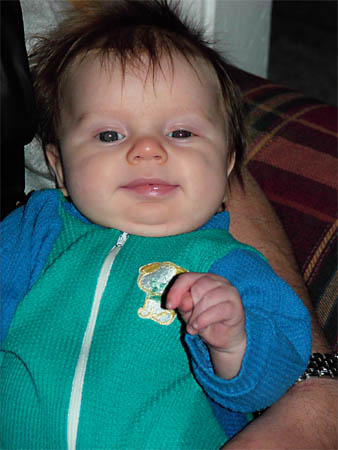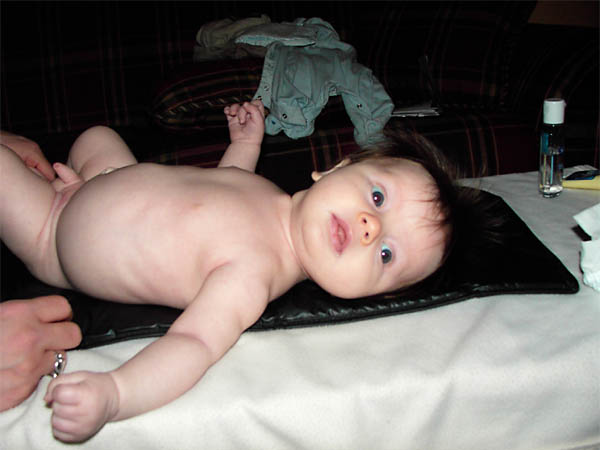 Uncle Mike (Jill's brother) gets a turn.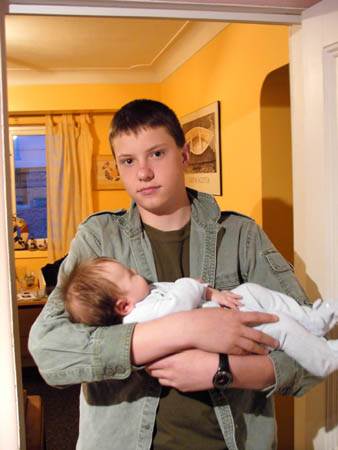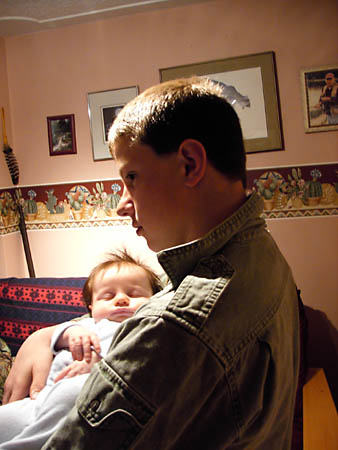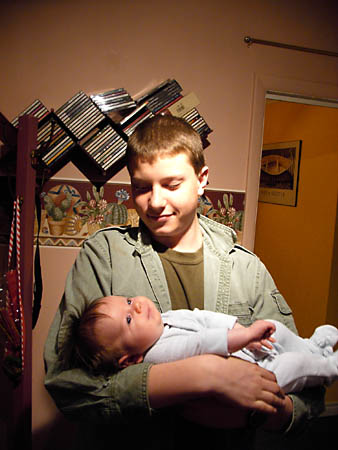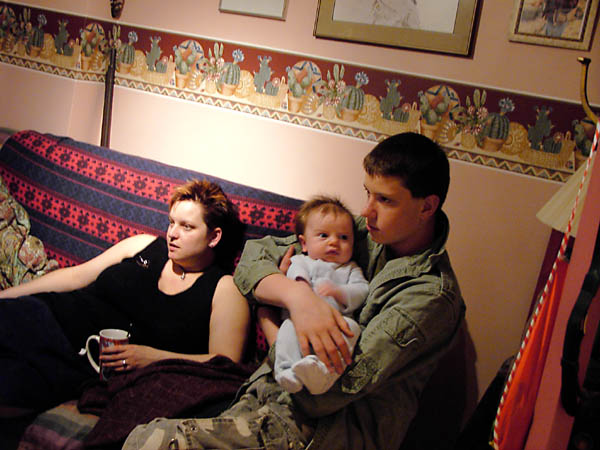 Now we jump forward to the 18th at our place. Jill and I have found it very challenging to get good pictures of Bryn sporting his wonderful smile, but Glenna didn't seem to have the same troubles.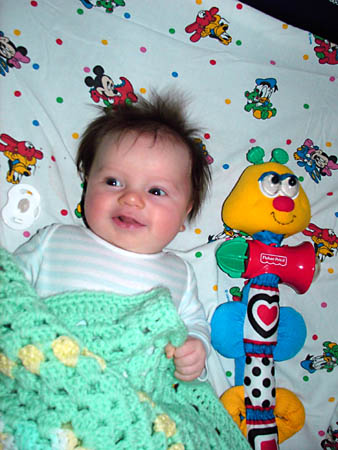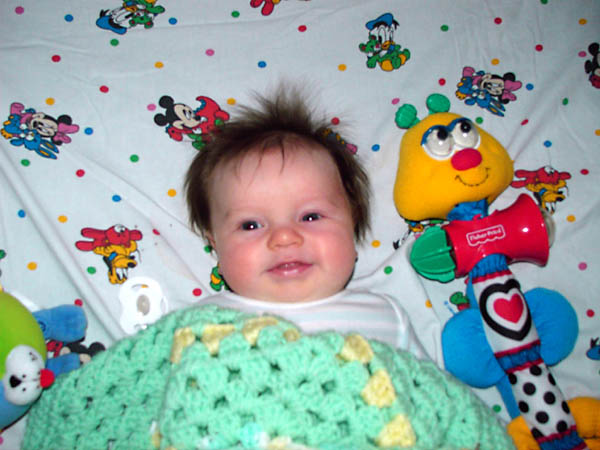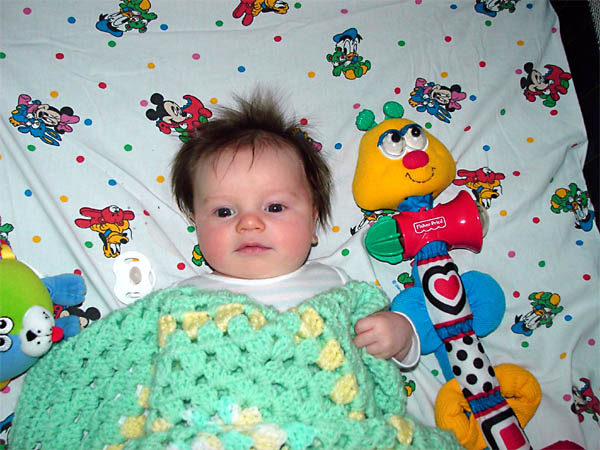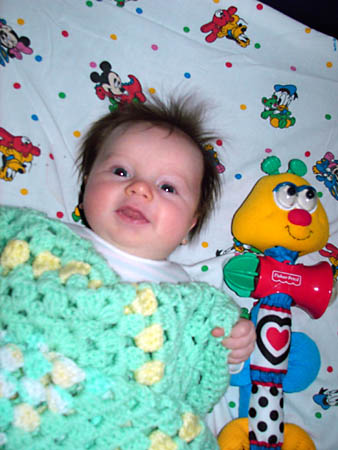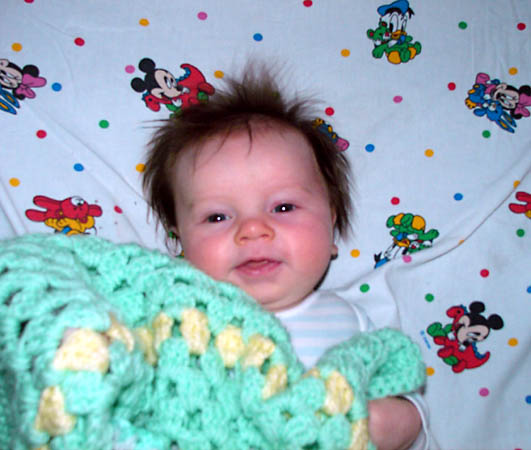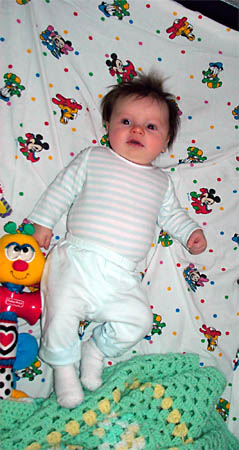 There was a big thunderstorm today, and the aftereffects could still witnessed on our walk at the beach.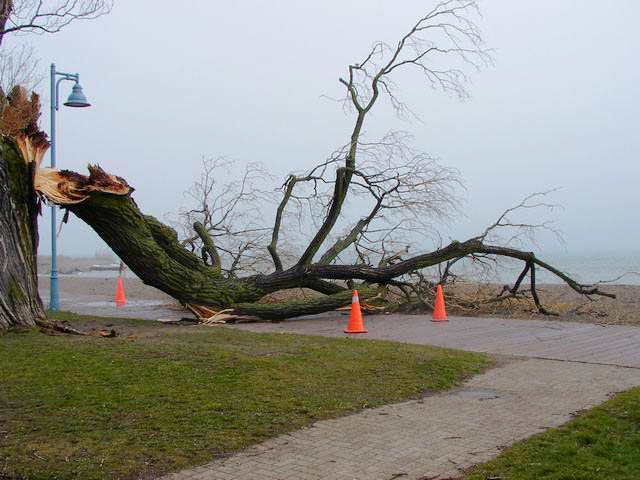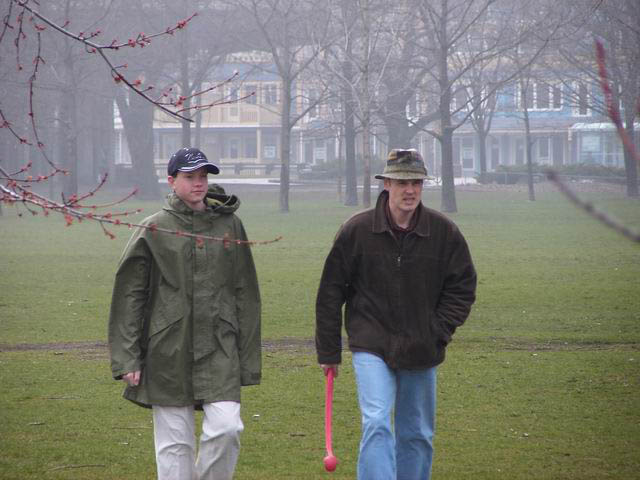 ---
April 17, 2004 - Bedtime Story
(Brynioch is 2 months)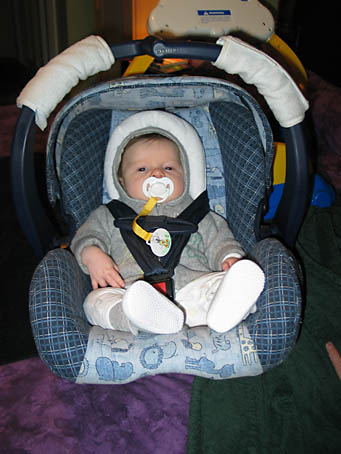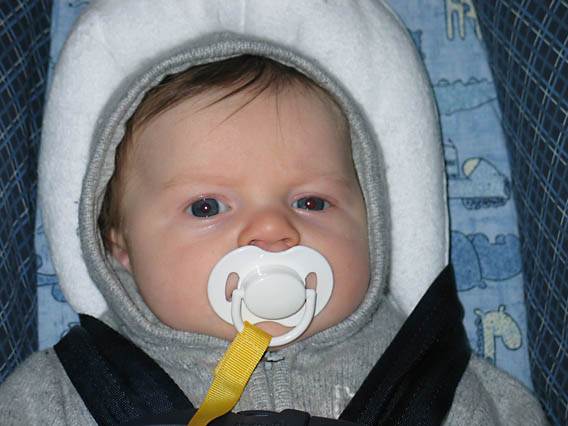 Mike's reading to Bryn at bedtime.
---
April 16, 2004 - In the Bath
(Brynioch is 2 months)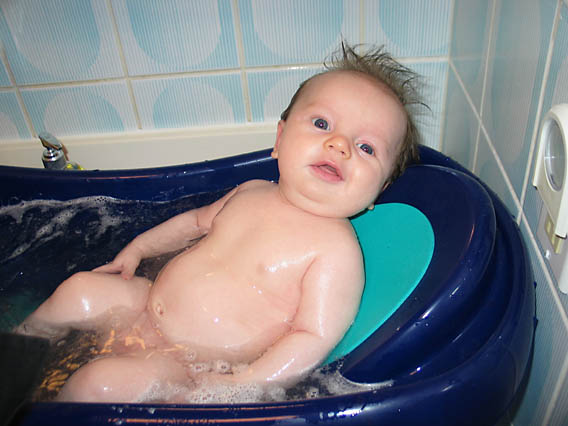 Dad and Bryn have fun before bedtime.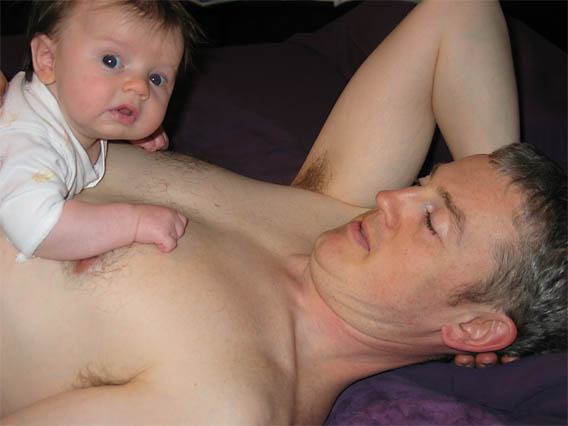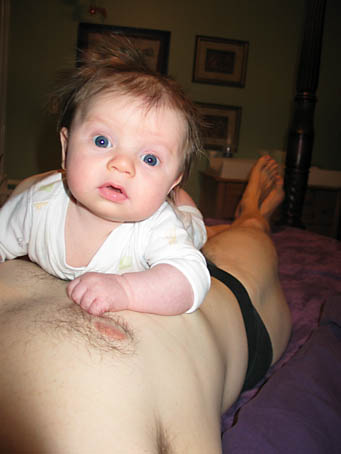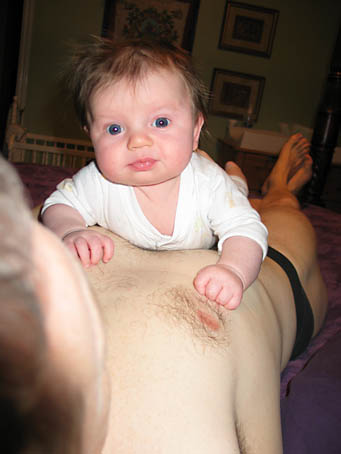 Of course, Jamfi wants to be part of the action, and Bryn enjoys the show.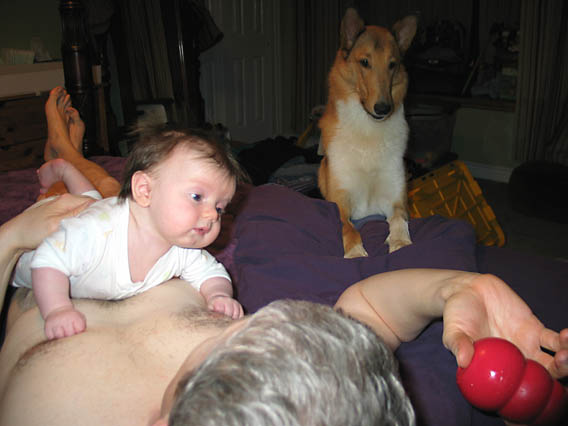 ---
April 15, 2004 - Snap Happy!
(Brynioch is 2 months)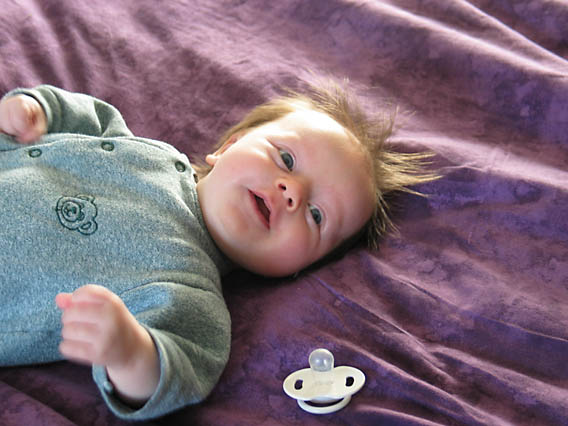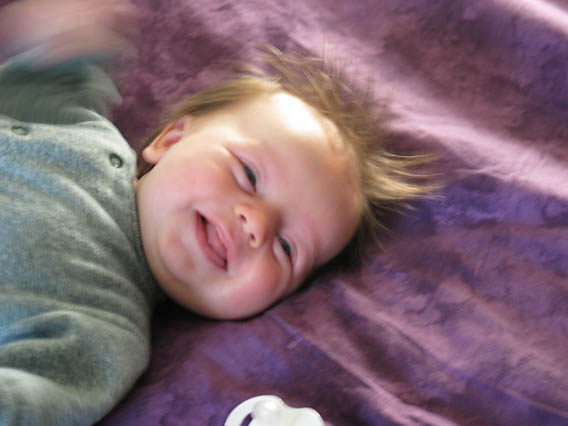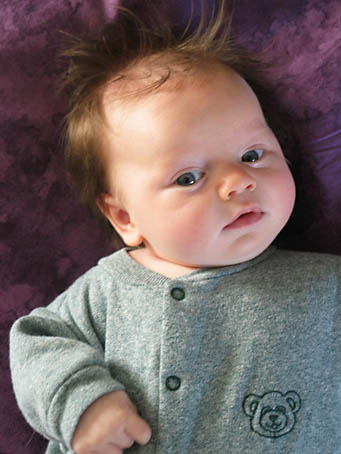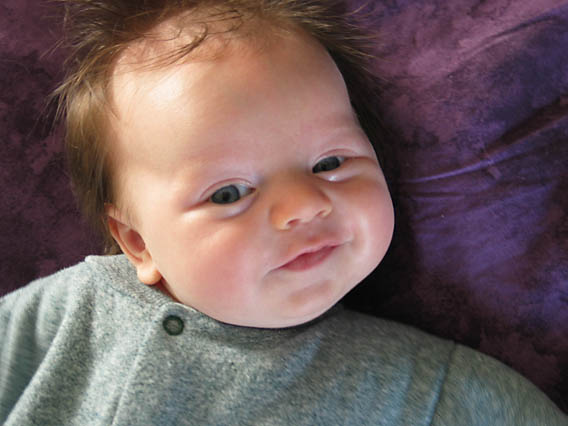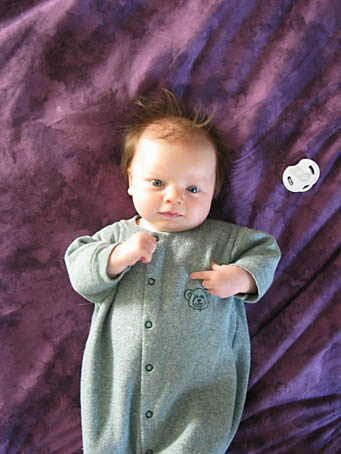 ---
April 14, 2004 - Sleepy in the Sun
(Brynioch is 2 months)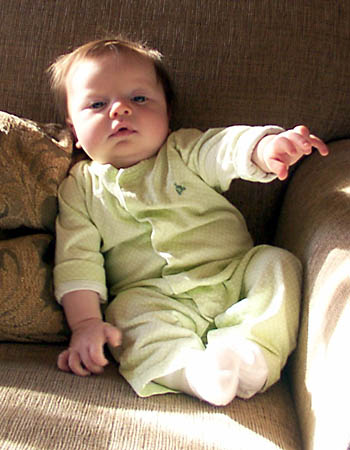 ---
April 12, 2004 - Nighty-night...
(Brynioch is 2 months)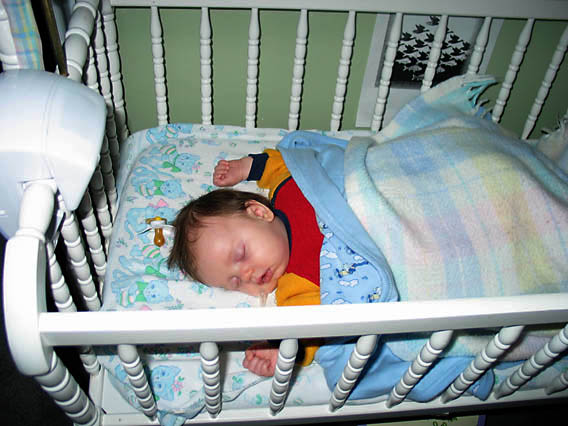 ---
April 11, 2004 - Babysitter
(Brynioch is 2 months)
This is Bryn's babysitter, Liana, and her daughter Christine. (Liana is also my bookkeeper, which is how I got to know her.) When Jill heads back to work (probably in the fall), Bryn will be going over to hang with Liana and Christine.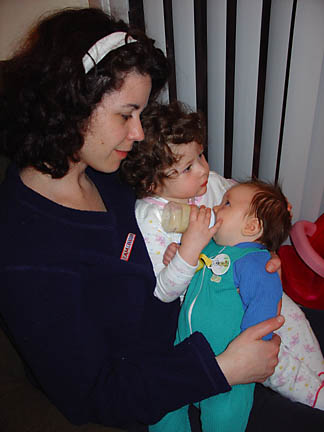 ---
April 10, 2004 - Family Portrait
(Brynioch is 2 months)
With all this picture taking going on, I was shocked to realize that we didn't have a shot of the three of us together. Jill's Aunt Susan handled the camera, and I'm really happy with the results.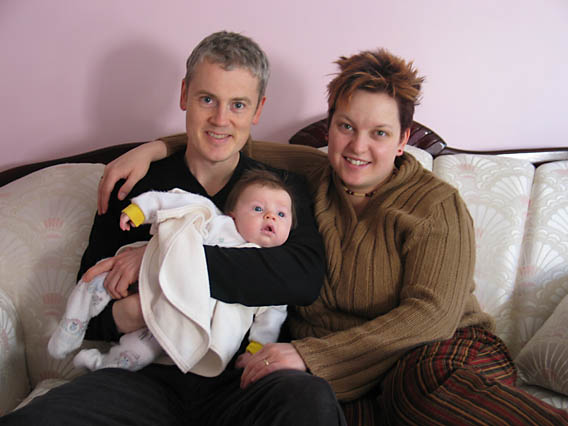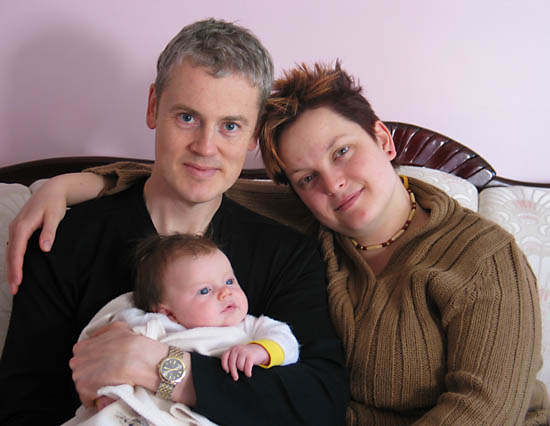 Jill, Bryn and Jamfi... hanging out.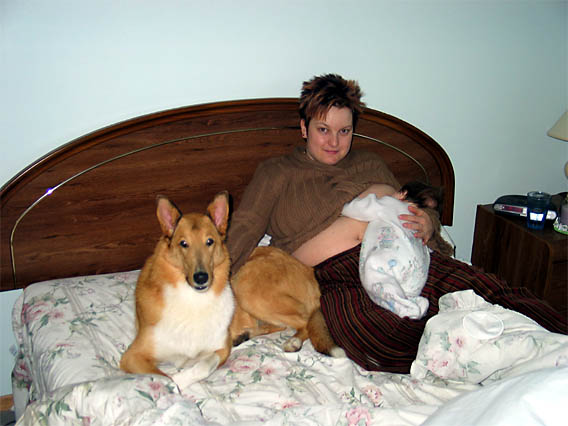 ---
April 9, 2004 - Flowers & Mini-vans
(Brynioch is 2 months)
Although our tulips have been poking out of the soil since February, these little beaties blossomed overnight. I think they're crocuses, but I'm not sure.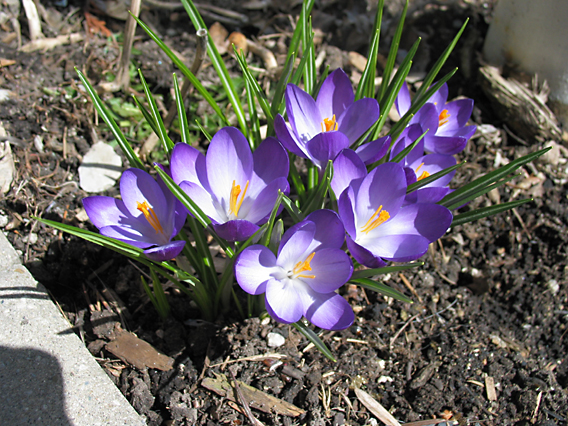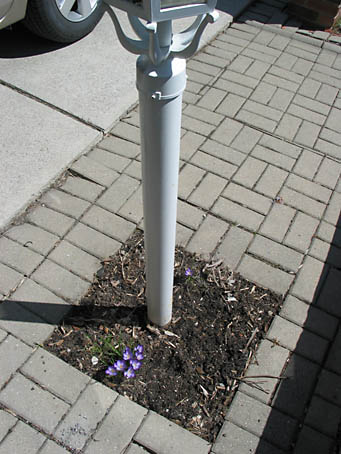 For those of you who were curious, this is what our new minivan (Ugh!) looks like from the outside.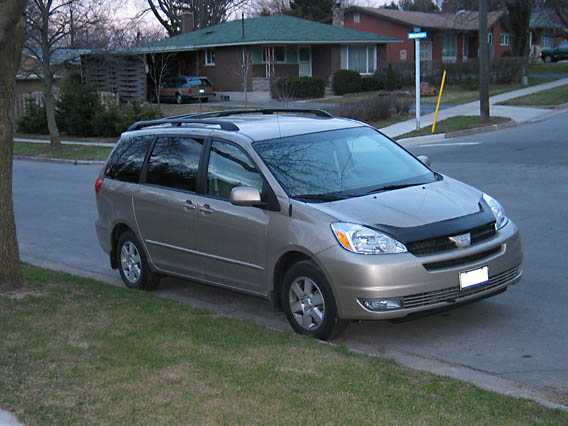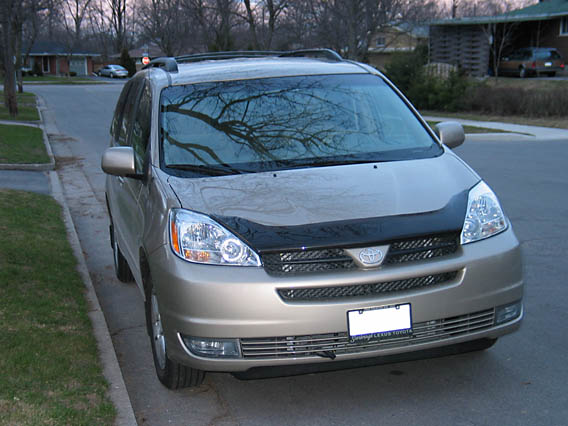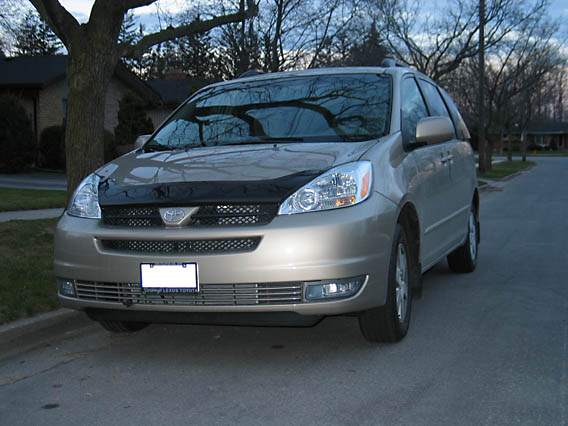 Here's a nice picture of Jill.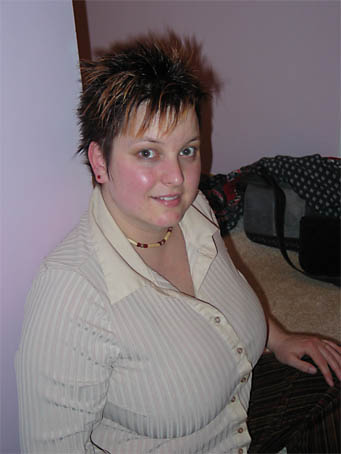 ---
April 8, 2004 - Dazed and Amused
(Brynioch is 2 months)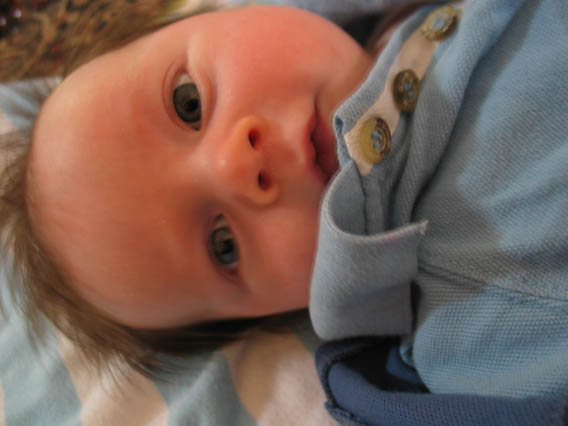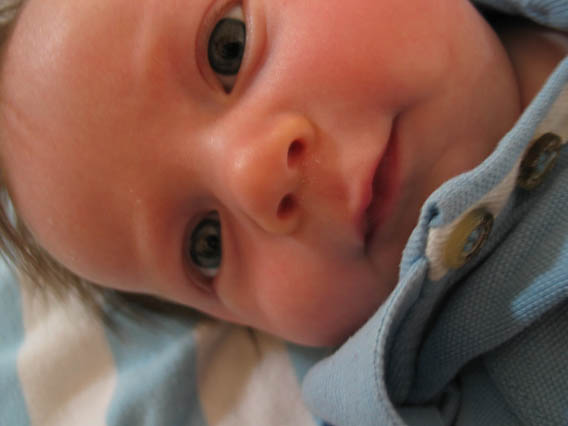 ---
April 7, 2004 - Mini-Van Hell
(Brynioch is 2 months)
After resisting it as long as I possibly could, I finally admitted that with the parents, kid, dog, occasional extra passenger(s), and all the associated stuff, only a minivan would do the job. So we leased a 2004 Toyota Sienna LE for 4 years. As far as minivans go, this is the best of the bunch.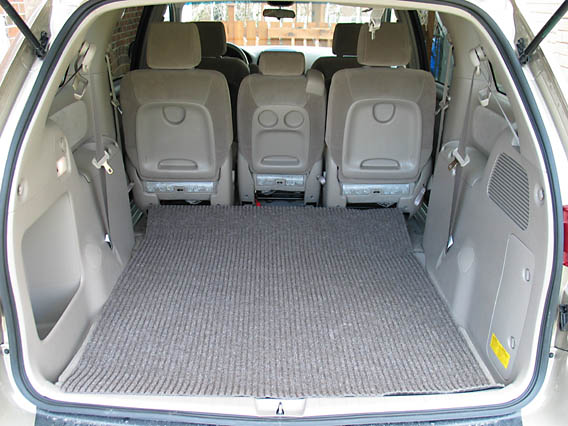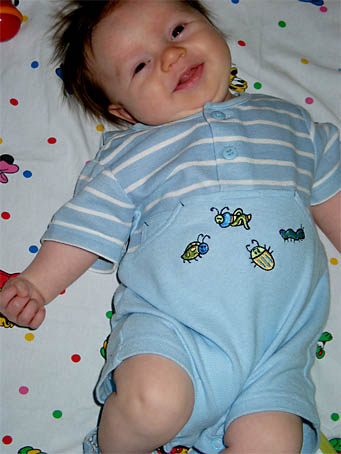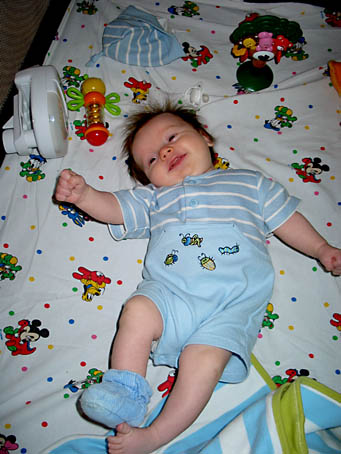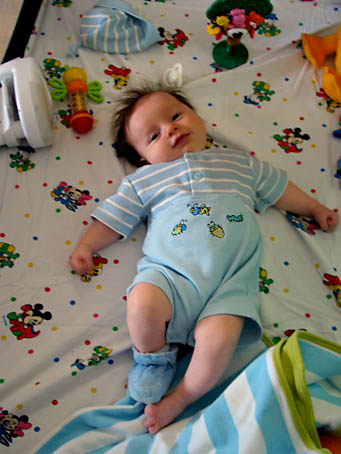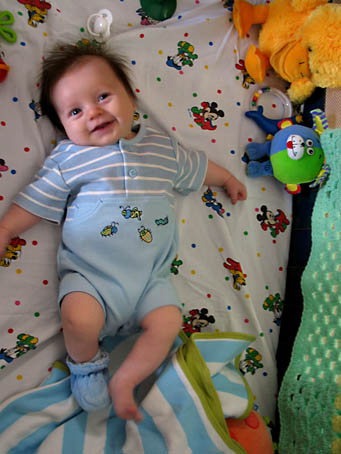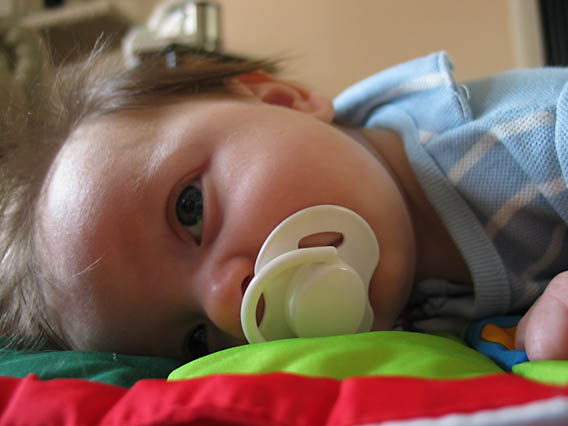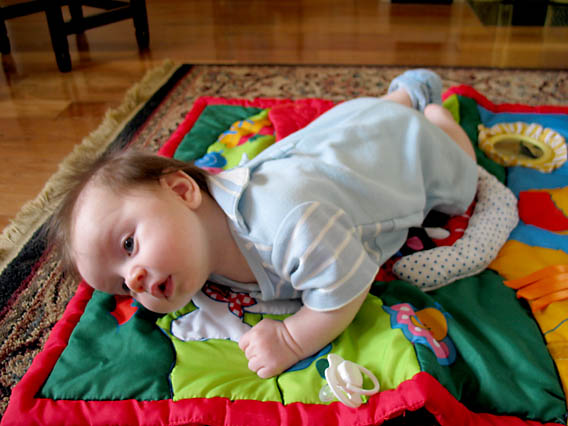 He's starting to be able to hold the bottle himself.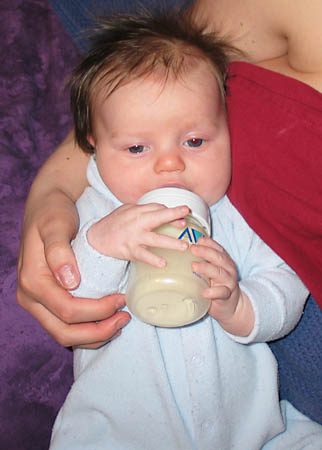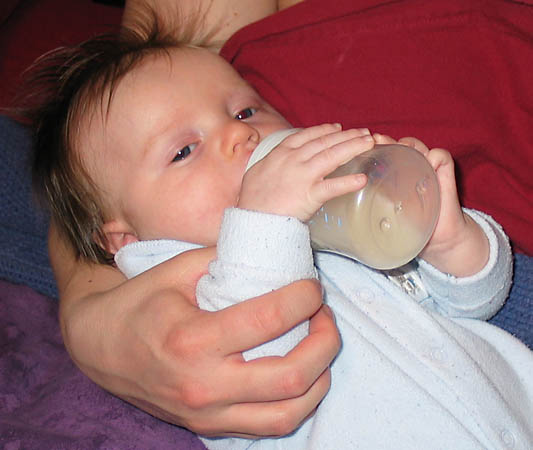 ---
April 6, 2004 - Hiding
(Brynioch is 2 months)
---
April 5, 2004 - Dancer on the Bed
(Brynioch is 2 months)
I finally found a spare moment to get these pictures uploaded.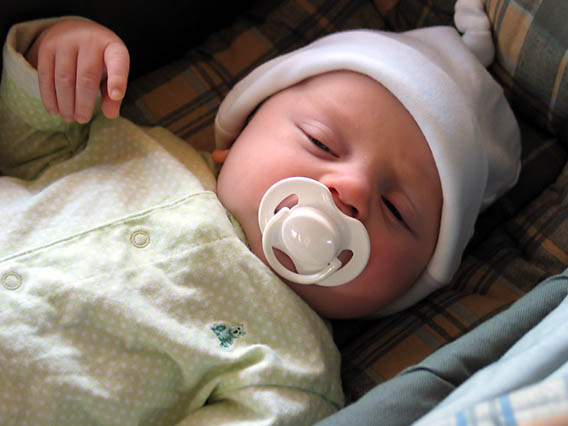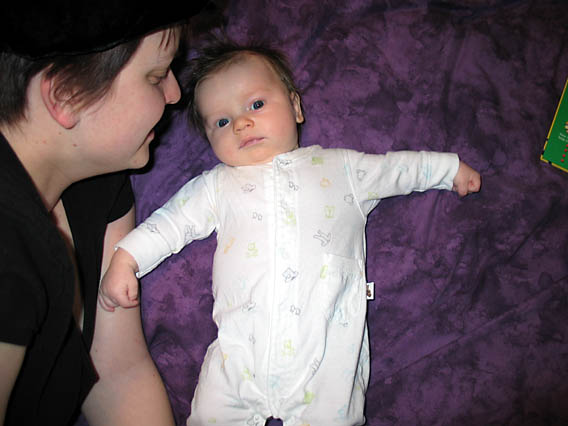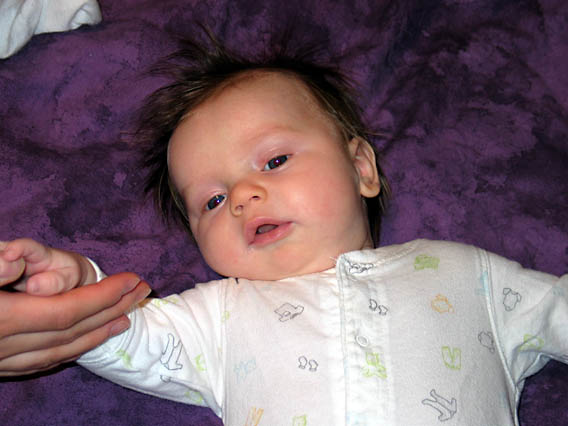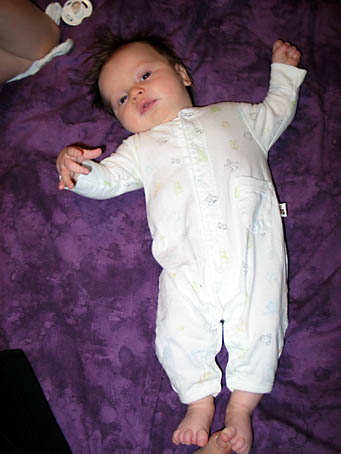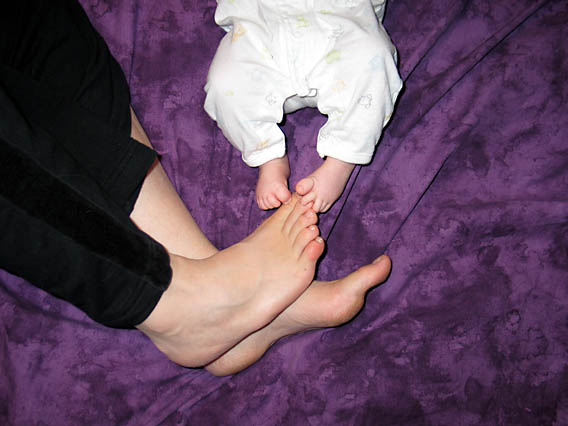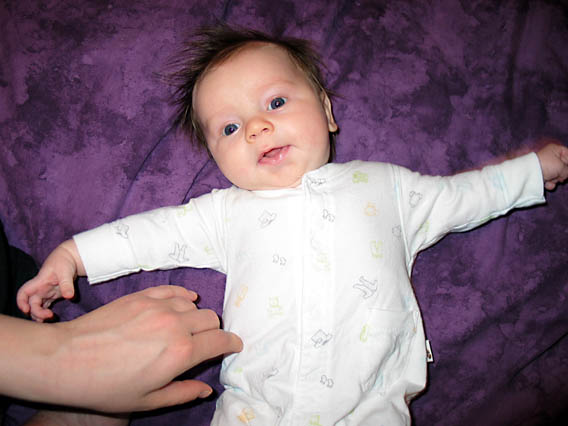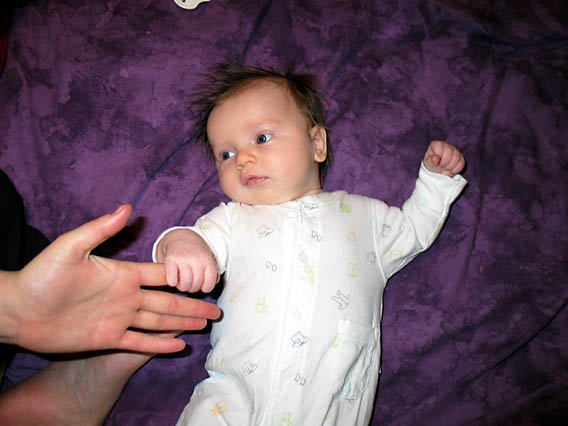 ---
April 3, 2004 - Photograph 101
(Brynioch is 2 months)
I really don't like the artificial quality of a flash picture. For example, look at these two pictures with and without flash. Although the second is a bit fuzzy due to Bryn's fidgeting, the picture looks much more natural. There's also much more sense of depth and space.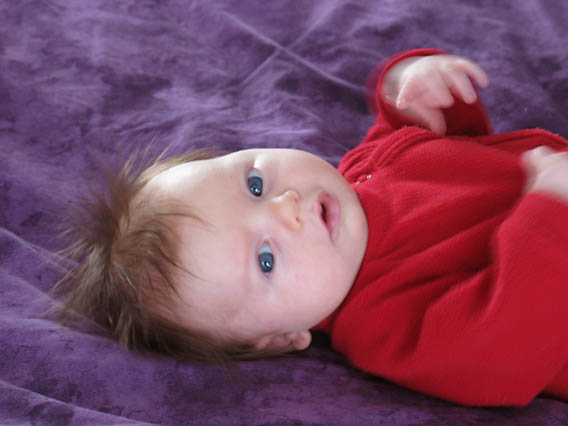 This next picture has so many shades of gray, that it practically begs to be viewed in Black & White.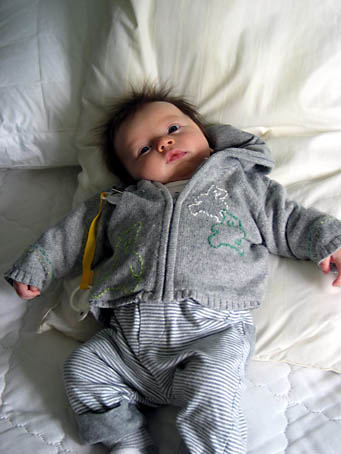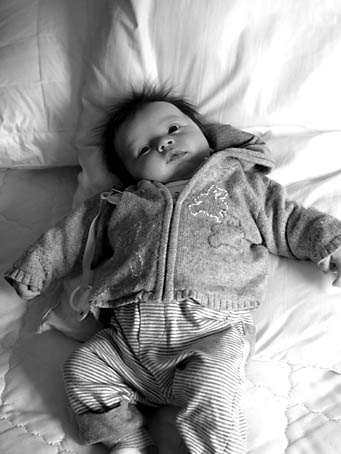 Here's Bryn, snuggled up in his carrier, sleeping while we shop.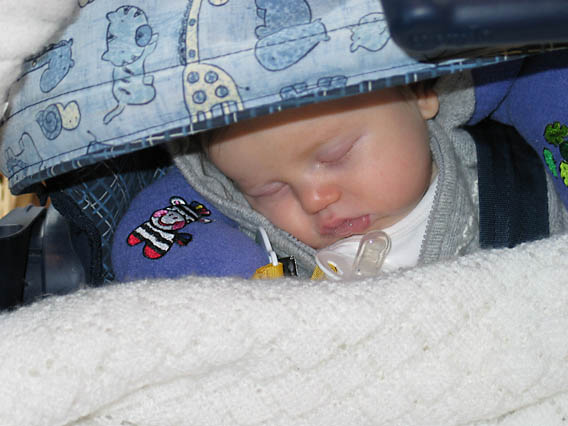 We took Mom shopping on Bayview Ave. in Leaside (the area of Toronto where my sister Michelle used to live). While Mom and Jill looked at clothes, I got bored and played with the camera. I was intrigued by the similarity of colors between the clothes in the front of the shop and the signs across the street.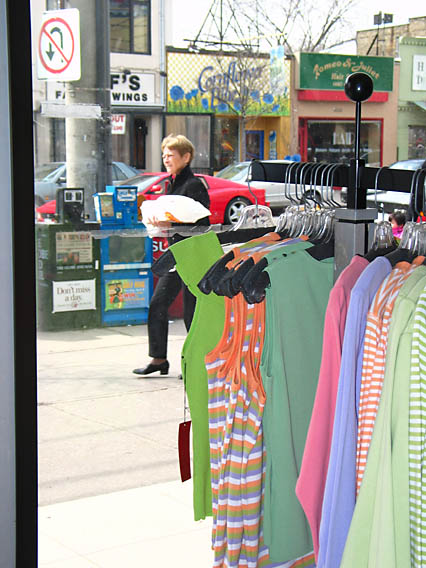 ---
April 2, 2004 - Bryn's 2-months Old Today!
(Brynioch is 2 months)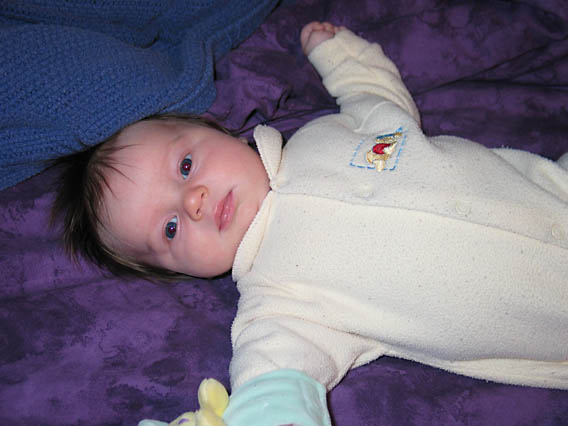 ---
Index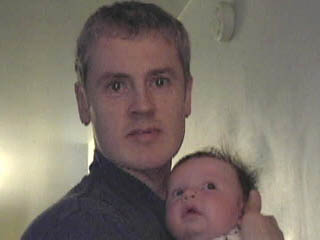 ---